There's a common adage in the RV community: "Buy your last RV first". Maybe "second" will have to do, for us…
After 3.5 years and 35,000 miles, we're doing the (almost) unthinkable: buying a new motorhome! Don't tell Rover, although I think he's starting to catch on with all the cleaning, photos, and fixes we've been working on recently. He's been a fantastic traveling companion and has been very good to us, but he's being replaced by a bigger, stronger, fancier model. Don't worry Rover, we've found you a new family to take care of!
When we set out on this adventure in early 2014 (we placed our order for Rover in January of that year) we had never spent more than a few minutes in an RV before. We weren't sure how long we'd last living and traveling full-time in a 350 sq. ft. box. We're pretty sure our friends and family were making bets behind our backs! We pressed on, did lots of research, made plans, and ended up with what was probably the perfect RV for our adventures at the time. While everyone "in the know" said you have to buy a diesel rig, Rover had the comforts needed to keep us happy, the more reasonable price tag of a gas-powered rig, and to top it off we got a great deal on our purchase. We argued that if we ended up hating RV life, the risk was minimal… we could sell the RV for a small loss, and admit defeat.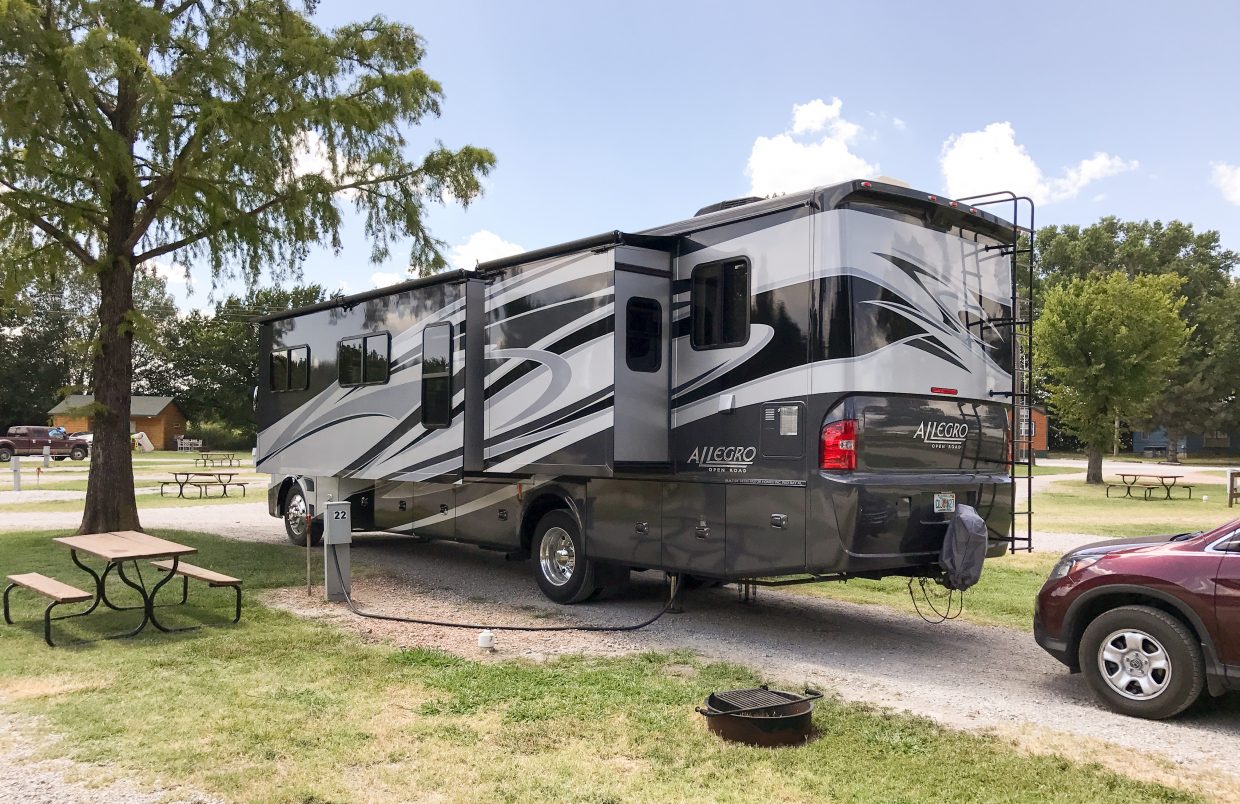 Earlier this year, possibly because we passed our three year "nomadiversary", Kathie and I found our discussions frequently centering around how much longer we wanted to do this (a long, long time), or if we wanted to settle down in a house (we don't). We quickly agreed we enjoy this mobile life so much, and decided to "renew" our commitment to roaming, indefinitely!
We usually had, in the back of our minds, the thought that if we were still doing this (and loving it) after 5+ years we'd eventually upgrade to a diesel motorhome. We even started some preliminary research at the Tampa RV show in January of this year. When we made our decision to continue indefinitely, we started thinking about the benefits of waiting a few more years for that diesel rig vs. upgrading sooner. We got serious about planning for an upgrade in 2018… and then "why wait?" kicked into overdrive and we decided "there's no time like the present!" We did lots of money math, researched new rigs, dealerships that provide good discounts, looked into used pricing for selling Rover, and decided we could make this work! We even made a trip to the Tiffin factory in Red Bay Alabama in early August to see the new 2018 rigs in person, look at colors and options, and discuss some customizations with the sales department. With our decision made, we placed our order for a 2018 Tiffin Phaeton 40IH! As before, we'll be going to the factory to watch our build a few weeks from now, and we will take delivery in October. And through word-of-mouth we already have a buyer lined up for Rover! Check out his "For Sale" page to see what they're getting!
But why upgrade in the first place? Isn't Rover enough? In many ways it was a tough call, especially since Rover's been 100% reliable, has never left us stranded, and has generally needed relatively minor (and expected) repairs like a water pump or roller shade. There's no one feature of the new coach that made us take the leap, but there are a lot of individual factors that combined into a pretty compelling case! In our next few articles we'll introduce you to our upcoming rig and walk through some of the upgrades and features we're looking forward to the most!
Part 2 – Welcome to Diesel Town