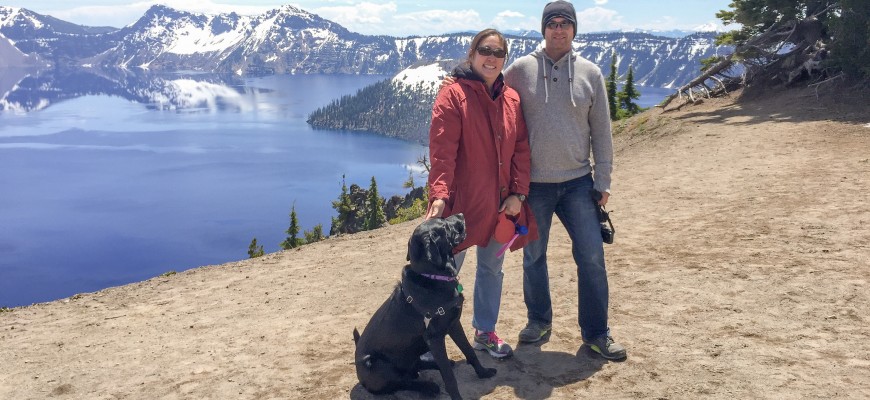 About Us
Hi there, we're Mike, Kathie, and Opie the Black Lab! This is our journal about rebooting our lives and moving into an RV full-time to go explore the four corners of North America.
For more frequent updates, try following our LifeRebooted Facebook page, or follow us on Instagram as liferebooted_mike and liferebooted_kat.
Getting Caught Up
If you're new here and don't want to read through all of our old blog posts, here are some key articles to get you started and caught up:
Rebooting Our Lives – An introduction to our new lifestyle.

We're Doing What? – Kathie's perspective on our change in direction.
It's Only Been 10 Days?!? (Part 1) – Driving to Florida and taking delivery of our new home.
What Day Is It? – Adjusting to our new way of life.
It's better (and worse) than I thought – After six months on the road, how are we faring?
2014 Year In Review – A look back at some highlights of our 2014 travels.
2015 Year In Review – We made a nearly complete circuit around the U.S!
About Rover and Red
Our new home is a 2014 Tiffin Allegro 36LA motorhome named Rover, and his sidekick, a 2014 Honda CRV named Red. Rover was born in Red Bay, Alabama in March of 2014 and he became our home at the end of April 2014.
Rover's Specifications
Interested in weights and measures? Rover is built on a Ford F-53 Class A Gas Motorhome chassis with a 6.8L V10 engine. The chassis has a 24,000 pound gross vehicle weight rating (GVWR) and a 252-inch wheelbase to support its substantial length and weight. We were fortunate to be able to watch our home being built—an amazing experience!
Rover is 37′ 6″ long, 12′ 10″ high, and 8′ 5″ wide, and weighs about 21,000 pounds including fuel. He has enough cargo capacity to carry around 3,000 pounds of cargo, passengers, and water. His tanks can hold 80 gallons of fresh water, 50 gallons of black water, 66 gallons of grey water, and 20 gallons of liquid propane. The outside "basement" storage compartments can hold an impressive 200 cubic feet of cargo, and also house a 7KW generator, four 6-volt house batteries providing 440 amp-hours of power, and a 1,250W power inverter to run the essentials (like the refrigerator) via the batteries.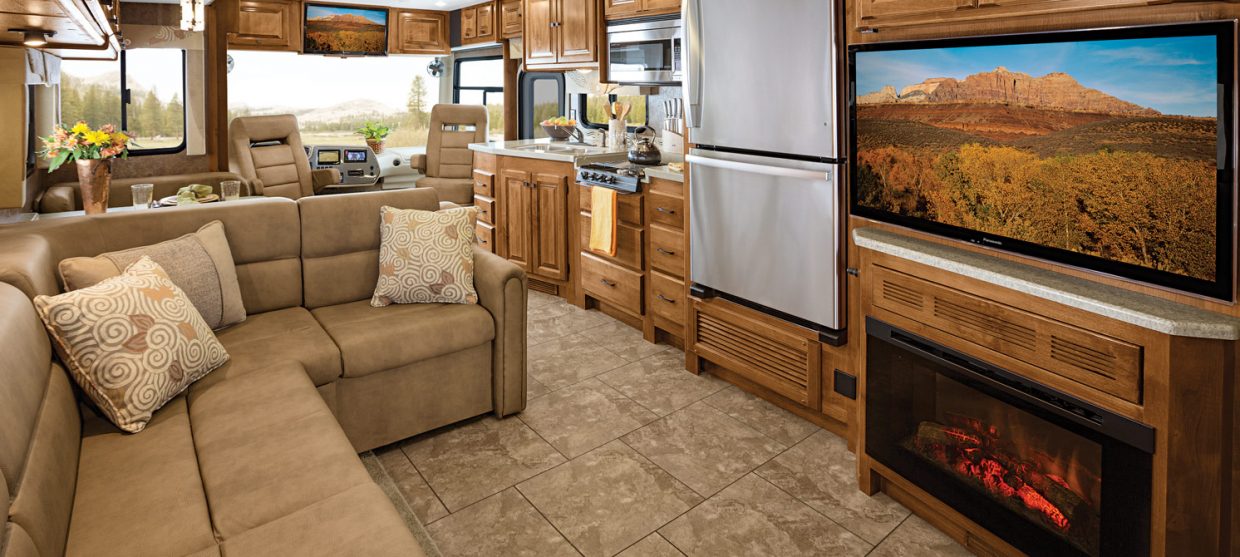 Rover's Main Features
The inside highlights include a bath-and-a-half floor plan, residential refrigerator (no propane-powered fridge for us!), electric fireplace to take the chill off cool mornings, two large air conditioners (one with heat pump), gas furnace, all-LED lighting, rear and side view cameras, two driver's side slide-outs to expand interior living space, two televisions, vinyl tile throughout, Corian countertops, three-burner LPG cooktop, microwave with convection oven, and washer/dryer combination unit.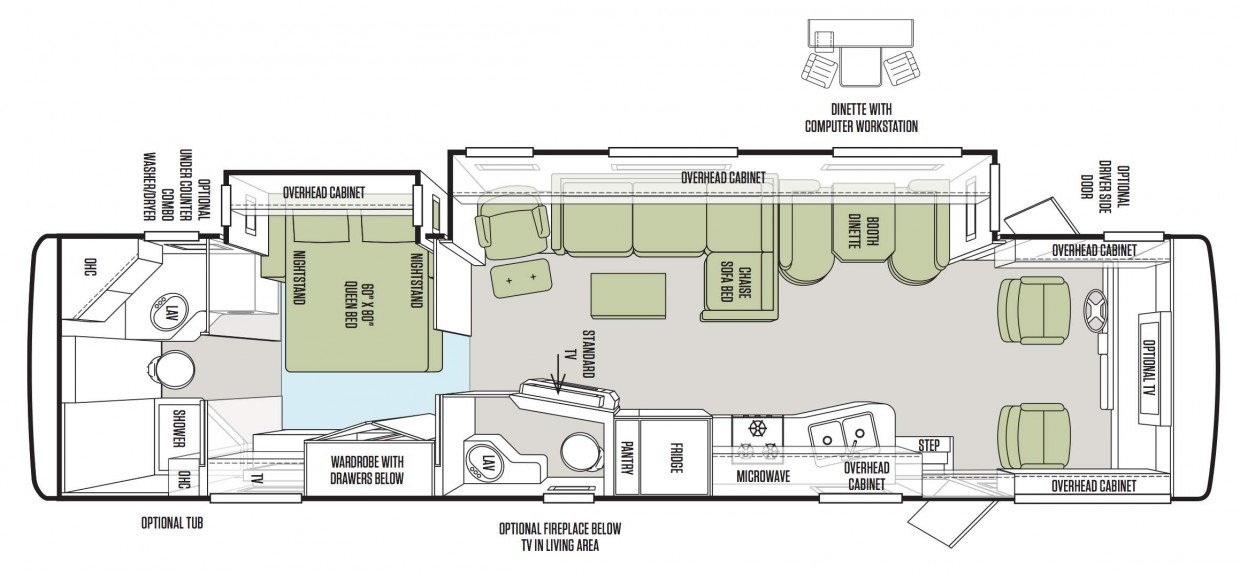 Red
Red, our towed vehicle, is a base-model Honda CR-V with all wheel drive. He gets hooked up to Rover via a Demco Dominator tow bar and base plate, and an SMI Stay-In-Play Duo brake controller powers Red's brakes when Rover decelerates.