We've been full-timing in Rover for six months now. I might as well get it out of the way now—holy crap, it's been half a year already?!? Rover feels like a home to us, we can go pretty much anywhere (weather permitting), the dogs have adjusted well, and we get to visit places we haven't seen before. Overall it's been a positive experience but I wanted to take the time to look back and write down my thoughts on our first six months.
Relationships
One of the main questions/pieces of advice we ran into before we started full-timing is "how well do you get along with your spouse?" Obviously we're living in a much smaller space so the ability to work well with your significant other is pretty important. Before we started, Mike and I had a strong relationship and enjoyed each other's company. We talked out differences or conflicts, so we weren't too worried about this part of the traveling. This ended up being much more important than I realized.
While we lived in a sticks & bricks home, Mike worked full-time which meant I had 8-10 hours daily by myself during the week. That meant I could do all the house maintenance, bills, chores, plus have some free time. Now that we're in Rover, we're together almost 24 hours a day. That's a LOT of time to spend with someone else, and not all of it is for relaxing. We had to learn to work together to clean the house, take care of the dogs, do maintenance on Rover, grocery shop, etc. I had to learn to stop being such a hardass about the "right way" to do things. It's hard to believe but apparently my way isn't always the best way!
It has helped us create a stronger relationship but it does take work. There is an adjustment period needed when you go from 1) being apart for most of the day to being together all the time and 2) living in a large single family home to living in 300 sq ft.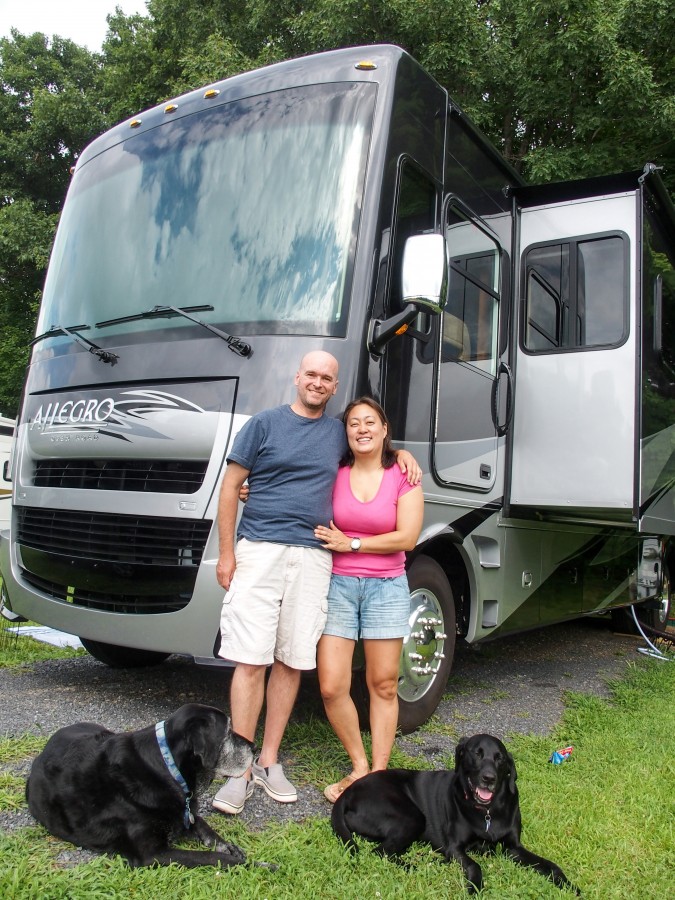 Living space
We're pretty sure Rover hazed us for the first two months, or else he was just plain trying to kill us. Moving into an RV meant a lot less space so we were constantly bumping our heads, elbows, knees, and various other body parts into doors, cabinets, chairs, walls, etc. I'd wake up with a new bruise and wouldn't even remember where it came from.
There's obviously a lot less space in an RV than a single family home. We were lucky that we first moved from our home into my sister's apartment basement (while our house was on the market) so we could adjust to a smaller space. Moving into Rover from the basement instead of our home helped with the shell shock.
We adjusted quickly to the change in space (and felt so smug about it). Looking back, I think some of that was simply due to the excitement of our new adventure. We're mostly good with the space but it's very easy for Rover to get cluttered which means if we don't put things away quickly, it looks like a 16-year old boy's room. If everything is clean and put away, Rover feels great. Unfortunately regular life gets in the way of that. Cooking, snacking, stitching, hobbies, and dogs make things crowded very quickly. When I look around and see my stitching stand taking up half the couch, the clothes drying rack next to the window, computers on the table, that's when I think "what the hell are we doing, are we crazy?". Then we clean it all up and I remember "oh yeah, we're going anywhere we want!"
The inside of Rover, according to the Tiffin brochure:
The inside of Rover, according to reality: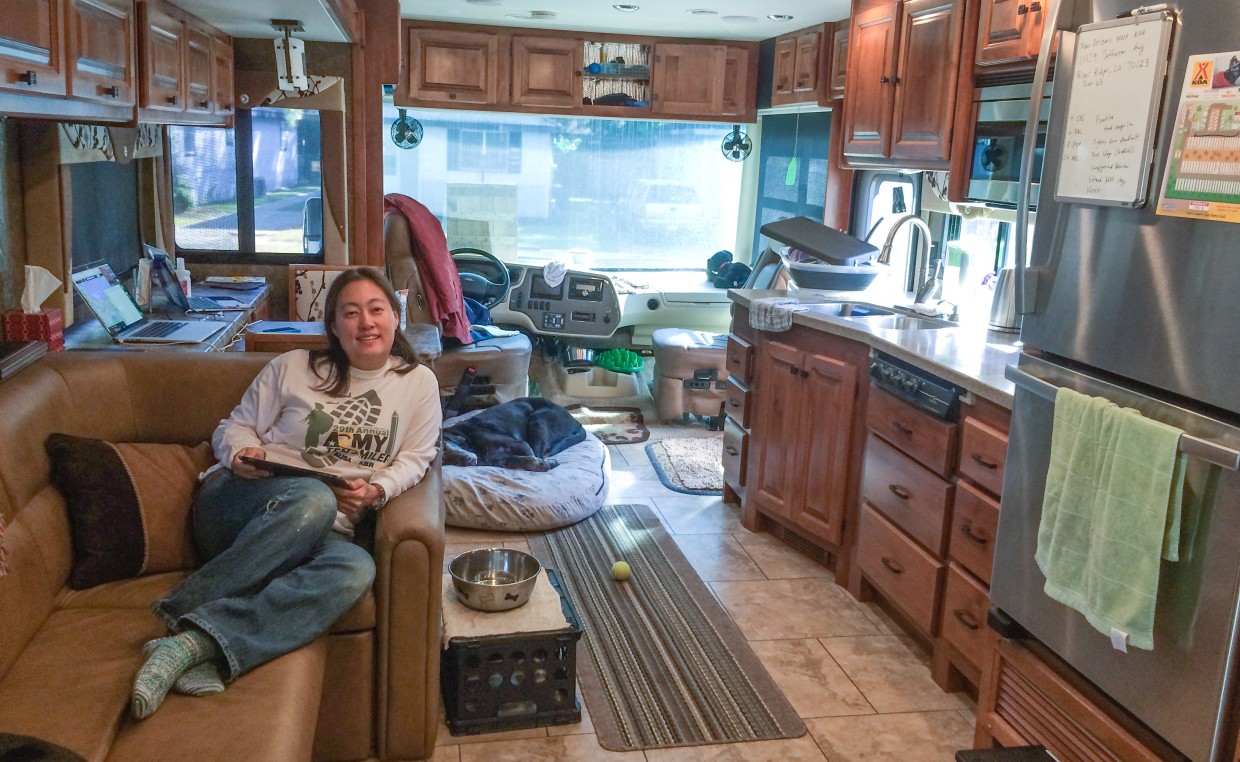 Dogs
Our dogs are an integral part of our lives. One of the main reasons to RV is so the dogs would always be with us. We figured Opie would adjust pretty well but we were worried about Max since he's an old man. Max's sight is almost gone and he had a tough time adjusting to the changes. Like all of us, he did get used to Rover and where everything was located but it did take some time. Now he knows exactly where everything is located, especially me with an open snack container. A fellow RVer gave us a ramp which has really helped Max get into Rover, since the stairs are a little tough for him.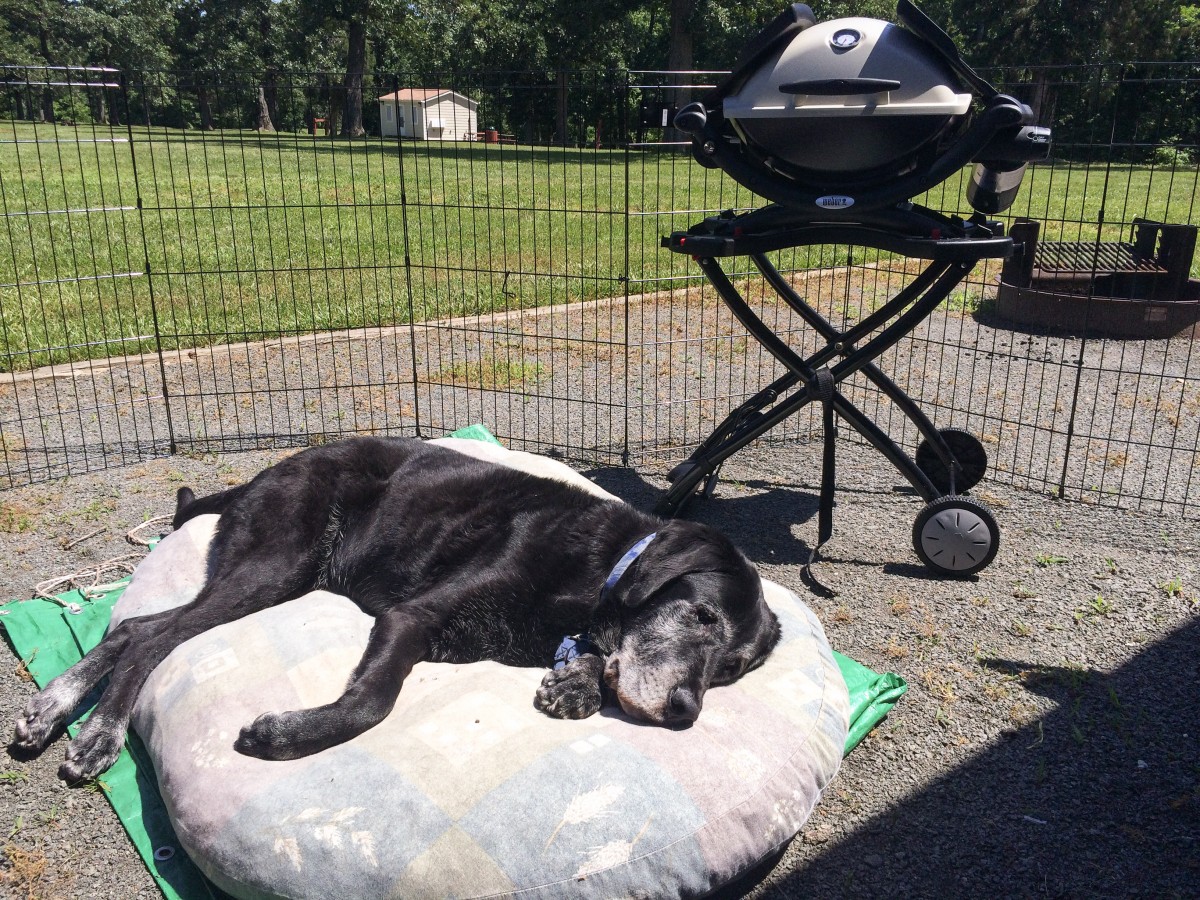 I know Opie misses guarding his big backyard against the evil encroachers: squirrels, birds, deer, and foxes. However I know he enjoys all the new places to pee on, the dog parks, the ocean, and the hikes. Instead of the same routes we used to take, he gets a completely new location every week or so. Now if we'd just let him chase those evil birds, he'd be in total heaven.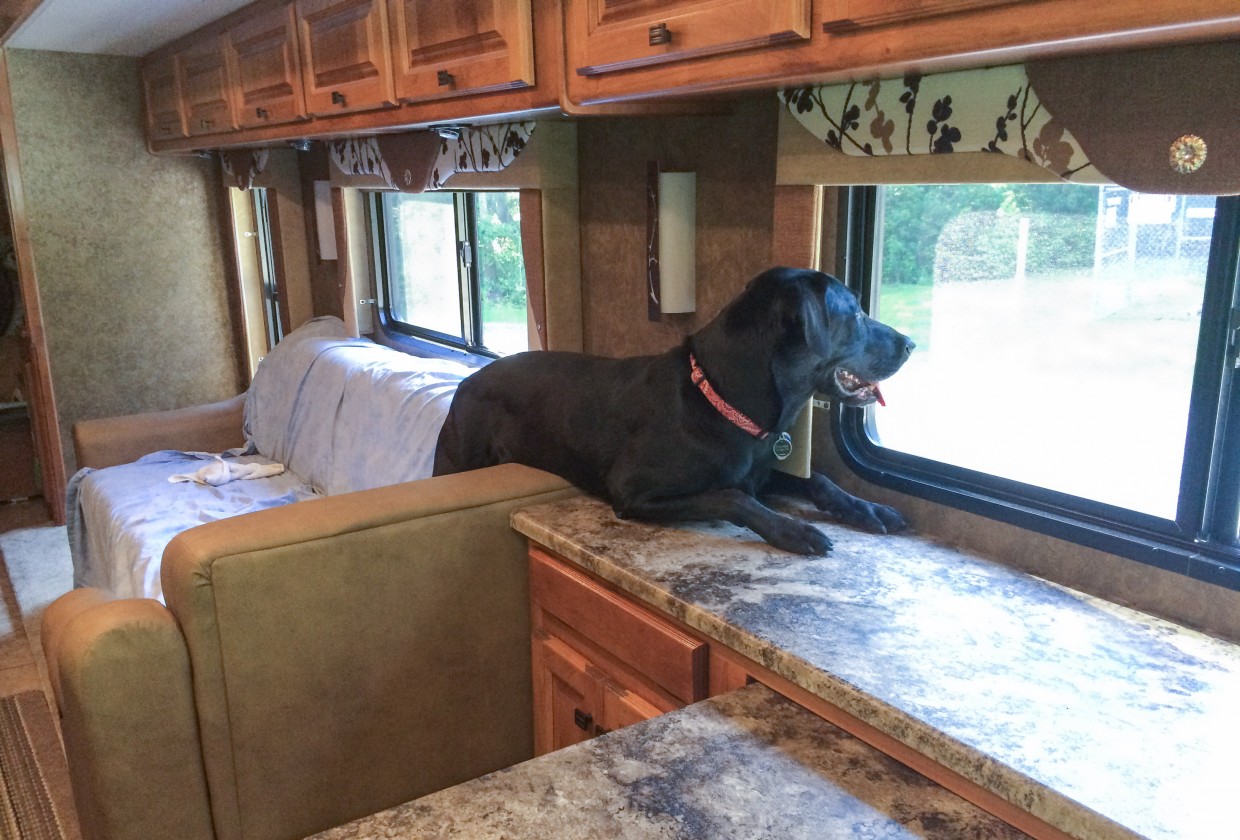 Things we miss
While I still really do enjoy our journey and I can see us continuing forward, there are some things I (and Mike) miss that I used to take for granted.
I miss the ability to take a hot bath. During the fall and winter, a hot bath just felt so wonderful! The best I can do now is a hot shower and hope I don't use all the hot water.
I (and especially Mike) miss high speed internet. Campground wifi is usually pretty awful. Our cell phones and hotspot help a lot but I miss the days of being able to stream movies, download large files, and not worry about how much bandwidth I'm using.
I miss familiarity. I've noticed I drive the speed limit because I just don't know the roads anymore and can't anticipate turns, merges, and lights. I have no idea where to find anything in a grocery store since we're rarely in the same store twice. I don't know the best place to find fruits and vegetables, where to get good bagels, where the dog park is.
I miss my family. We've always lived close together and I even babysat my niece and nephew regularly for a few years. I miss not being able to hang out with my mom and dad, get home cooked korean food, spoil my niece and nephew, and cackle like a maniac with my sister. I still talk to them via email and phone but it's not quite the same. This will be the first time possibly ever that I haven't spent the holidays with my family. It makes me sad.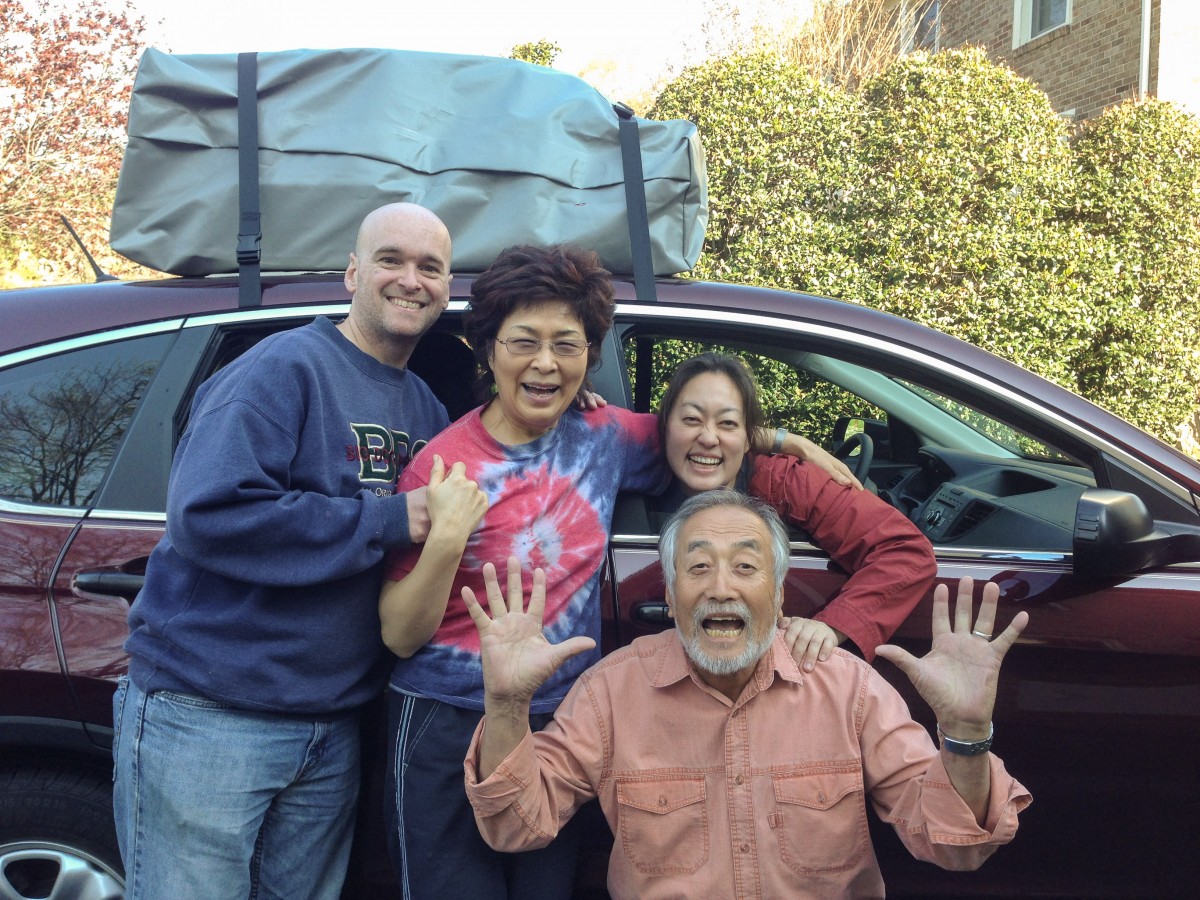 Even with all that
I love that we're doing this. When someone says "You should really visit…" we can put it on our list instead of thinking "oh, maybe some day". We've walked through historic cities like Charleston and St Augustine, we've hiked part of the Great Smoky Mountains (which was awesome!). We've literally camped oceanside and the dogs got to experience the ocean for the first time. We've swum with manatees and seen wild dolphins, river otters, and hermit crabs. We've already been able to visit friends and family we rarely see due to distance. And that's only in our first six months.
We're still looking forward to visiting the west. We've heard the national parks are gorgeous, the views are breathtaking, and the bugs and snakes are plentiful (not the part I look forward to). We want to see the Painted Desert, Yosemite, Carlsbad Caverns, the Grand Canyon, and so many other places.
It's exciting to realize that this isn't something we'll do someday, but something we're doing now. It's an adventure and I'm very very glad we're doing it.