From Wytheville, VA we made our way to Sylva, NC as we moved inexorably back down south towards Atlanta. Sylva, NC would be our last stop where the weather would be perfect. We stayed at a great little campground called Moonshine Creek right in the mountains. We had a pretty awesome site where the creek burbled behind Rover and around to our camping side. The site even had a little wooden deck right over the creek. The sites are a little tight but it's a great place to relax and enjoy the weather. The dogs were a little sad because they were not allowed into the creek right at our campsite; we had to take them to "entry" areas further downstream so they could romp around. Once they realized they still had access to the stream, they seemed quite pleased (and damp through most of the week).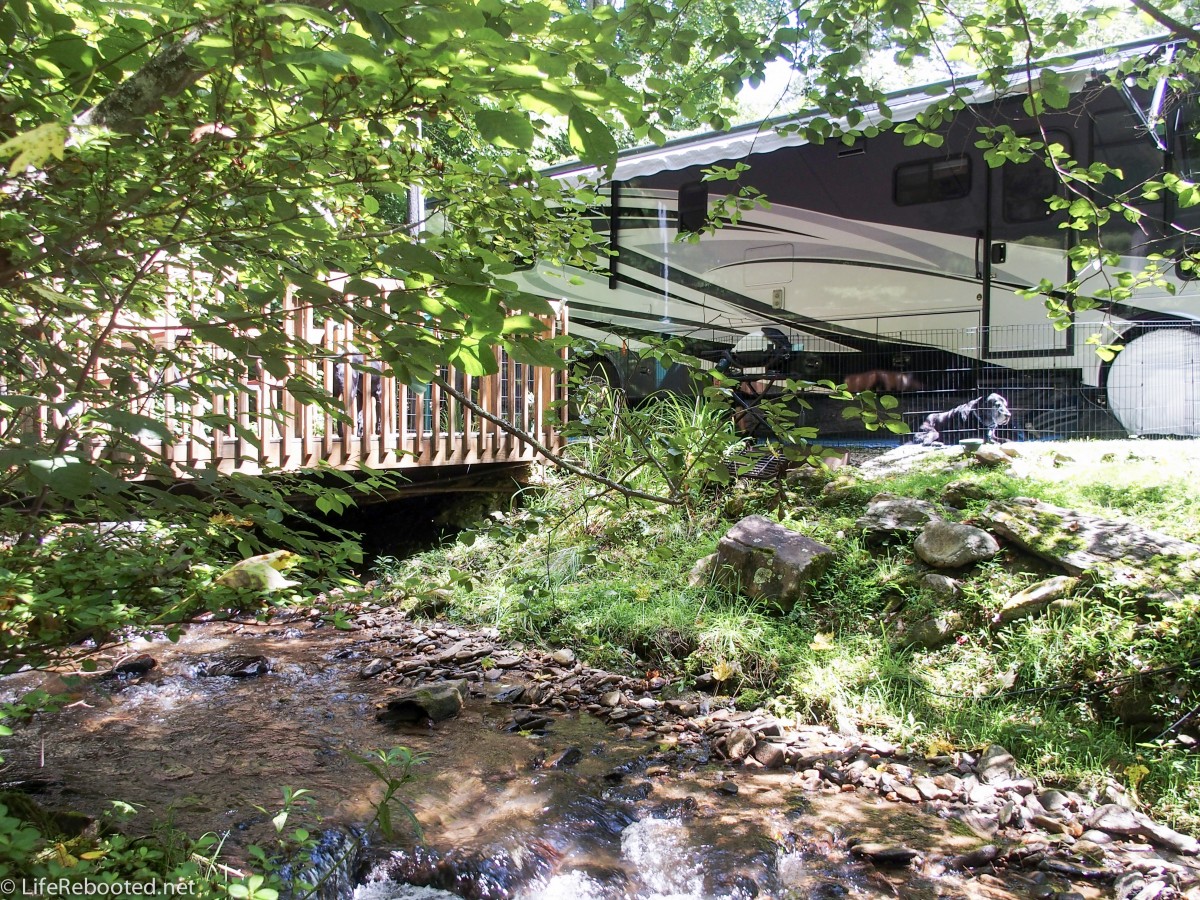 Obviously the Great Smoky Mountains have some amazing views so we decided we had to do some hiking while we were here. We did a short humans-only hike (no dogs allowed) at Deep Creek Park near Bryson City. The park has a really nice stream which locals use for tubing. Brave locals since the water had to be in the 50-60 degree range! We saw a fair number of tubers that day since it was a clear day in the high 70s/low 80s. We took a pretty stroll through the woods following the stream and saw three waterfalls: Toms Branch Falls, Indian Creek Falls, and Juney Whank Falls. It's an easy hike for the novice and it's only about 2 miles long.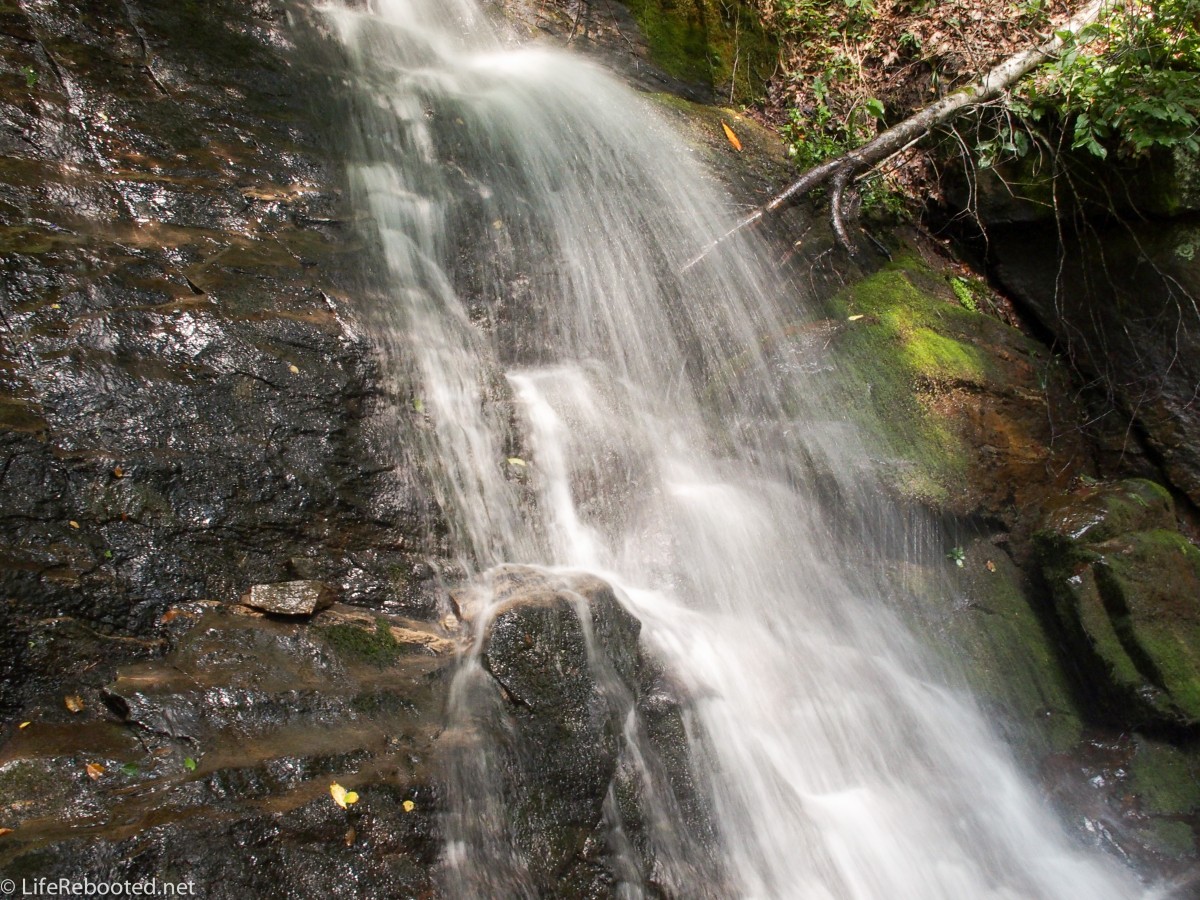 The next day was an easy "Max hike" day. Max enjoys a nice stroll but can't handle hot weather and long walks. Pinnacle Park in Sylva NC had a short 1/2 mile bridge loop that would be perfect for Max. Since Mike and I were navigating, that meant we got a little lost on the trail making it a 1 mile loop but it was still a nice walk through the woods right next to a stream. Unfortunately I did forget the bug spray, making for some very happy mosquitoes.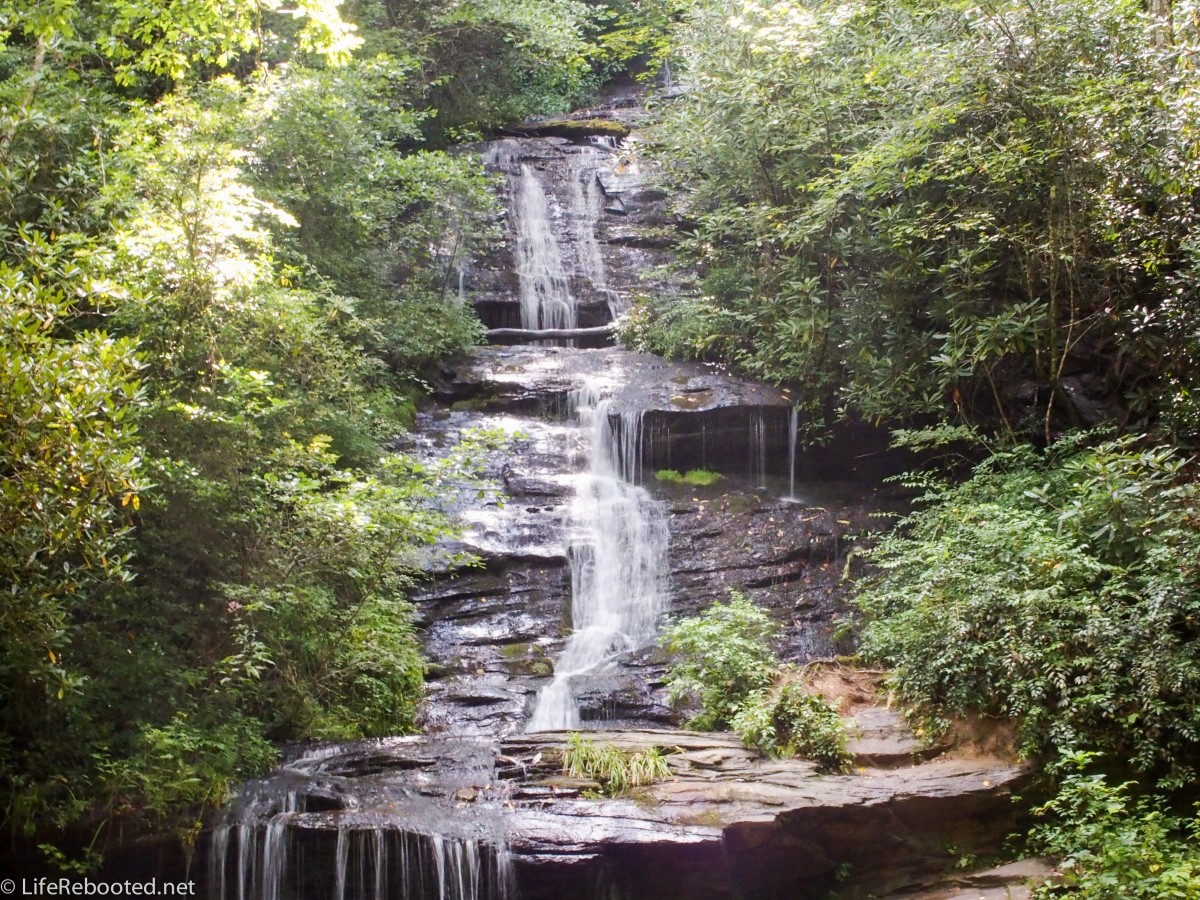 The following day was our "real hike" day. Black Balsam Knob is an extremely popular area in the mountains and has some spectacular mountain balds (mountain summits with no trees), plus we would take the Blue Ridge Parkway to get to the area. We've been told that the Blue Ridge Parkway is a favorite of motorcyclists and that certainly seemed to be true while we were there. The views are breathtaking although the driver of the car doesn't get a chance to really enjoy it due to the twists and turns of the parkway.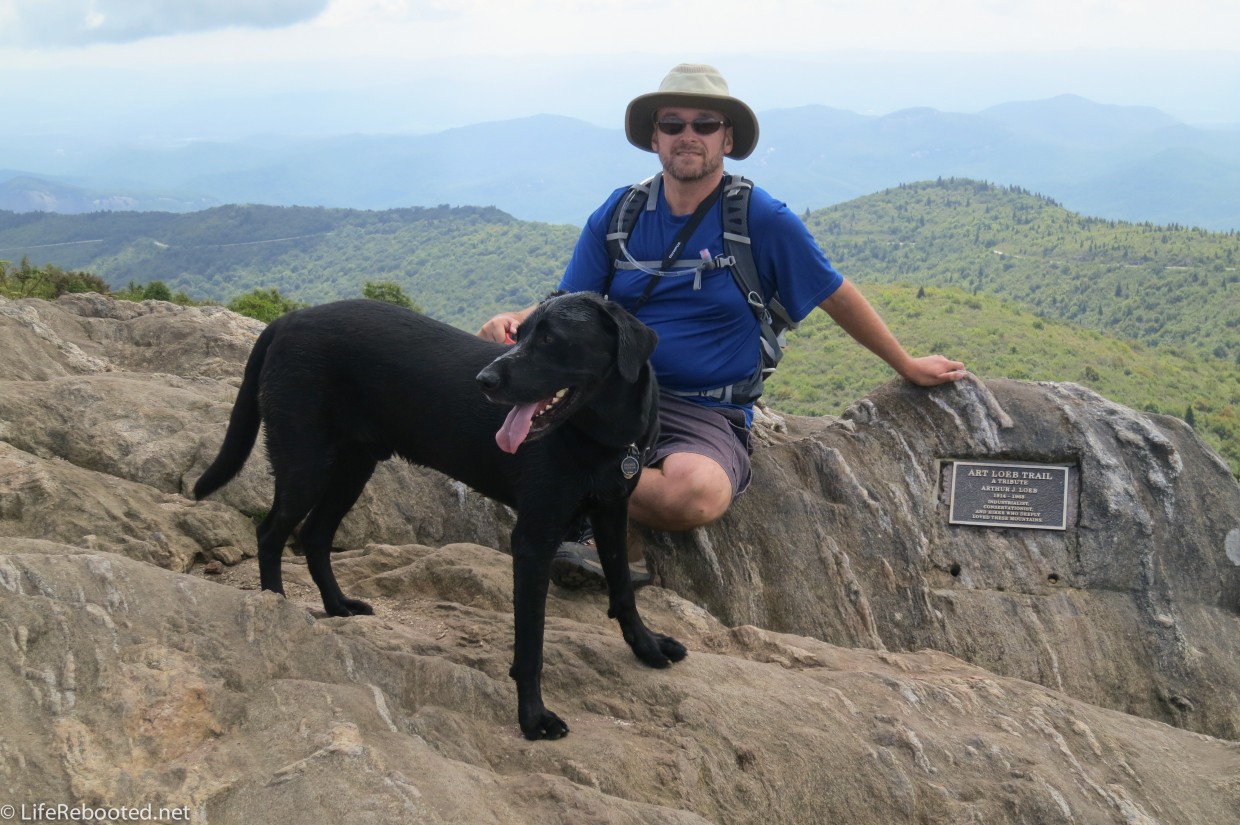 We made it to Black Balsam around noon and there were already quite a few people there. Most of them seem to just hike to Black Balsam Knob and back down, which meant the first part of our hike was a little crowded, but after the knob we continued our hike to Tennent Mountain summit and took Ivestor Gap back down the mountain and around to our starting spot. We brought some sandwiches for our lunch and found a nice rock overlooking the view. Opie and I shared my lunch (because I'm a sucker and he's taken begging to a new art form). We brought water for all of us but Opie seemed to prefer the various little streams and puddles we ran across. I think he rolled in every puddle/stream we found along our route but at least it kept him nice and cool!
The loop trail we did is a little over 5 miles and took just under 3 hours total. I would say the trail is moderate but any novice could handle it as long as you have enough water and a snack bar. The trail is less wide in some areas but overall easy to follow and manage. We used http://www.romanticasheville.com/black_balsam.htm as a reference for the loop we took.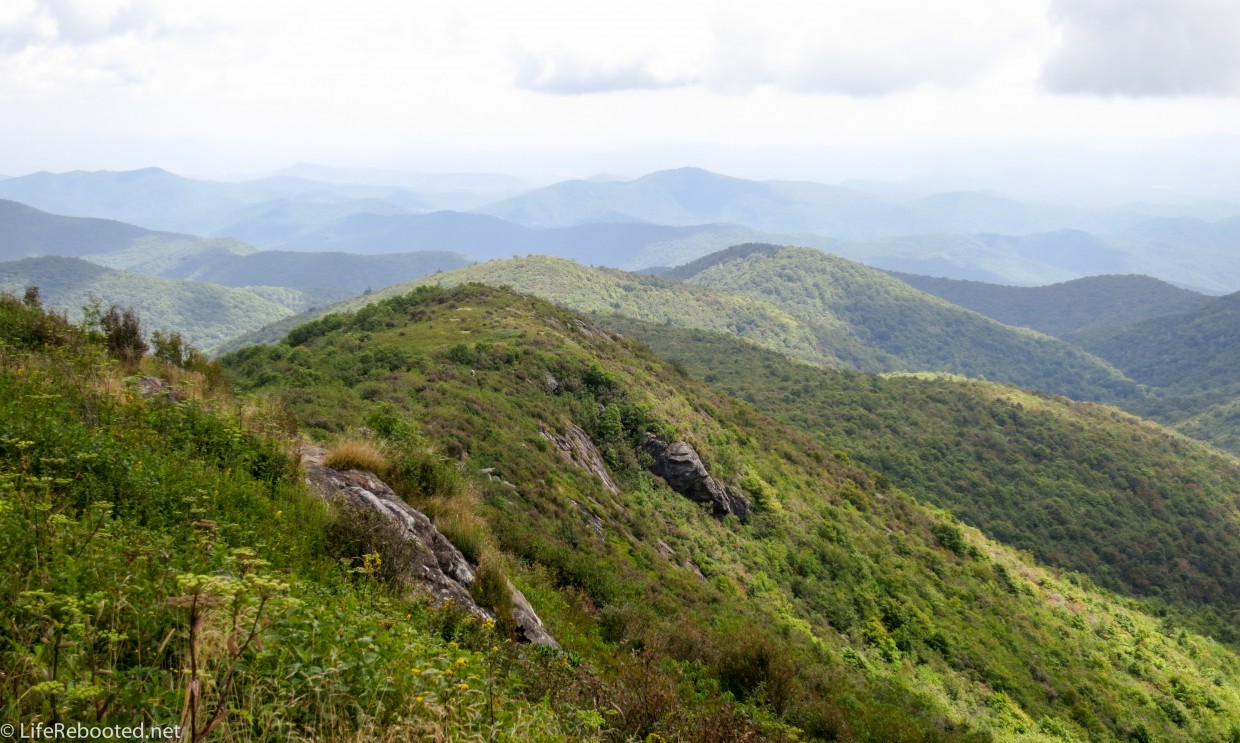 The nice part of having a very energetic dog is his pulling ability on the leash when going uphill. Opie never seemed to lose steam on this hike, although he did take little breaks to drink and roll around in all the little streams that we ran across. I think we all had a really nice time, especially since it was a clear day but only about 70 degrees at 6,000 feet.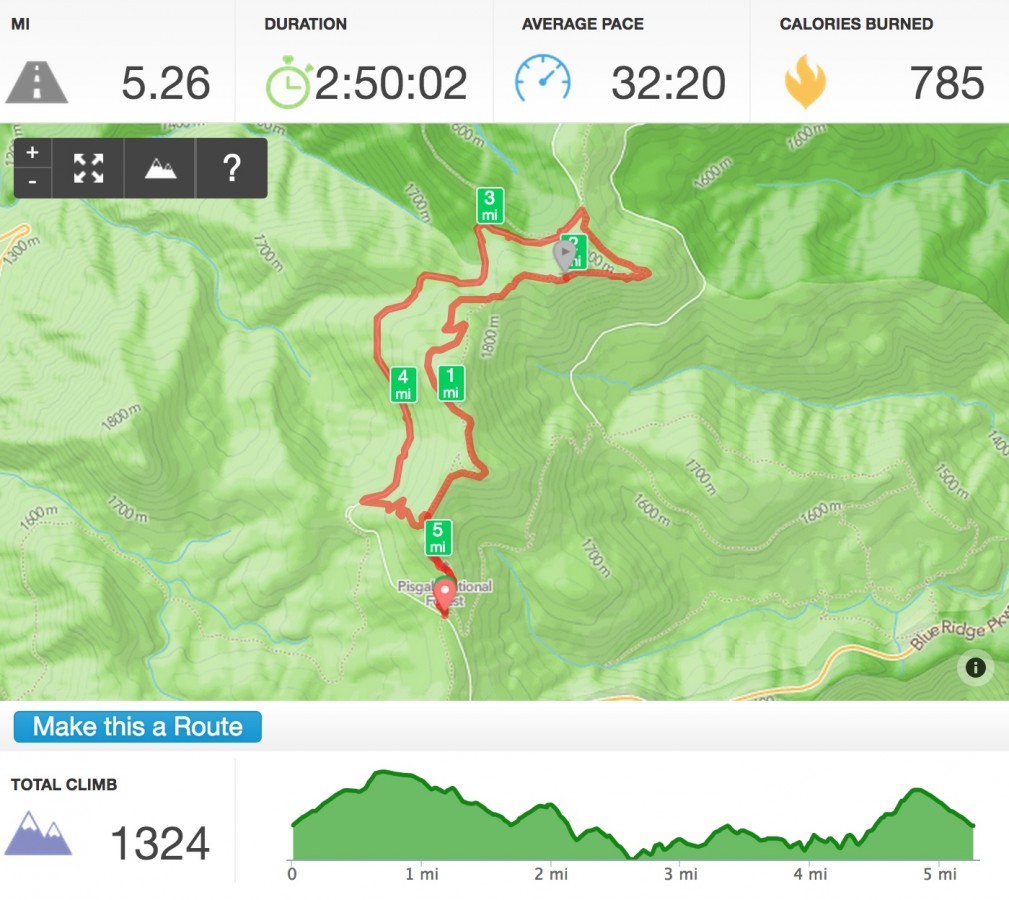 Smoky Mountains area is quite a gorgeous area and very worth visiting. The Blue Ridge Parkway is even more magnificent than Skyline Drive and I see why motorcyclists love to drive on it. We loved the scenery and weather in this area. And of course the bbq in NC is quite delicious!