After our stay at the eastern edge of Big Bend, we packed up and drove west through the park to an RV park in the "town" of Lajitas, TX. Lajitas was bought up entirely and developed into a resort, golf course, spa, and RV park, most of which were deserted while we were there. We did appreciate having electricity, water, and sewer again! The map below shows our journey from Rio Grande Village (A) to Lajitas (B) in extreme southwestern Texas, 250 miles from the nearest major airport.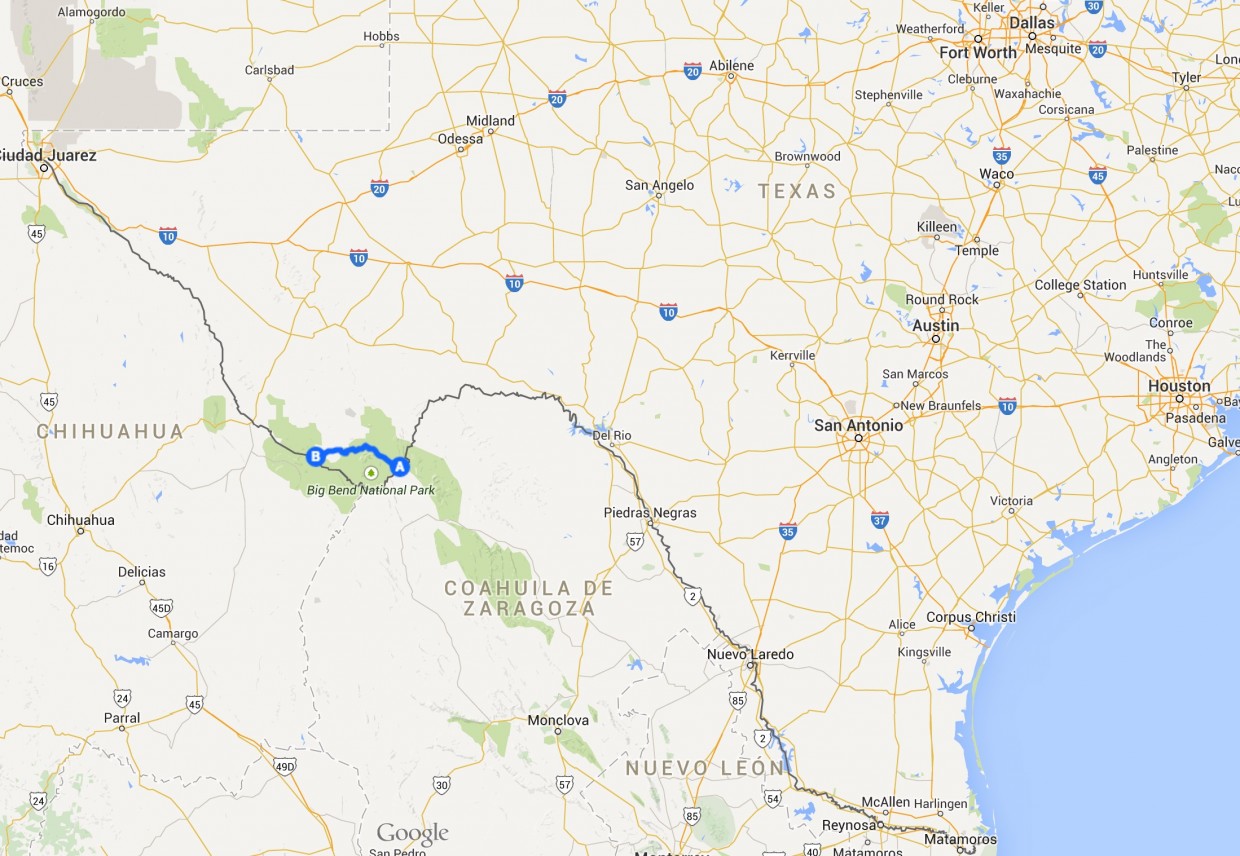 Our new campground had some amazing views, and we saw more new wildlife. Most interesting was a coyote walking past the campground, but we also saw our first javelina, similar to a wild pig. Javelinas like to visit campgrounds looking for leftover food, but they have dangerous tusks and can become aggressive when challenged.
Just to our north was Terlingua, a former mining town now with a population of only 58 people. Today, Terlingua's main claim to fame is their annual chili cookoff that draws 10,000 visitors. During our visit there was nothing special going on, and we saw only a few dozen people in town.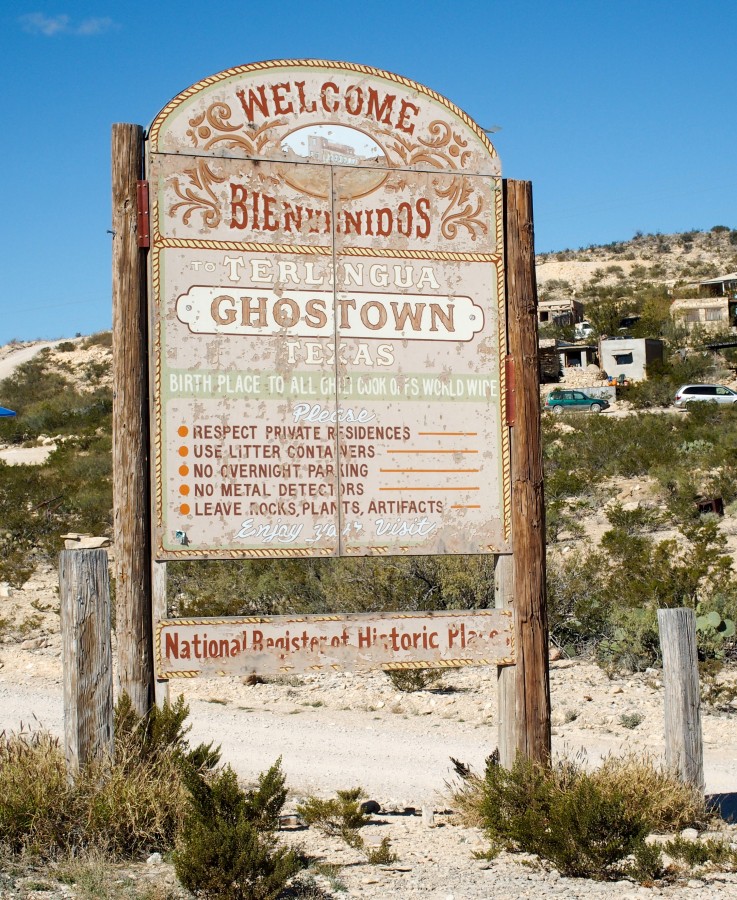 We explored the history of the mining ghost town via a short self-guided walking tour and ate dinner at the historic Starlight Theater. The theater got its name after its roof collapsed, exposing future patrons to the sky until it was turned into a restaurant (with a new roof) more recently.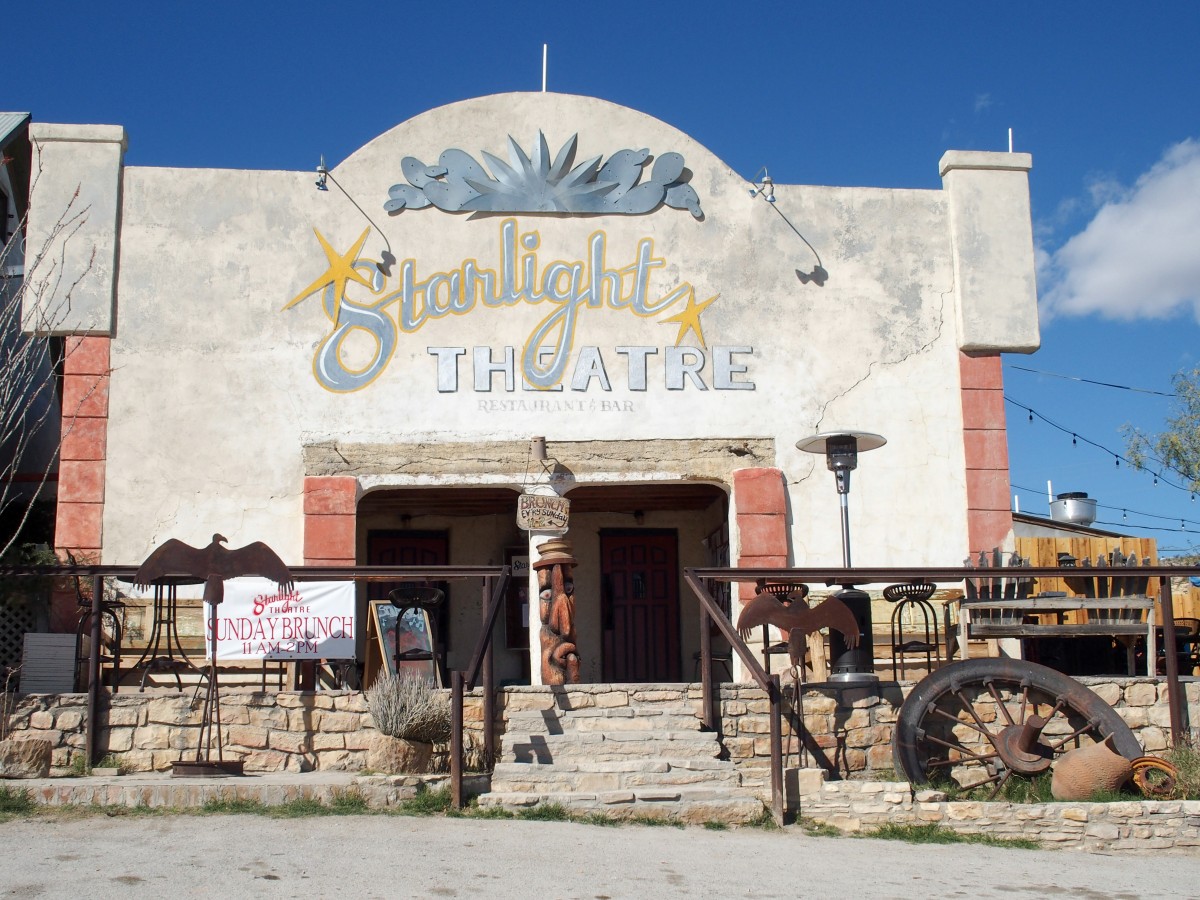 From our new home base, we visited Big Bend National Park once more, taking the Ross Maxwell Scenic Drive. This drive offered some stunning views, as well as many pull-offs where we hiked to interesting historical or geological sites. The drive ends at Santa Elena Canyon, where the Rio Grande winds through the mountains.
The canyon is eight miles long with walls up to 1,500 feet high, carved by the Rio Grande over the millenia, making a most impressive sight from the river. Rafting down the canyon from Lajitas or kayaking up the canyon are popular trips.
We also took a drive further west along River Road, one of the top scenic drives in the U.S. This drive along the Rio Grande goes through (or along) Texas' Big Bend Ranch State Park, a relatively new state park adjacent to the national park. The highlight of this trip was our short hike at Closed Canyon Trail. The canyon is a 0.75 mile slot where rain waters drain into the Rio Grande.
Once inside the canyon, the path starts out easily, smooth with sandy pools where water collects during the rains. The walls tower above us. We took Opie with us for our drive and our hikes, since he had some pent up energy after our time in the national park, where dogs aren't allowed on any trails.
The further into the canyon we traveled, the narrower and rougher the terrain became. Every now and then there would be a drop-off, with each successive drop taller than the last. The final four drops are 10′, 12′, 25′, and 50′, suitable only for those with ropes and rappelling gear.
The last trail we walked was the Hoodoos Trail. Hoodoos are tall "person-like" rock formations created by erosion. At the end of our walk, we ate our picnic lunch and then headed back to Lajitas. Next up is a short drive north to Fort Davis, TX, home of McDonald Observatory, where we'll hopefully get to do some real stargazing!