Once again we made our yearly trek back "home" to the VA/MD/DC area to visit friends and spend time with family for the Thanksgiving holiday. Suffice it to say there was way too much eating, but as always we had a fantastic time.
We also ended up using this time to add solar panels to R2. When we originally bought R2, we waffled about adding solar. R2 is an all-electric coach (no propane) and quite an electricity hog. We also found that we don't boondock (camp without hookups) often; however we did have some "off-grid" plans for the winter in Lake Havasu and Sedona for multiple weeks and we wanted some sort of renewable energy without having to run our generator for hours everyday. Even if we conserve by not watching TV or running any appliances, our big residential refrigerator is slowly draining our battery reserves all day and night.
On Rover we added 600 watts of panels (six 100-watt panels). For R2 we doubled that to 1200 watts (six larger 200-watt panels). We'll still need to run the generator once in a while during the winter when the sun is low on the horizon and the days are short, but it'll definitely be an improvement over multiple hours every day without the panels. Thanks to our previous experience installing panels on Rover, and the solar wire pre-installed during R2's build, our solar panel install went smoothly and easily.

Usually after the holidays we head south to Florida, then west to the warmth of Arizona. This year we made other arrangements: after Thanksgiving we headed north to Shipshewana, Indiana. Yeah, not really a smart choice for December, but we had a good reason, really! Ever since we moved into R2, we've been disappointed with the main sofa in our living room across from the TV. It's a sleeper sofa which makes it uncomfortable to start, and in addition, the back is nearly vertical and the seat cushion length is so short neither of us could get comfortable on it long enough to watch a movie.
Tiffin did have an upgrade option for reclining "theater seats" but those were two separate chairs with a table in between, which just doesn't work for us. I prefer a full length sofa for a number of reasons: 1) I can nap stretched out on the sofa, 2) if we have company over, 3-4 people can sit, and 3) most important, Opie can hog share the couch with us.
This year, we discovered Lambright Comfort Chairs in Indiana builds a full-length sofa that fits into our small space, the two end seats recline, and the middle can fold down into a table. The only disadvantage is losing the fold-out bed option which means our friends will have to be comfortable on the airbed on the floor (sorry friends, apparently our comfort is more important than yours!).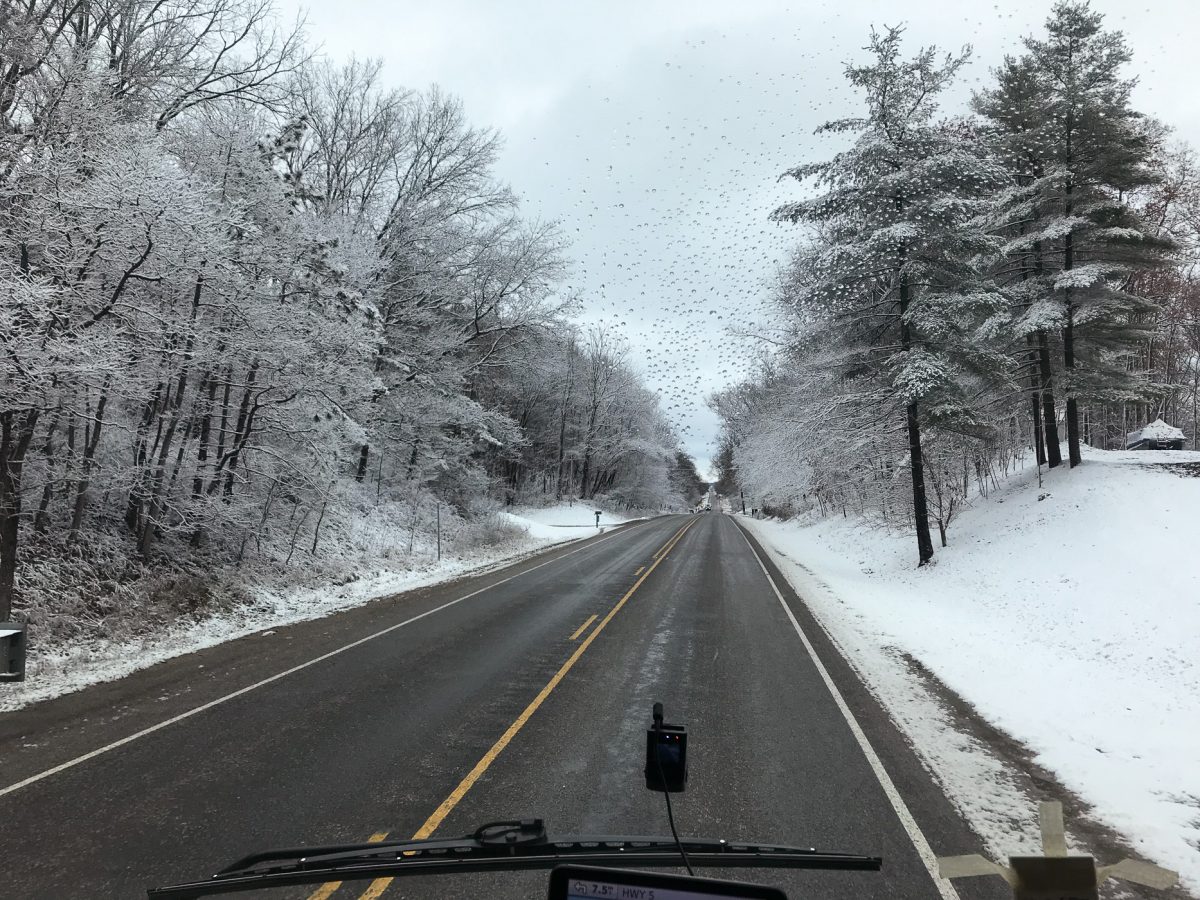 Unfortunately we hit some freezing cold weather on our drive to Indiana and ran out of boiler fluid in our diesel Aqua-Hot furnace while driving. Since the boiler fluid is essential to heating R2 when it's below 40 degrees (our heat pump won't work when it's that cold), it was imperative to find more before moving on, especially to keep our water pipes from freezing. Fortunately Shipshewana is right next to Elkhart, the RV capital of the US. After several calls we found an RV service shop who could refill our boiler fluid before we all turned into ice cubes!
After a cold, long two-day drive to Shipshewana, we spent a night nearby and arrived at Lambright just before dawn for our install.
Out with the old…

In with the new!
After our quick sofa install, we drove cross-country in record time (for us) and arrived in Albuquerque to visit our friends Lanni and Ben. Originally full-time RV'ers, they'd just found a house in ABQ to use as a home base. They plan to still travel part-time but for now they are spending some time working on their home. They are fabulous hosts and we extended our stay an extra week because we were having such a great time!
They are our gaming soulmates which meant ridiculous amounts of gaming (and drinking… and eating…) but we also put together our first lego set, an x-wing fighter, which was great fun! Lanni is a fantastic baker and Ben a great cook which meant we ate a lot more than our pants permitted but it was totally worth it! As a bonus, Andrea and Shawn were in ABQ so we were able to meet up with them for food and socializing too.
There was gaming…
Wildlands

Overcooked 2

Pandemic

Sushi Go Party
There was eating…
And there was our first Lego project!
Even with all the gaming, eating, and socializing, we had time to enjoy touristy fun activities. We took a nice stroll through old town ABQ, the historical and cultural heart of ABQ. We spent some time perusing the art and of course had to take a detour into the gourmet chocolate store.
We also visited Petroglyph National Monument, one of the largest petroglyph sites in the US, containing approximately 24,000 images carved by ancestral Pueblo people and early Spanish settlers. There are four hiking trails in the area. Boca Negra Canyon, the most popular hike, does not allow dogs but Rinconada Canyon allows dogs and contains 300 petroglyphs. Rinconada Canyon trail is relatively flat and less than 2.5 miles so it's a good easy walk for most everyone. Bring some binocular as the trail skirts along the right side of the canyon wall and some petroglyphs are difficult to see due to distance and height.
We also took a day trip to visit Meow Wolf in Santa Fe. Meow Wolf is an art installation created and maintained by employees and artists. It's an immersive experience where people are encouraged to touch, read, and investigate everything. There is an overall storyline or you can also enjoy each area individually. We spent about 4 hours visiting Meow Wolf and perusing all the various rooms, clues, storylines and I still felt like there was a lot I missed. It's reminiscent of an escape room but mixed with art (visual, tactile, and auditory). It's imaginative, different, and worth a visit if you're near the area. Basically it's weird and fun!
After our fun and food-filled 2 weeks in ABQ, it was time to finally move on to warmth at one of our favorite spots in Tucson, AZ.