above: class C motorhome
When we started shopping for RVs, we knew there would be a lot to learn. We weren't prepared for quite how much though! It really makes me wonder how we made smart decisions before we had all the information in the world at our fingertips through the Internet.
We quickly learned about the different classes of RV: Class A's that look like tour busses, Class B's that look like large vans, and Class C's that look like big U-Haul moving vans, with a bed overhanging the cab. Then there was gas vs. diesel, all the various lengths RVs come in (from around 19 to 45 feet long), slide-outs, propane-powered refrigerators, leveling jacks, RV plumbing, 120 volt vs. 12 volt power, gross vehicle weight ratings, and dozens of other new things we had no clue about before! We then learned about fifth-wheels and towable trailers, which have their own advantages and disadvantages compared to Motorhomes.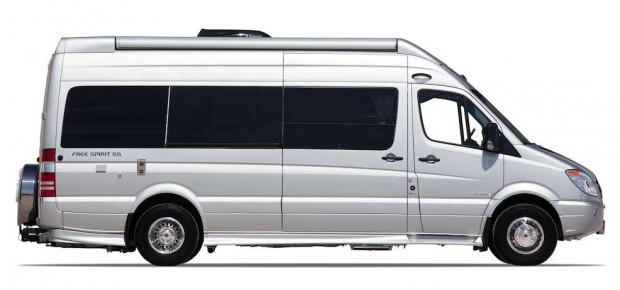 class B motorhome
We went window shopping at several nearby dealerships, and to a pretty big RV show at the Maryland State Fairgrounds. When we started our planning, we were focused on small class C motorhomes on the assumption that they'd be easier to drive, able to go more places, and be most cost effective. However, the more we learned about what's involved in full-time RVing, the more we started looking at longer RVs, and eventually started focusing on class A's.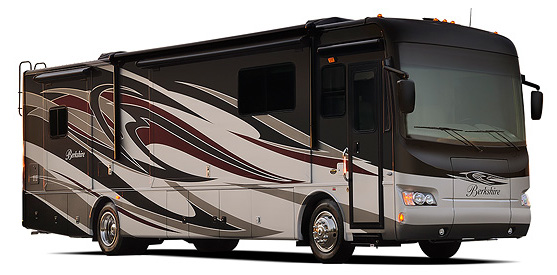 class A motorhome
The key advantages we found with class A's are their usable interior space and their storage capacity. While almost any RV will do the job for a week-long vacation, two people living in one full-time with two dogs and no "home base" to return to means storage and space are essential. Our initial concern about a class A was the drivability. The first time we stood at the front of one, staring up at the gigantic windshield and the roof line 13 feet above the floor, we were in awe and a bit of fear. After spending more time with them in person, and doing more research on how to drive them, we gradually became comfortable with the idea. We've decided to focus on class A RV's 30 to 34 feet long for the rest of our shopping.