above: Lake Fairfax County Park, Reston VA
Following up on our 2014 Year In Review post, we want to also share our favorite campgrounds of 2014. Since we had never been RVing before buying Rover, we didn't really know what to expect out of campgrounds and RV parks. As we've stayed in more and more places, our preferences have evolved and become clearer. When we were getting started we tended to favor commercial RV parks with full water, sewer, and electric hookups. Today, we much prefer county and state parks, even if sewer (or sometimes water) is not available. We're still pretty dependent on electric hookups, but if we add solar panels in the future, even that may change.
Kathie and I both looked through the list of campgrounds we stayed at in 2014 and made our list of favorites. Happily, we created nearly identical lists! And not surprisingly, all our top campgrounds were county or state parks. Here, in chronological order, are our top picks of 2014:
Lake Fairfax County Park, Reston Virginia (June and August)
This heavily wooded county park has huge campsites, plenty of trails to walk the dogs on, and a lake for them to swim in. Campsites have electric service only, with a water station and dump station in the campground. Lake Fairfax has the best showers of all the parks we've tried: hot, high pressure, and spacious. It is just a mile or two from shopping, restaurants, and the Washington DC Metrorail service. Perhaps the most amazing thing about the campground is that we lived and worked in Reston for 16 years, visiting Lake Fairfax Park many times, and never knew there was an RV park tucked away inside! $45/night, 50-amp electric.
Skidaway Island State Park, Savannah Georgia (September)
I forgot to take photos inside Skidaway Island Park, so above is a stock photo from the Skidaway Island web site. Hopefully we'll have a chance to return someday and take a photo of Rover to update this page! The campground offers some of the largest campsites we've seen, as well as having water and sewer hookups at many of the campsites, which is very rare for a state park. There are several long walking trails, but minimal river access for the dogs to go swimming at. It's a bit of a drive to get into Savannah, but manageable. $40/night, 50-amp electric, water, sewer.
Bill Frederick City Park, Orlando Florida (October)
Bill Frederick Park in Orlando was a fantastic home base for us during our visits to Universal Studios and Disney World. It offers large, wooded campsites with full hookups and inexpensive rates, as well as plenty of places to walk the dogs. The park sits right on a lake but due to alligators, we decided not to let the dogs try swimming. No campfires are allowed, and there are some parts of the park where dogs are not allowed, but that wasn't really a problem for us considering how large the rest of the park is. $23/night, 50-amp electric, water, sewer.
Davis Mountains State Park, Fort Davis Texas (December)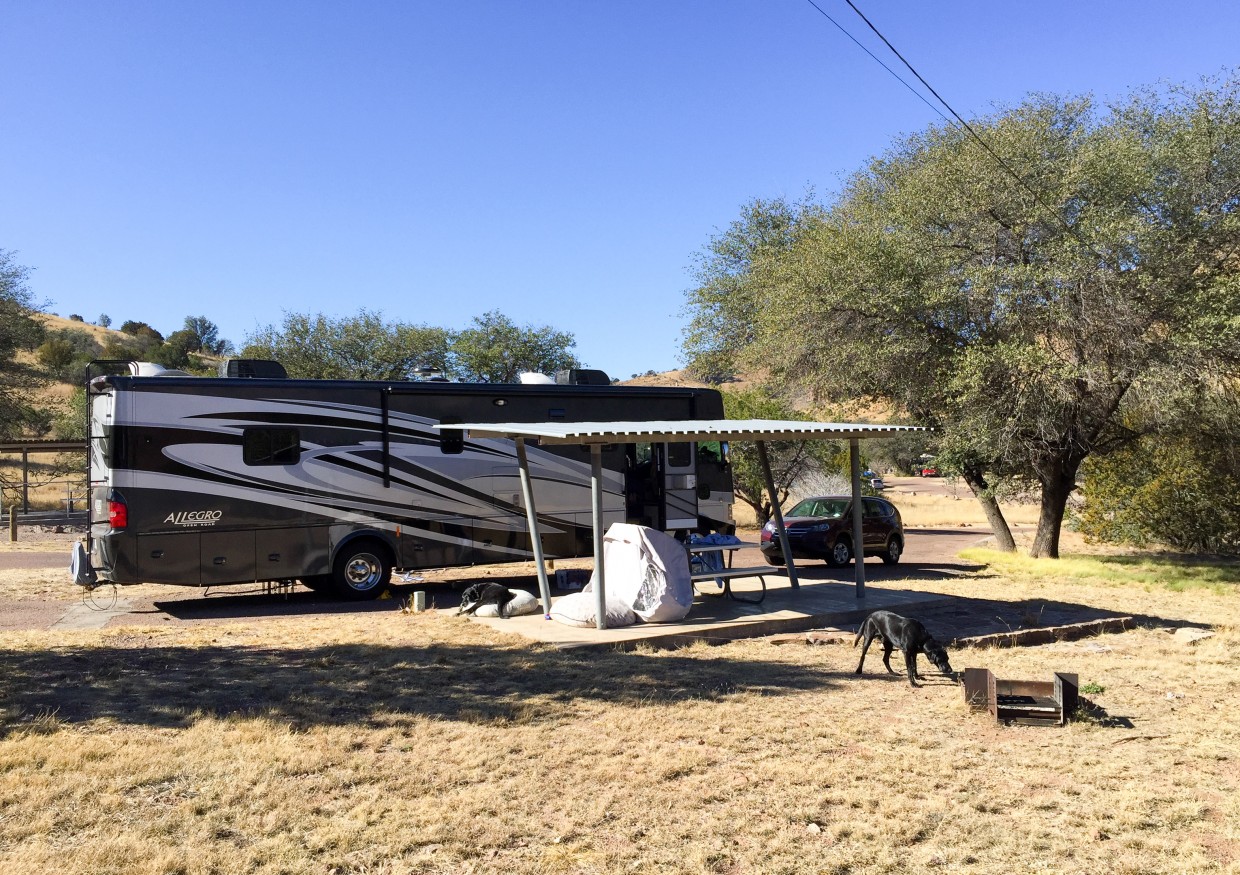 Like our other favorite campgrounds, Davis Mountains State Park in Texas has very spacious sites, plenty of trails to hike with the dogs, full hookups, and great scenery. The staff was extremely friendly and helpful to us. The biggest drawback for Davis is that the nearby mountains block most of the AT&T and Verizon cell signal from reaching the park. With our cell booster antenna on Rover's roof, we were just able to get an adequate signal, but without the booster we had nothing. The park does offer free WiFi (if your site is in range of one of their transmitters), but the speeds are pretty slow. $25/night, 50-amp electric, water, sewer.
Honorable Mention: Ocean Lakes Family Campground, Myrtle Beach South Carolina (September)
Ocean Lakes is the only commercial RV park that made it on our list. It's one of the largest campgrounds in the U.S., with about 900 campsites for RVs and 2,500 lease sites for mobile homes, condos, etc. While it is a lot more crowded and cramped than the county and state parks we've been to, it also has over a mile of beachfront (dog-friendly, at least during the off-peak season when we visited) and 300 acres of roads to walk with the dogs. The free WiFi was fast and there's plenty to see and do nearby. Of course, beachfront resort locations don't come cheap! $55-$90/night, 50-amp electric, water, sewer.
Final Thoughts
Now that we've been doing this for a while, we've realized that the most important factor for us when choosing a campground or RV park is how dog-friendly the park and its local vicinity are. For example, national parks may be beautiful, but most don't allow dogs on any trails. Some commercial RV parks claim to be dog friendly, but don't allow you to walk dogs anywhere inside the park except for one small dog area. Others may not have much dog walking space inside the park, but have great trails just outside the park making them a viable option.
Apart from dog-friendliness, we really prefer campgrounds that are surrounded by nature, with some space between campsites. Since most state/county parks don't have sewer, it's also important that the park has good showers to avoid filling our grey tank too quickly. Many commercial RV parks have sites so small that one RV's awning is almost touching the next RV's slide-out room. A lot of the RV Resorts have plenty of great amenities like social activities, pool, laundry facilities, game room but we've found that we rarely (if ever) take advantage of them so it's not worth it for us. We also prefer locations where people visit for a short time to camp and have fun. Too many RV parks and campgrounds have many "full time" residents who have been in the same site for months, or even years. These parks have a very different vibe than recreational campgrounds which have a 14-day or 28-day camping limit.
It's February of 2015 now, and so far two of the campgrounds we've stayed at in 2015 (both in Arizona, one state park and one county park) have proved to contenders for our all-time favorites. We'll write up a "best of 2015" post a year from now and see where they stand!