Since we fulfilled our Opie hiking duties in New Brunswick, we felt guilt-free about leaving Opie in the RV so we could play tourist in Lunenburg, especially since Mike's brother and his wife came to visit for a few days and co-tourist with us.
Lunenburg is a tiny port town (less than 2 squares miles) off Nova Scotia's south shore with a population of about 2,300 people. Historically a fishing and ship building area, it's evolved into more of a tourist destination, especially after being designated a UNESCO World Heritage site in 1995 for its unique architecture and design. Walking through the town, many of the buildings have plaques containing historical information.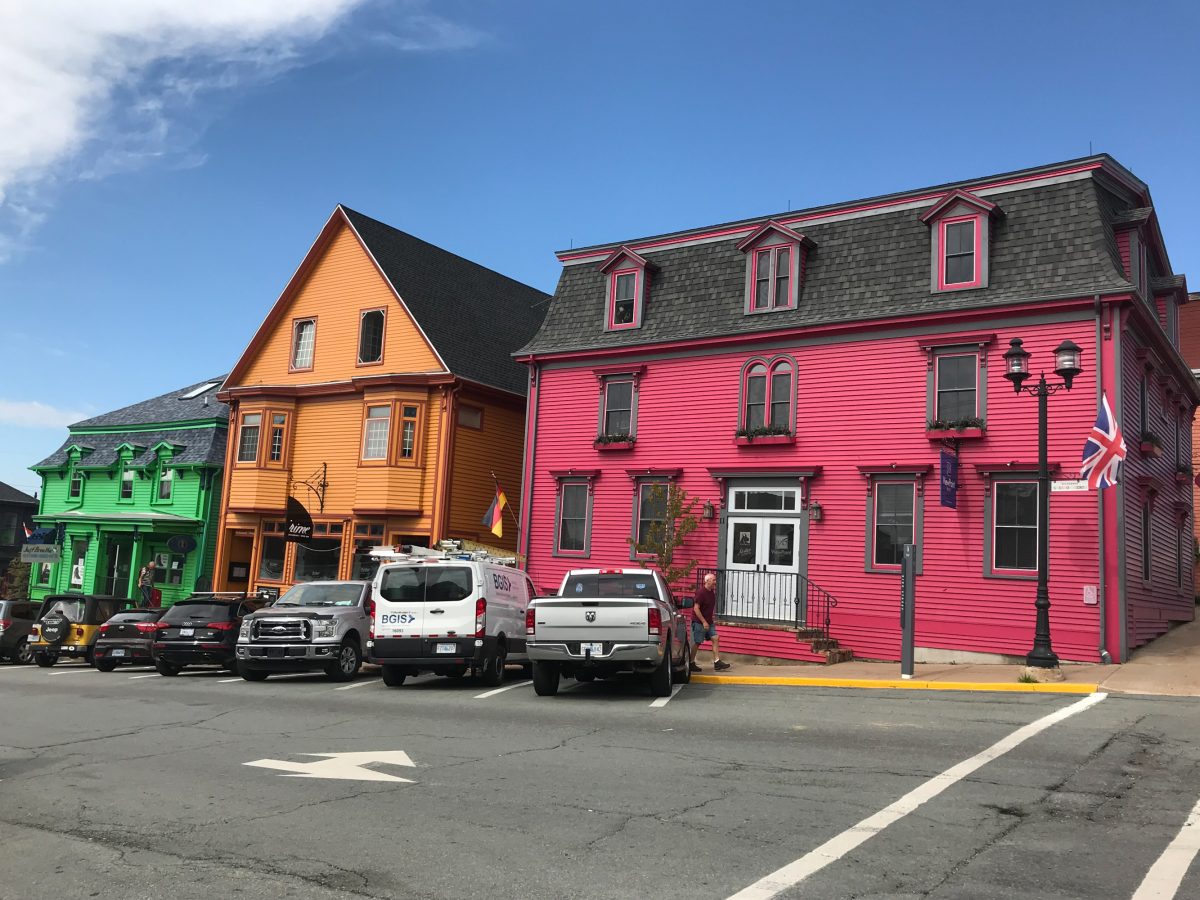 The Lunenberg Board of Trade Campground is the closest campground, located right at the edge of town. It's pretty basic but it has full hookups and puts the entire town of Lunenburg within walking distance of your RV! If you decide to stay here, for the sake of your sanity, make sure you take Bypass Road (route 332) to Sawpit/Blockhouse Rd to reach the campground. We did see a few RVs bravely navigate through the town but it ain't pretty and Bypass Road is so much easier. Once camped, it's a quick 2-3 block walk to get into town, although after spending hours walking around town, it's a workout to get back to the campground since it's situated at the top of a rather steep hill. Those were the moments when I wished I didn't have that ice cream cone!
Lunenburg is best known for the Bluenose fishing schooner, a fishing and racing boat. The Bluenose is considered Canada's most famous ship and has been immortalized on Canada's dime. Built in 1921, the Bluenose was built for speed both for racing and fishing since the fastest fishing vessel got back to port first and received the best price for its catch. It's held the record for the largest catch of fish brought into Lunenburg and won the International Fishermen's Race from 1921-23, 1931, and 1938. The trophy is awarded to the fastest fishing schooner that works in the North American deep fishing industry. Unfortunately the Bluenose wrecked on a coral reef in 1946 and broke apart. A replica, called the Bluenose II, was built in 1963 and still travels around Nova Scotia in the summer and docks in Lunenburg in the winter. Unfortunately it was not in Lunenburg during our stay so we had to make do with photos peppered around town.
With so many vibrant and cheerful colored homes and buildings, it's easy to walk around for hours just admiring the colors, latticework, and gorgeous doors everywhere while zig-zagging up and down the streets. The pragmatic part of me felt sympathy for the amount of work needed to maintain these wood homes and paint jobs while the nomadic part of me felt glee that it wasn't my job anymore!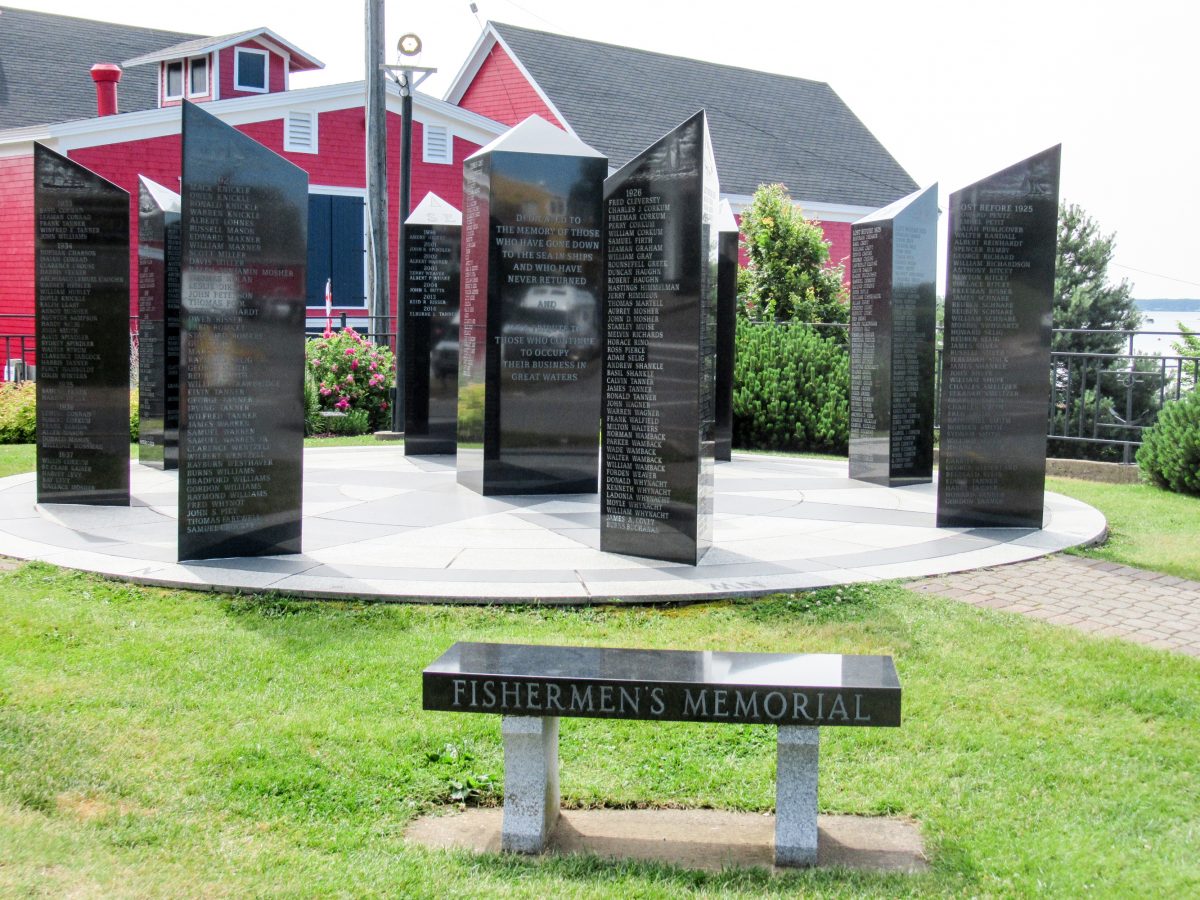 Right along the harbor is the Fishermen's Memorial which honors the sailors and fishermen from Lunenburg who died at sea from 1890 until the present. Looking at the memorial, it's eye-opening to realize 1) how dangerous deep sea fishing could be and 2) how many family members perished when one boat was lost. I found the details on the engravings stunning, someone put a lot of thought into the memorial.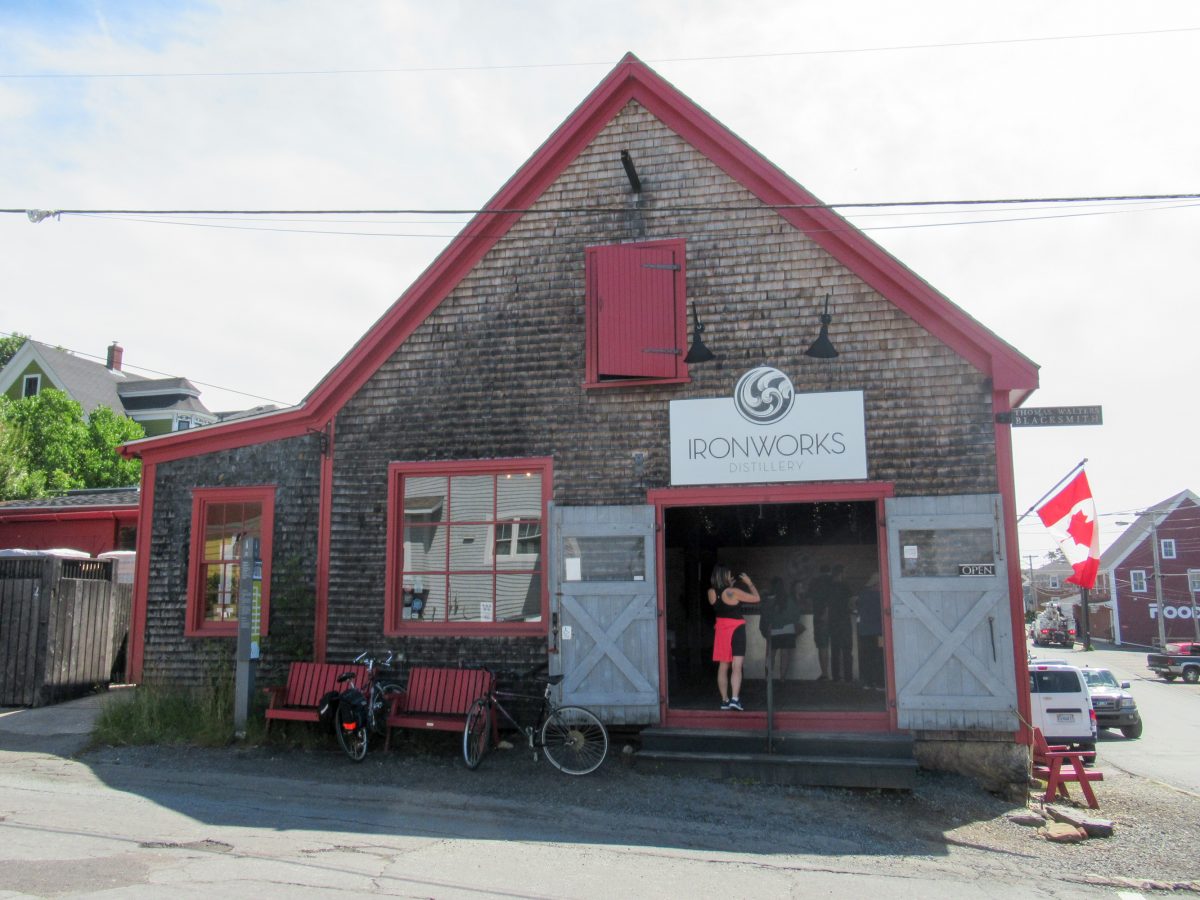 Close by is the Ironworks Distillery, located in an old blacksmith shop which still has the original floors—If you visit the distillery, look down at the floors, they have some great character! Ironworks distills in small batches and creates vodka, rum, and liqueur. They provide free taste tasting and enthusiastically answer questions. I easily spent a good 10 minutes talking to the distiller about the process and the difference between the rums. Ironworks even has a few rum kegs aging on a barge in the harbor. Apparently the temperature changes and rolling allow more of the barrel flavors to extract into the rum, providing more intense vanilla flavors. They also sell a pear brandy with a full-grown pear inside the bottle. They place bottles over seedlings and the pear grows inside the bottle. When the pear is ripe, they remove the bottle and fill it with pear brandy. They have a fascinating slide show of the process. We were very good and only bought one bottle of their dark rum although I was eyeing their various liqueurs (rhubarb and blackberry).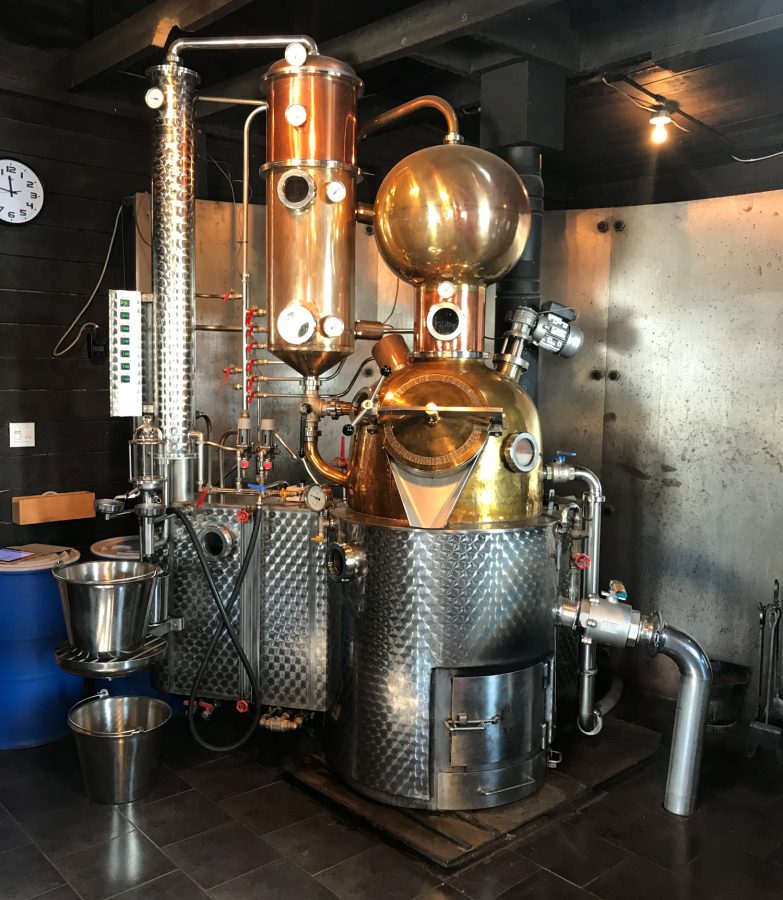 It's hard to believe but the tiny town boasts six active churches. We visited three of the churches: Zion Lutheran church with its ceiling supported not by pillars but crossbeams allowing for an open and airy space; St. Andrew's Presbyterian Church, a small beautiful black and white building but unfortunately not open the the public that day; and St. Johns Anglican Church, a stunning church with soaring steeples. St. Johns suffered a fire in 2001, destroying half the church. Instead of building a replica, the church members decided to build on what survived and incorporated as much original material that could be saved, including pieces of the stained glass windows. Since the windows were destroyed, people salvaged pieces and had to jigsaw pieces together and rebuild windows based on old photographs.
Since we had Gary and Dee staying with us, we used it as a great excuse to try the various restaurants in town. The Old Fish Factory above the Fisheries Museum has both sea and land selections and Mike really enjoyed his steak skewer while the rest of us enjoyed the lobster and Digby clams. The Salt Shaker Deli also had some tasty selections, including the seafood chowder, lobster rolls, and burger. Nice light breakfasts were enjoyed at Kate's Indulgence and No 9, both had good coffee and pastries. There are a LOT of great restaurant choices available, including a Subway which just seemed really out of place in Lunenburg, although they did boast a lobster sub on the menu.
We spent a day at nearby Mahone Bay, a small town with a much busier feel than Lunenburg. It's another good place to walk around but more for the shops than the architecture. We stopped at the Amos Pewter store and watched a demo of the molten pewter being poured into a spinning mold of shapes, perused a real bookstore (apparently they still exist), admired incredibly detailed quilts, and ate a tasty meal at Oh My Cod!. Yes, we had to eat there just because of the name but the food was very good. It's a good day trip and it's only about 30 minutes from Lunenburg.
Even Opie had a chance to enjoy an outing to nearby Bachman's Beach at Sandy Cove where he and a few hearty Canadians braved the chilly water. The rest of us were content to sun on the beach and just get our feet wet!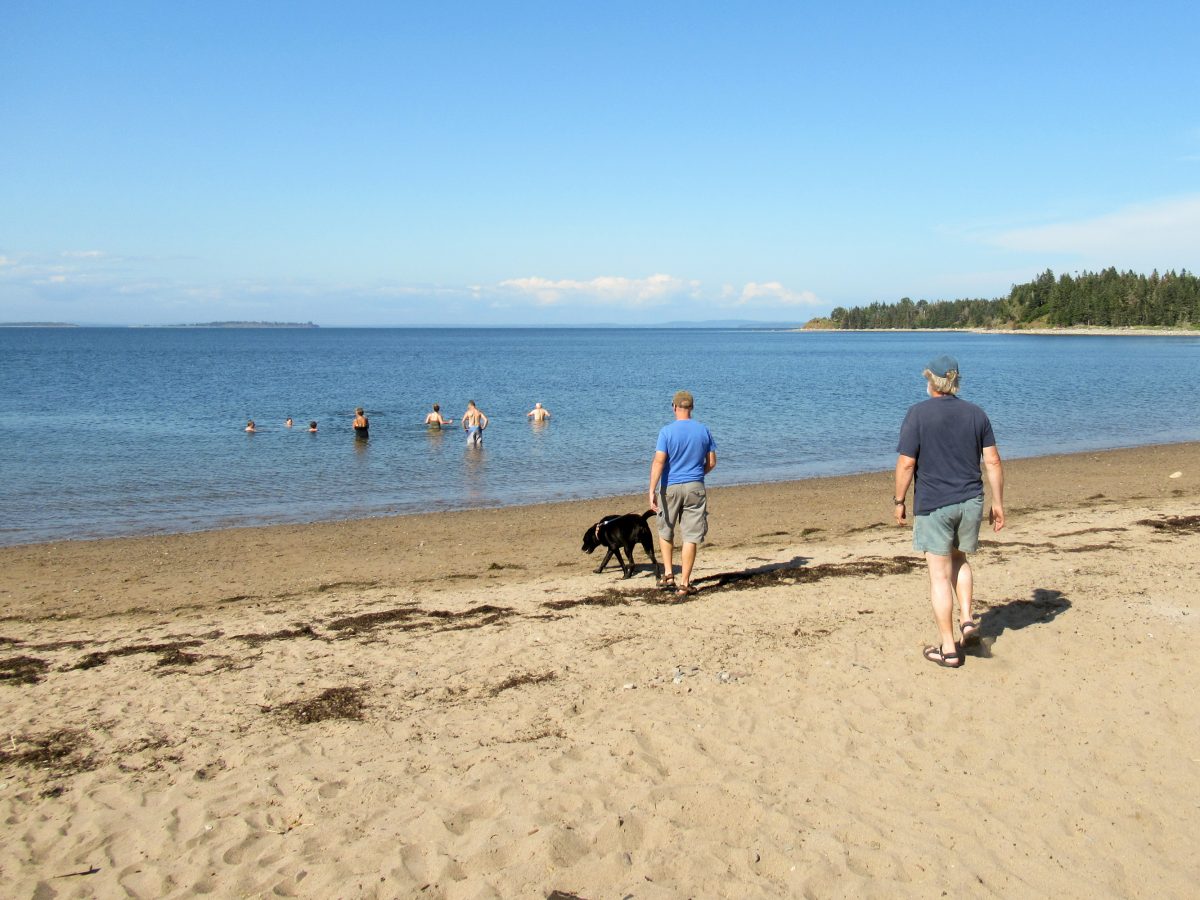 Lunenburg has that charming small town feel and surprisingly wasn't too crowded while we were there. It's small enough that 2-3 days to explore the town and surrounding areas was just right for us.