Games, games, and more games!
The last few weeks, we've been back in Red Bay, AL finishing the rest of our warranty work on R2. While it does keep us busy, there isn't much else to do in Red Bay which meant no more excuses and time to catch up on blogging.
So back to our regularly scheduled program, last we left Mike and Kat, they had just left Canada (minus some mini peppers and tomatoes)…
Our next couple of stops in Bangor, Maine and the White Mountains of New Hampshire were supposed to be to resupply and re-energize after a frantic (for us) 3 weeks of activity in Canada. It didn't turn out quite as quiet as we planned but we did have a great time with friends. In Bangor, we met up with Andrea and Shawn of 40 Foot House for the first time. They were working in Bangor for a few months and coincidentally happened to be at the same campground, Pumpkin Patch, as us.
Andrea, Shawn, and their very cute dog Elvis have been full-timing for a few years and they are super-friendly and approachable. Mike and I are introverts (as mentioned ad nauseum) but they made it so easy to hang out and relax. They even let us introduce them to tabletop gaming and in all good humor, played Forbidden Island with us. I do hope we cross paths with them again, I even promise not to make them game with us next time!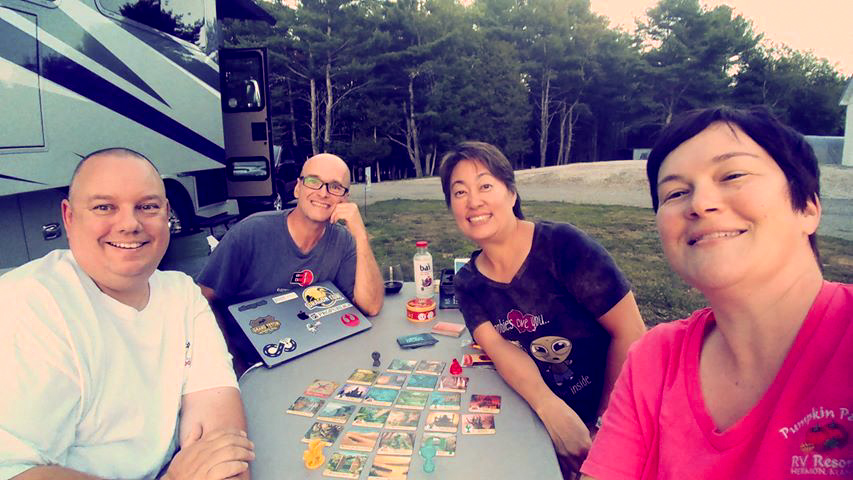 Since they were familiar with Bangor, they were able to recommend a couple places for food. After being in Canada for a while, we were craving something with a little spice, so we all headed to Happy China for a rather huge buffet menu. With all the various choices, we got a little bit of everything which should hold me over until we get back to N.Va and my mom's spicy Korean food. Then since this was probably one of my last chances to get lobster (*SOB*) before leaving the area, we ate at Anglers which has a nice selection of seafood (yep, Mike got the burger).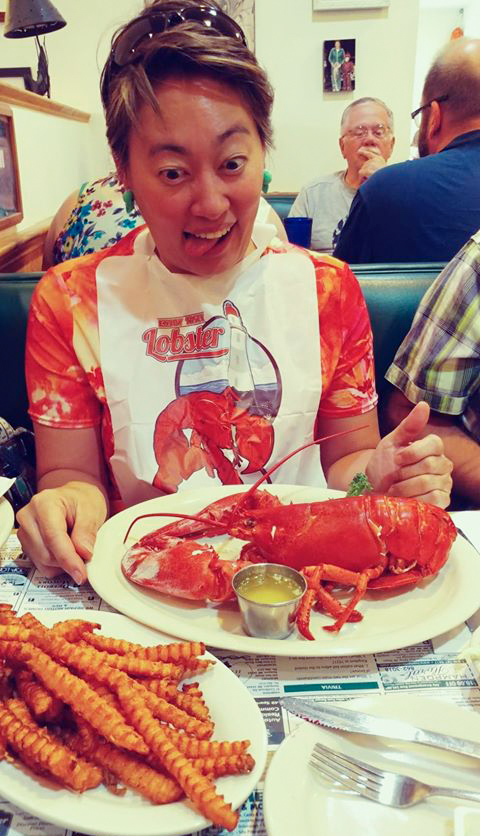 Andrea also suggested the Kenduskeag Stream Trail, a nearby riverwalk, since we were looking for a nice stroll for Opie. The trail is well-maintained and meanders around the stream until the Kenduskeag reaches the Penobscot River, passing through downtown Bangor. It's an easy stroll with some nice small waterfalls, open areas, and forests. As usual, Opie found all the entries into the river and enjoyed some nice soaking. I believe Opie's goal is to add his dog hair to every major stream, lake, and river in the US and he's working hard to reach that goal!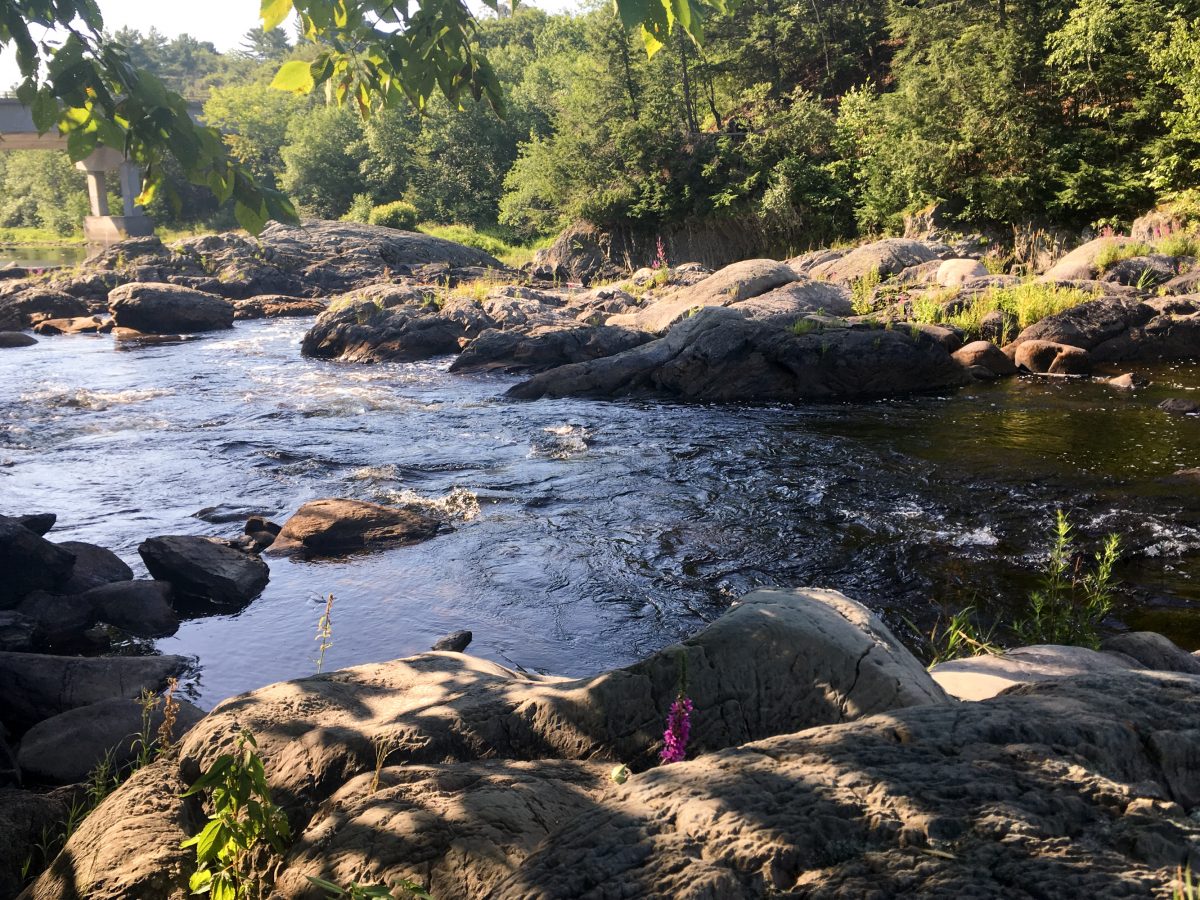 After a few days in Bangor, we drove to Shelburne NH near the White Mountains and stayed at the Timberland Campground for a week. It's a private campground but has a nice rustic feel and a trail right along a river. Indoor Nomads met us here in their RV so we could hang out for the week. Ben and Lanni are probably our closest RV friends and we love spending time with them, especially since they enjoy tabletop gaming and have so many similar interests.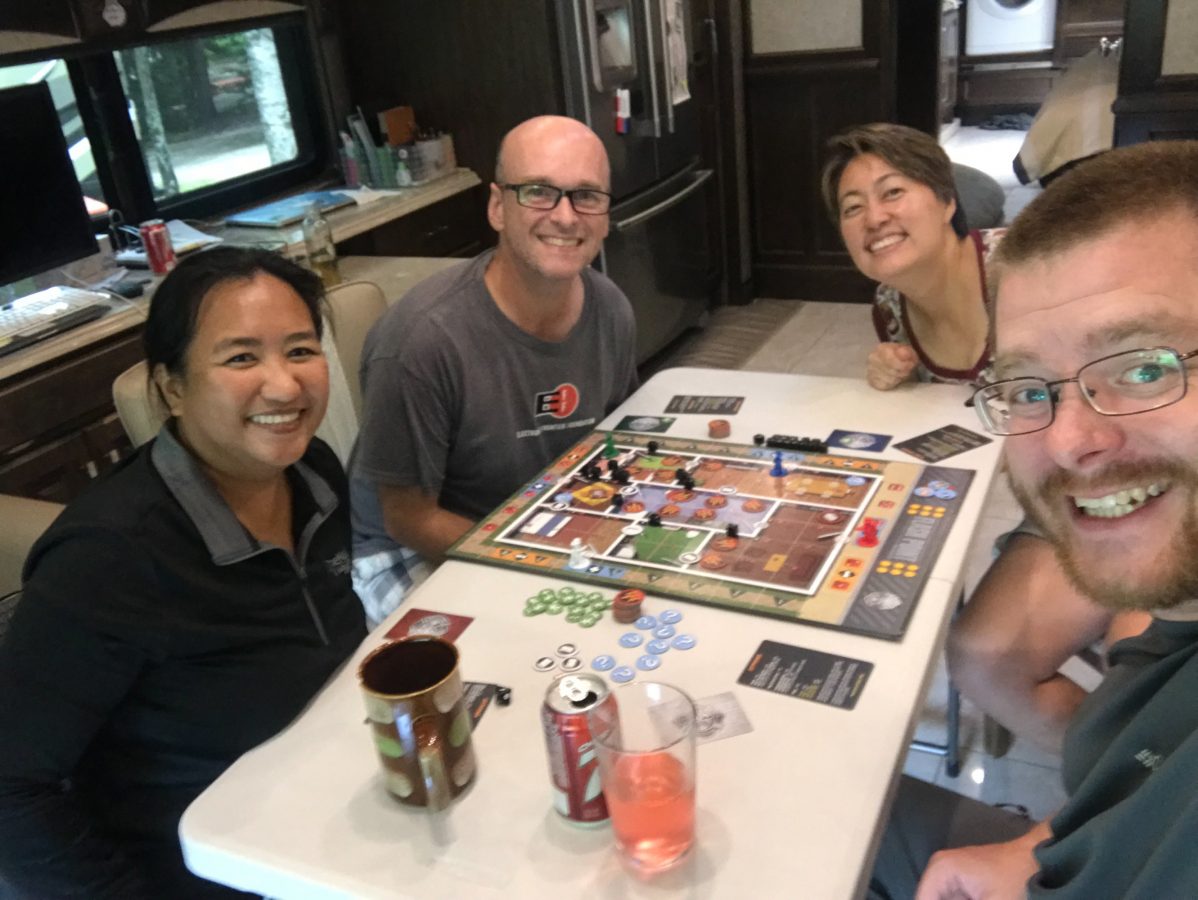 We spent the week playing new games, trying new recipes (we took turns cooking, so that was great!), drinking, and even broke them gently into the hiking scene. There's a small section of the Appalachian Trail close to the campground and since doing the AT was on their bucket list, it was easy to convince them to give it a try. It was a bit tricky with roots and mud but they seemed to enjoy the 3.5 mile hike (they never once gave us the stink-eye) and got some nice photos of the stream that meandered next to the trail.
As always, we had a fantastic time with Lanni & Ben and can't wait to cross paths again but it was time to pull up the jacks and head to Vermont, land of maple syrup and cheese!