We decided to make our first hike easy and short to start warming up our legs. Fay Canyon is a 2.5 mile, flat out-and-back hike through the densely-vegetated canyon floor. The maintained trail ends at massive boulders in a wash but we felt adventurous, plus the first mile was more of a stroll than a hike so we continued forward. We went around the boulders and climbed the rock formation; this part is a little steep and rocky but doable with good shoes.
While this part of the trail is not maintained, enough people try it so there is some indication of where to go. Once at the top of the rock formation, the trail continues to a shelf/alcove area where we had to climb a smooth rock surface to reach it. Opie needed a couple of boosts since his paws were unable to find purchase on the smooth surface. The alcove provides picturesque views of Sedona and it's only about 1/4 mile past the maintained trail. Fay Canyon also has a side trail about 0.6 miles after the trailhead to a natural stone arch but it's difficult to find and the trail is not maintained. We did look for it but wasn't successful. This is an easy hike for all ages with some nice views.
By the time we got back to the parking lot at 10:30am, it was overflowing with cars. We found this to be the norm during our stay in Sedona. Since we prefer early morning hikes (cooler, less people, usually better light for photos), we don't have issues with parking but by the time we finish our hikes, the parking lots are completely full with cars often parked on the side of the road.
Since the washes were dry in Fay Canyon, we decided our next hike would be Wet Fork Trail..er I mean, West Fork Trail. With 13 stream crossings, Opie would definitely get his water fix! The trail is located about 30 minutes north of Sedona further away than most hikes. There is a $10/car fee for the parking lot, unless you have the Big Three Pass or the Grand Annual Red Rock Pass; the National Parks Pass is not accepted. Also, the parking lot is small and you cannot park on the road so if the lot is full, cars need to wait at the entrance until another car leaves. The parking lot is open from 9am-7pm so we planned to arrive before 9am so we could snag a parking spot; however due to busy season, the lot was already open and half-full by the time we arrived at 8:50am.
I wouldn't consider West Fork to be a hike but more of a nice 6 mile stroll (out and back) through forests surrounded by canyon walls and rocks, and peppered with stream crossings. Some of the crossings are easy but some do require some strategic rock/log-hopping and walking through shallow water or Opie's method of walking right through the stream and sometimes plopping down for a drink and cool-down works too. The first 3 miles of the trail are maintained and marked but the trail does continue for another 11 miles. However the 11 miles does require some boulder hopping, wading, and swimming to traverse. Needless to say, we stuck with the maintained trail since we didn't feel up for a swim. From all the research we did, West Fork Trail is one of the most popular hikes in Sedona. While it's pleasant, shady, cool, and Opie gets his soaking, it's not our favorite trail. Sedona has such amazing red rock formations, canyons, and mountains and you don't really see that on this trail. This feels more like an east coast hike with dense forests and streams. It's a great spot for families as we saw plenty of folks just relaxing and munching snacks by the water.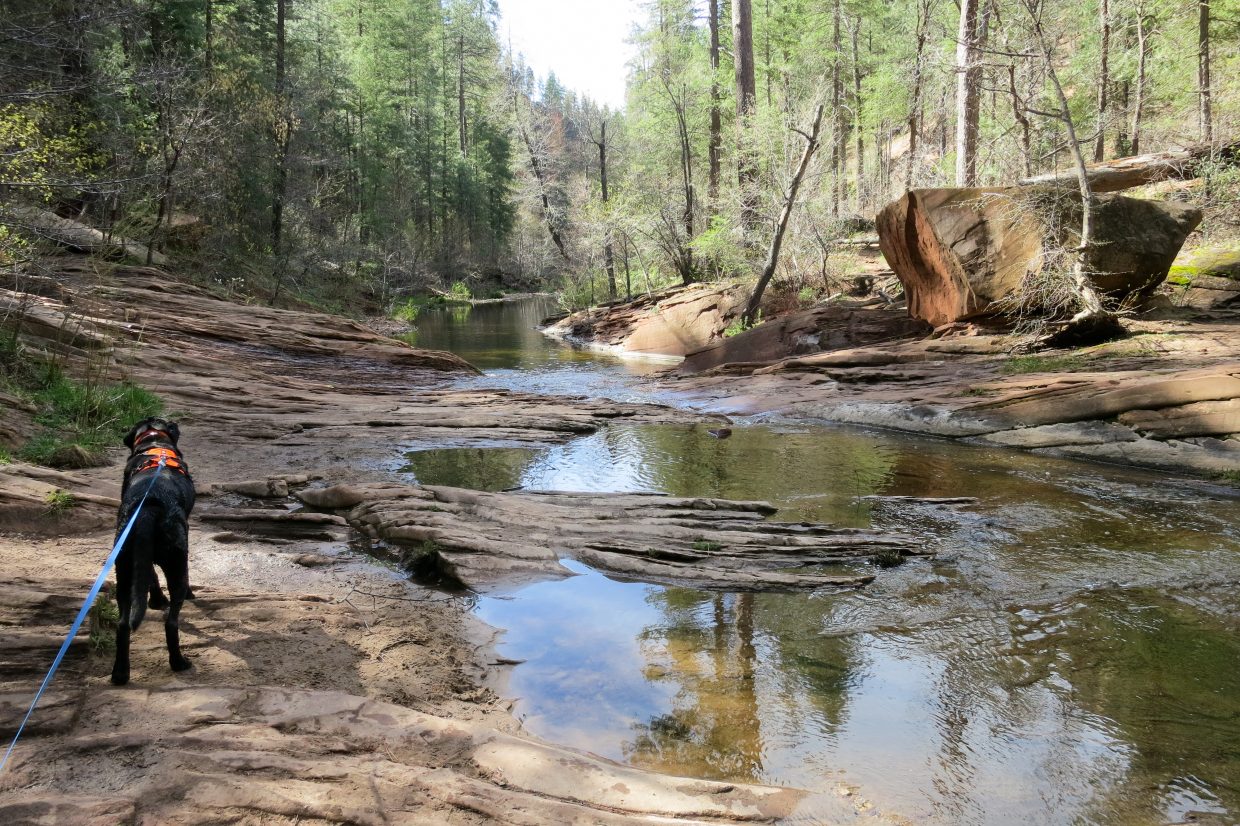 With Opie's water need assuaged (ok, it's never really assuaged but all our hikes can't be by the water), we hit Boynton Pass Trail next. Boynton Pass Trail is a 6.5 mile out-and-back trail rated as moderate. We would consider it to be relatively easy but it does have 680 ft of total elevation gain unlike some of the other flatter trails we had been on previously. The parking is very limited here but parking is available by the side of the road once the lot gets full.
The first mile of the trail skirts the Enchantment Resort, a private shwanky resort, so we heard the melodic tones of mowers and leaf-blowers but they do fade away as we continued forward. The trail skirts through the canyon with very little shade. While it does get hot due to the sun, that also means the views are totally open with some spectacular scenery of canyon walls.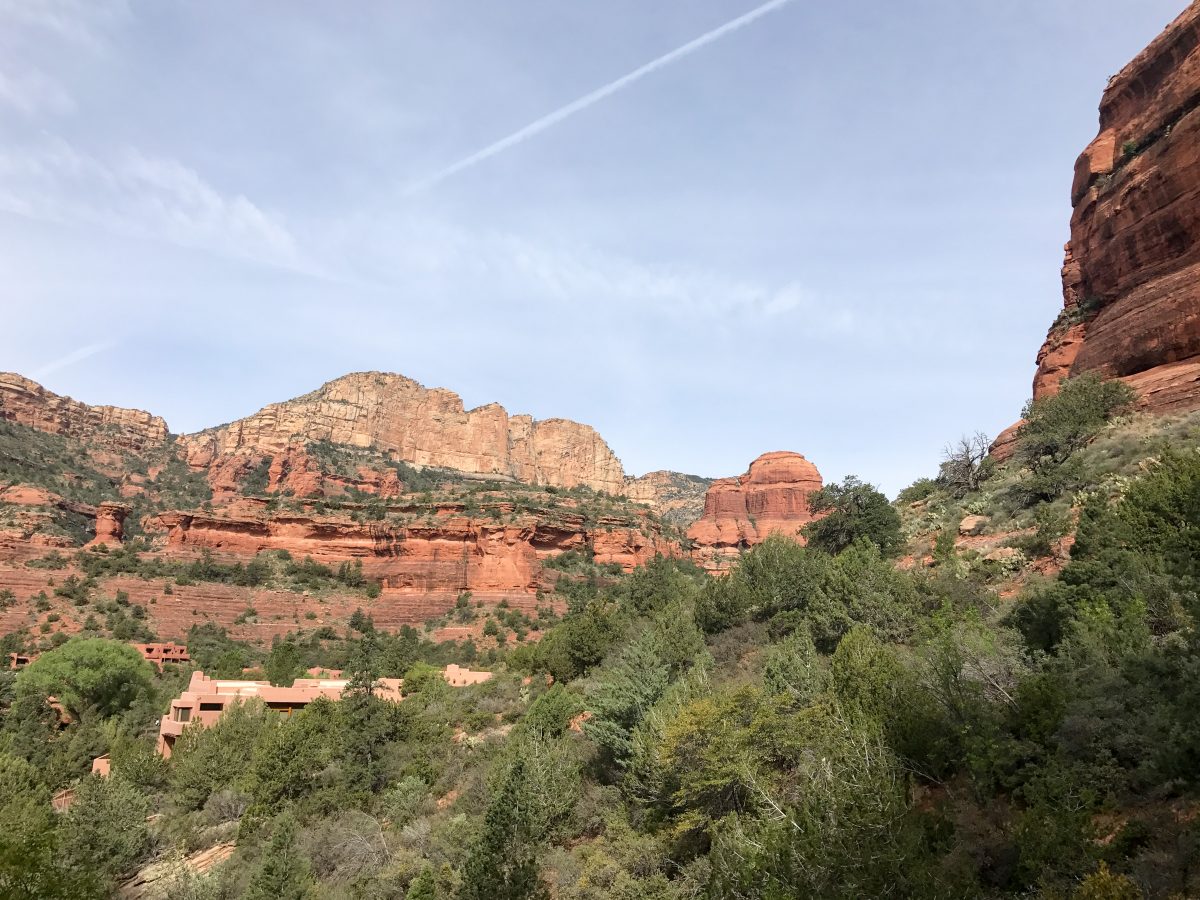 As walked further into the canyon, it narrows and we entered a dense forest. We weren't sure where the trail ended so we stopped and turned around after hitting a steep and rocky dry stream bed once we could no longer see a maintained trail. Unfortunately it appears the end of the trail is shortly after that stream bed with an open viewpoint above the trees. So if you do this trail, once you hit that rocky stream bed, just continue forward and you should have a nice view at the top.
When I had researched hiking trails, I came across Bear Mountain as a difficult but rewarding trail. There were mixed opinions of whether it was dog-friendly though. While the trail allows dogs, several people stated that the steep rock scrambling would make it tough for dogs. After poring through online photos of the trail and reading reviews of hikers with dogs, we decided to give it a try.
This is a difficult 5 mile out-and-back trail with a total elevation gain of over 2000 ft. We started shortly before 8am since the trail is in full sun and it can get brutal by the early afternoon. It's a quarter mile from the parking lot to the base of the mountain, passing through some rocky washes. Once at the base of the mountain, the fun begins. Apparently the trail-builders scoffed at switchbacks because the ascent is straight up rocky stairs, sometimes using both hands and feet to scramble up. There is a short plateau after 3/4 miles, but then it's time to do more climbing for another 3/4 of a mile with another short break. We did this a few times until we hit the first (false) summit. It seems like the top since the trail goes downhill a short way until it starts ascending again to reach the final summit. While the views at the top of the final summit are breathtaking, there are so many magnificent views during the hike that it's worth stopping to look around every once in a while.
Since the trail is so steep in many places, the way down was just as challenging as the way up. Hiking poles really helped with the downhill. Also there are arrows painted on the rocks to help keep us on the trail but they can be hard to spot on the way down, so we took a few wrong turns (based on reviews online, we weren't the only ones). While we met very few people on the way up, the trail definitely filled up by the time we headed down. I admire these folks because the sun was full out by this time so the steep climb had to be even more difficult.
I highly recommend trying Bear Mountain trail if you are in moderately good condition. The views throughout the hike are outstanding and the trail is not as crowded due to the difficulty level. Bring a LOT of water and start as early as possible due to the full sun. It is a tough trail for dogs, but if your dog can handle some rock scrambling and you don't mind giving a boost once in a while, it is doable. Make sure you bring plenty of water for your dog too.
This is the hike that proved to us that Opie, at 8 years old, is no longer a spring chicken. Opie has been able to handle some really tough hikes and bounce back within a day or two. In this case, while he had no problems going up, we had to help/carry him multiple times on the way down. Anytime a boulder or tree gave a little shade, Opie would lay down to rest, which he's never done voluntarily in the past. We brought almost 5 liters of water with us but he ended up drinking much of that, plus we would wet his head regularly to cool him down. While he enjoyed the hike, I think the combination of multiple hikes, tough elevation, and full sun just wore him out. I think this just means in the future, not as many hikes at once, more rest breaks on tougher hikes, and pain meds for his arthritis but I don't think Opie is ready to quit hiking yet!
Our last trail was Devil's Bridge Trail. This is one of those destination hikes, where we hike to see something specific. The trail leads to Devil's Bridge, the largest natural sandstone arch in Sedona. From the trailhead parking lot, it's a 2 mile out-and-back trail. Unfortunately to reach the parking lot requires a high clearance 4WD vehicle so most of us need to find parking further away. Many folks park on Boynton Pass Road and walk the dirt road to the trailhead but it's dusty and can be unpleasant when a vehicle passes by. Instead we parked at Mescal Trailhead off Long Canyon Road and took the Chuck Wagon trail which meets Devil's Bridge trail for a total of 4.25 miles out-and-back.
This is another insanely popular hike, so we started at 6:45am to beat the rush. The trail is well-marked, maintained, and flat (with a 400 ft elevation gain right at the end). There are some pretty views of the mountains with the early morning light providing some excellent colors. Even with our early start, there were already two groups at the bridge when we arrived with a few others right behind us. Once you reach Devil's Bridge, everyone congregates across from the bridge waiting for their turn to get on the arch and take photos. The nice thing is that with the crowds, there is always someone willing to take a photo for you. There is another trail that leads to the bottom of the arch but we skipped it to avoid the crowds already starting to build up.
We loved Sedona and really had a chance to hit some of the popular hikes this year. I loved the boondocking here and would definitely do it again the next time we are in Sedona (weather permitting). While we won't be in the area next year, I'm all for coming back again in a couple of years and trying even more of the trails.