Our next stop was another two hours north in California, this time in the tiny town of Redcrest. The town (and our campground) lies at the northern end of the Humboldt Redwoods State Park and the Avenue of the Giants. The Avenue is the old 101 highway which is now a scenic route that winds through the redwoods while the new US-101 is mostly a four-lane highway that bypasses the area. Even so, there are a few spots where US-101 narrows and dives right into the thick of the forests, requiring some slow and careful driving in a big motorhome. Below you can see a photo from Rover's dashcam on one part of US-101: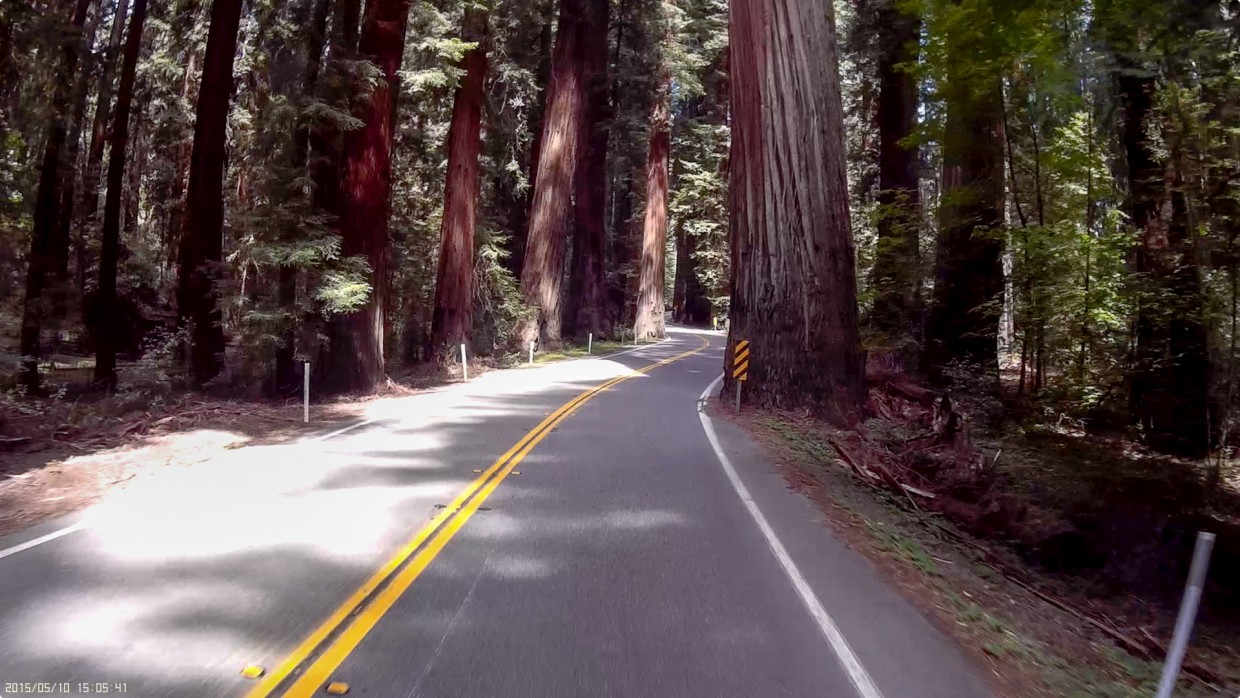 It turns out we've been heading north pretty early in the tourist season. May is still chilly most of the time in northern California and Oregon. In fact, the RV park we stayed at had just opened for the season the week before so there were only a few other RVs there with us. Since we don't like crowds, this works out well for us, though we certainly wouldn't have minded if it was bit warmer!
We spent two of our four days exploring the Avenue of the Giants and the Humboldt Redwoods State Park trails. The coastal redwood trees are pretty amazing to see:  they can live to over 2,000 years old and many grow to over 300 feet high. In fact, according to Wikipedia there are 137 known trees in the world that are over 350 feet tall, and more than 100 of them are in Humboldt Redwoods State Park. In the 1850s settlers began cutting the trees down for wood, and today only 5% of the original old growth trees remain. They were preserved by the Save-The-Redwoods League, formed in 1918, which purchased the land from the logging companies.
Above I'm standing next to the fallen Dyerville Giant. At 362+ feet, it was the tallest tree in the park until it fell in 1991 when it was hit by an adjacent falling tree during heavy winds. It is estimated to be 1,600-2,000 years old and weighed about a million pounds! The root systems of the redwoods are relatively shallow, but they interlock with the roots of adjacent trees to provide great strength. Since they depend on each other, the loss of one tree weakens nearby trees. Below, Kathie stands in front of a smaller fallen redwood:
There are many trails along the Avenue of the Giants, ranging from an easy stroll to a grueling day-long hike with a 3,500 elevation gain. When exploring by car, there are marked "auto tour" pull-outs (here's the list of stops) with easy hikes. We found the Humboldt Redwoods section of the trail guides at redwoodhikes.com to be the most thorough and useful. Our favorite hike was the Founders' Grove and Mahan Loop trail. Even though it's a popular area and has some traffic noise from US-101, the entire area is beautiful and the trees are amazing. The photo below attempts to put the scale of these giant trees in perspective:
Something we hadn't been prepared for is the sound the trees make. A light breeze will cause the trees to sway almost imperceptibly, but they "moan" or "squeak" when they do, presumably from bending or from rubbing against one another. It's a bit eerie! Unfortunately no dogs are allowed on any of the state park trails, which means Opie had to stay in Rover with Max during our whole stay here. I'm sure he would have loved to explore the trails and all the new scents.
We took one day to explore nearby towns (and do some shopping). A half hour away was the the historic Victorian-style village of Ferndale. We weren't sure what to expect but we ended up having a great time wandering through all the shops and stores along the main street. Walking through the stores felt like going back in time. The general store's second floor had reconstructed scenes like the old drug store from the town long ago. On our way out of the store, Kathie saw a sign advertising "Chicken Poop Bingo" tickets so, us being raised in the suburbs, we had to ask what it meant. The proprietor explained that they close main street, draw a huge bingo board in the street, and let the chickens in. Instead of numbers being drawn at random, whatever squares the chickens poop in are the winning numbers. Unfortunately for us the game was scheduled for the 4th of July—it would have been a blast to watch!
Next we headed to the much larger town of Eureka to pick up a few things at Costco, Petco, and Bed Bath and Beyond, and to scope out the Costco gas station to see if we could fit Rover in there during our next drive. We were hoping to make it to Oregon before filling up Rover since gas is about a dollar cheaper there (and Rover has an 80 gallon tank), but it didn't look like we'd make it so Costco was our only option to save some money.
As we drove through on 101, Eureka looked much like every other large town. However, it was also time to replenish our supply of everything bagels (our breakfast staple) so we made a detour to Los Bagels which received good reviews on Yelp. It turns out it was tucked away in a wonderful historic part of town so we spent a little time wandering around after picking up our bagels. Kathie found a yarn store and a fabric store but fortunately (or unfortunately, depending on how you look at it), we just don't have the space to accumulate things any more, so it was window shopping only this time.
While exploring the Avenue of the Giants and walking the trails, we did get one reminder that rural northern California is not quite like San Francisco and Napa. We used our phones to find a restaurant for lunch (there aren't many choices in the area) but Yelp, for the second time in a row, gave us completely wrong directions to get there. It took us down some small dirt side road where we eventually came across a young woman who flagged us down. While pointing us back to the main road with better directions, she warned "and don't go down any side roads! People are crazy around here. My neighbor likes to answer his door naked and with his shotgun in hand!" Lesson learned, I guess!