After Bryce, it was time to change directions and start South since we have to get back to Yuma and Mexico for my next dental appointment in mid-June (yuck). That meant a fond farewell to Bryce and a howdy to nearby Zion National Park. Of course that also meant getting to Zion during Memorial Day weekend! (I've said it before, and I'd like to just reiterate that Mike ROCKS as our designated planner. His OCD means reservations months in advance when needed).
We made it to our campground right outside of Zion and, as expected, it was jam-packed. We didn't even attempt a trip into Zion that weekend since we knew it would be total chaos. We did find quite a change in weather though. In Bryce, we spent a lot of time with jackets and hats on, and had to use our propane furnace since it was below freezing at night. Zion, with a lower altitude and higher than average temperatures, soared into the 90s while we were there.
Grand Canyon, Zion, and Bryce are part of the region known as the Grand Staircase, a term used to describe the series of benches, cliffs, and plateaus which start at the Grand Canyon and slowly progress in elevation up to Bryce. Grand Canyon is the lowest of the stairs, with the top (youngest) layer of the Grand Canyon being the oldest layer of Zion. Therefore the top layers of Bryce are the youngest and the highest step of the Grand Staircase. On a clear day at Rainbow Point in Bryce, you can actually see the stair-step progression of the area.
Since our campground is tight and small, there isn't a lot of space to walk Opie so we took him on the Pa'rus trail (named after the Paiute word for "bubbling water") the only trail to allow dogs and bicycles in the park. While it's not very long (3.4 miles round-trip), it does skirt the Virgin River most of the way. The views are not as dramatic as other Zion hikes, but it is pretty, paved, and flat. Plus the river access allowed Opie to cool off in the rushing waters since it was a hot day.
Zion has some spectacular day, backcountry, and canyoneering hikes available but since we're soft and prefer glamping, we stuck with the day hikes. One of the most popular hikes, Angels Landing, caused quite some angst for Mike before we even arrived at Zion. Angels Landing (the left peak in the photo at the top of this page) is known for awesome views but not recommended for anyone with a fear of heights. Mike's height anxiety has significantly improved but he wasn't sure if Angels Landing would be too much to handle. We decided to at least try it, figuring we could turn back anytime.
Since cars aren't allowed on the Zion Canyon road, we parked at the visitor center and hopped on the park shuttle to the trailhead. We got an early start, as usual, both to avoid the late morning heat and to avoid the big crowds that we knew would show up. The hike is only about five miles (round-trip) but has three distinct sections. The first section is an easy, gradual climb to the base of the mountain. Then the real climb begins, with several sections of steep switchbacks (photo above) that do a good job of wearing you down before you even reach the hard part!
The last half mile is where the fun begins, and where our pace slowed to a crawl. The trail follows the rock's spine (photo above) with sheer drops of over 1,000 feet on either side! Even though we'd read up on the hike in advance, we were surprised how much scrambling and rock climbing was involved. There are sturdy chain railings available in many of the difficult spots to help you scramble up safely.
Angels Landing stands at the center of Zion, right inside a horseshoe bend in the Virgin River making for some pretty awesome panoramic views.
As always I find the climb downhill to be tougher than uphill, especially on a steep trail like Angels Landing. It didn't help that the crowds had arrived by the time we headed back down. That meant stopping multiple times in very small areas (sometimes right along a steep drop-off) to allow others to pass you. Honestly if we had done this hike later in the day with the majority of the crowd, I'm not sure I would have attempted the landing—it's so easy to bump another person, or lose your footing as you let others by.
Even with the sheer drops, Mike didn't have much height anxiety, but he was also very careful to keep his focus on the rocks right in front of him and not look off to the sides very often. I did suffer some mild vertigo but I also did a lot of gawking over the edge, so that was probably my own fault. After completing our hike, I did tell Mike that he was no longer allowed to state that he had a fear of heights.
I really wanted to try Observation Point, but with the 90 degree temperatures, we thought it would be a bad idea to tackle an 8-mile 2,100 foot elevation gain trail so we'll have to wait for the next time to try that one. The Narrows day hike is also another fun one to try but requires wading through knee-high to waist-high water and we definitely didn't have the right equipment with us for that so that's also on the "to-do later" list. Instead we did a nice easy stroll on Canyon Overlook trail.
To get to the trailhead, we had to drive up Rt 9 and through the Zion-Mount Carmel Tunnel (scenic drive). Right after the tunnel is a (very small) parking lot for the trailhead. While the hike is short and easy (1 mile roundtrip), the views are gloriously full of Zion landmarks, like the Beehives, West Temple, East Temple, and Streaked Wall.
Since we learned so much from the guided shuttle tour in Bryce, we signed up for the ranger-led shuttle tour in Zion too. The ranger provided some fantastic information about the park's history and geology. Advance reservations need to be made at the Visitor Center but the tour is free and well-worth the time. Thanks to the amazing rock formations we've seen throughout this area, Mike has decided to learn more about geology. The best part? I get the Cliff Notes (or is that Mike Notes?) of the coolest part of the geology lessons.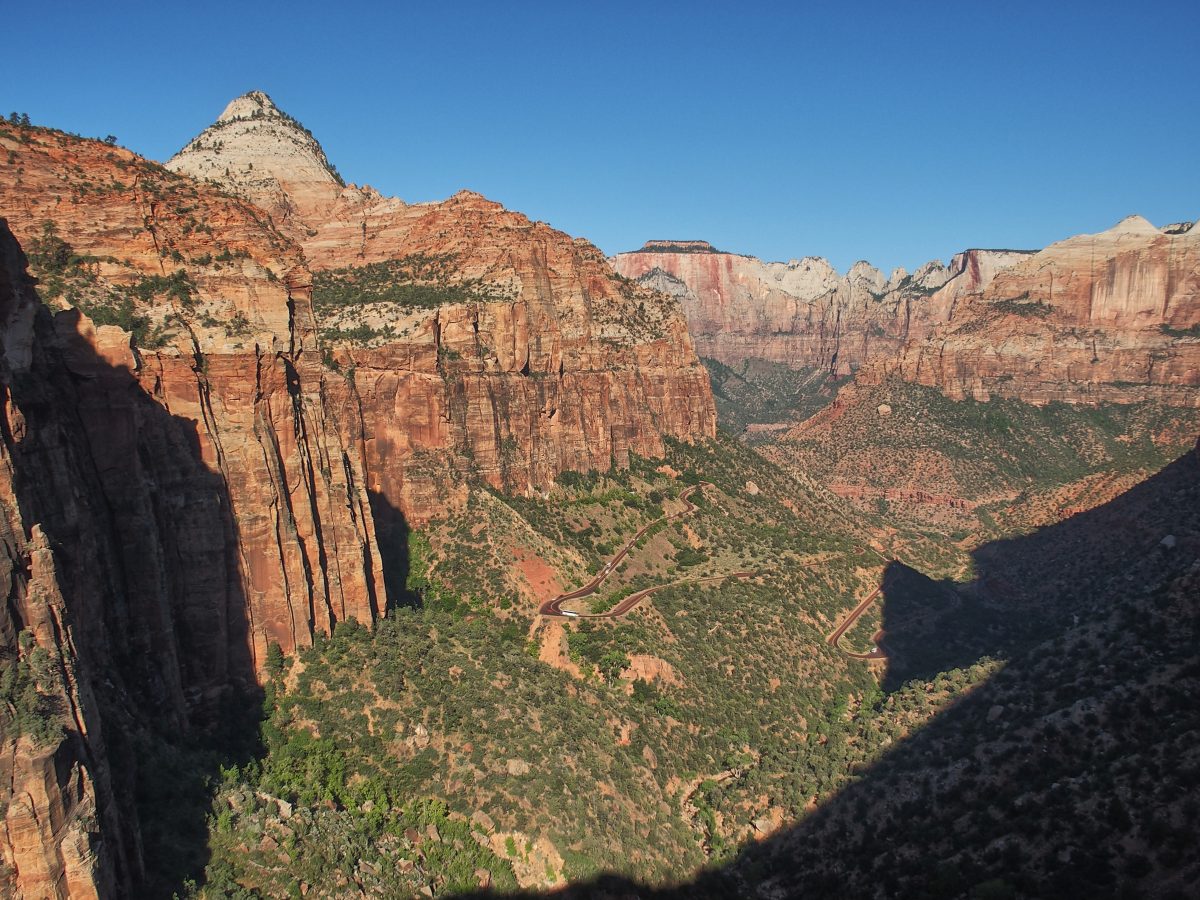 We've been steeped in National Parks, beautiful scenery, and dazzling vistas for the last 7 weeks and it's truly been amazing; however I think I've reach critical beauty fatigue. It's definitely time to head back into civilization and get my fill of Costco, Trader Joe's, and Jo-Ann's.