One of our goals for 2016 was to drive shorter distances and stay a little longer at each destination. In general we succeeded, and appreciated the slower pace (and fuel savings!).
January, February, and March: We spent these winter months mostly in southwestern Arizona. We had several dentist visits in Los Algodones Mexico, we upgraded our inverter, and did quite a bit of free boondocking with our solar panels. We made our second trip to the big Quartzsite boondocking convergence (this time with the Xscapers group), and visited some new areas in the southwest (Borrego Springs, Palm Springs, San Bernardino, Joshua Tree National Park, and Lake Havasu City) to round out our winter.
April and May: In spring we started heading to northern Arizona, spending a lot of time in Cottonwood and Sedona and getting back into hiking mode. We visited both the south and north rims of the Grand Canyon, and toured the famous and amazing Antelope Canyon. We ended the month at what turned out to be our favorite national park of the year: Bryce Canyon.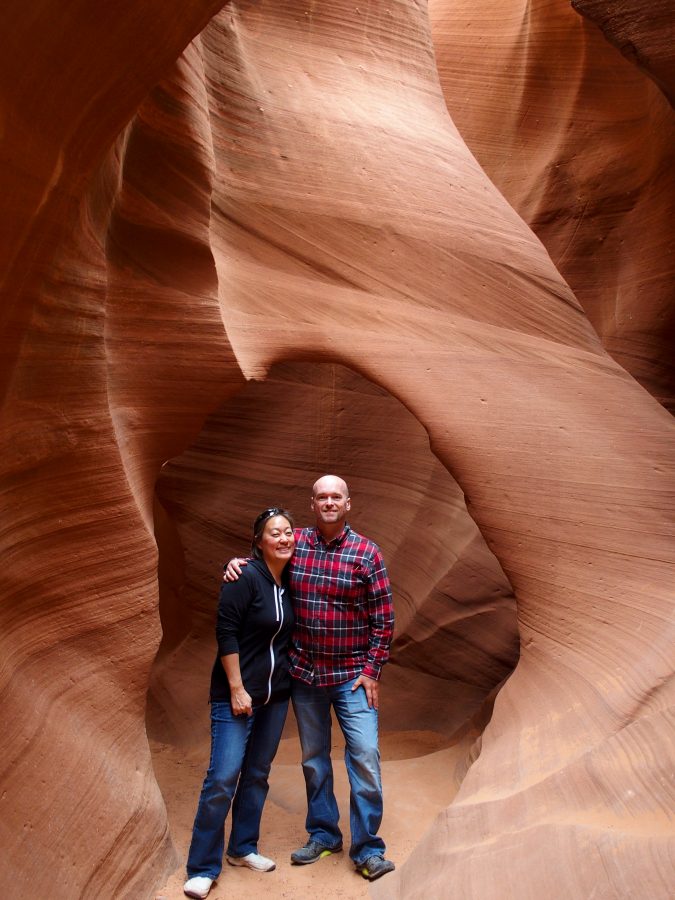 June and July: Next up was the long-dreaded part of our year… returning to Mexico for a dental implant follow-up visit in the middle of summer. We turned our compass 180º and headed south through Zion National Park, Valley of Fire State Park, Las Vegas, and Lake Mead. With two dental visits a month apart, we spent as little time as possible in Yuma (where it was 115º during the day and 80º at night), and waited out the time between appointments in wonderful San Diego.
August and September: As soon as we finished with the dentist we headed north to Colorado as quickly as possible, where we stayed and explored for two full months. We found more to see and do near Cortez than we expected, but then headed into the mountains to visit beautiful Ouray with its amazing hikes. Finally, we crossed the rockies (no problem!) and spent a month in Denver and Estes Park, and hiked our first 14er!
October, November, December: We put the pedal to the metal and headed east back to our old stomping grounds in the Washington DC area to visit family and friends. After Thanksgiving dinner was cooked and consumed we headed south to spend Christmas with more family, visiting friends along the way. Pursued by a severe cold front the whole way, we finally made it to warm and sunny Florida.
We hit the road almost three years ago, and until now we'd never spent more than a night or two away from Rover. In Florida we had to spend three weeks without our home while he was in for some repairs! It's great to finally be back in our home and on the road again.
Our 2016 Route
We've continued mapping our travels this year, and the "Our Route" page on our blog is starting to get a little crowded! Looking at just our 2016 travels, you can see that we spent half the year leisurely wandering around the southwest. After our two months in Colorado, we made the big journey east and then south all within the last three months of the year.
By the Numbers
We covered a relaxing 7,658 miles in Rover this year, quite a decrease from our "grand tour" last year. Given than we average 6.5 miles per gallon, that also means a big savings on fuel costs and emissions.
Our average cost per night for campgrounds came to $34.68, but that includes 33 nights of free boondocking in the winter and 16 nights staying with Mom while Rover was in for repairs in December. As usual, we tried to stay in state and county parks as much as possible since we enjoy the larger sites and lower costs. We did splurge a few times for some expensive RV Parks in order to be in a particular location.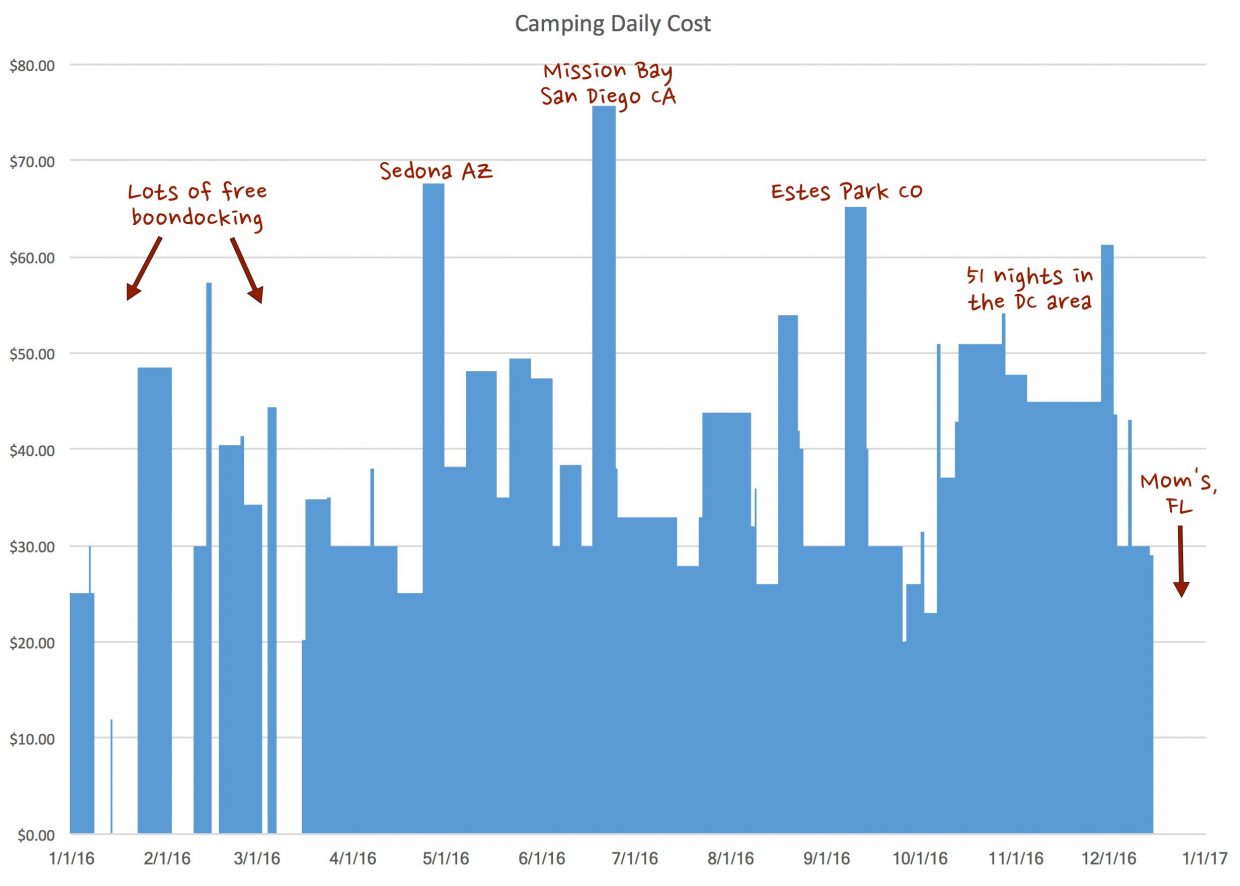 Because of our need to stay close to Mexico for our extended dental work, we didn't cover nearly as many states this year as in the past. Here's where we spent each night in 2016: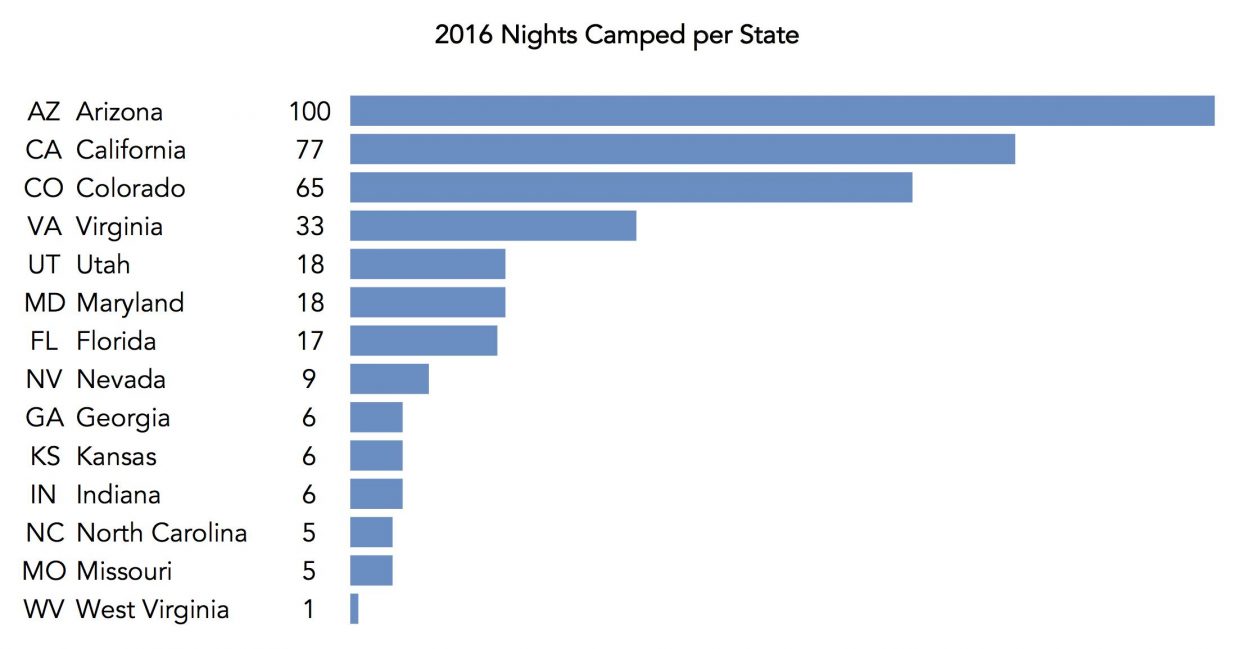 And here's how that relates to our "grand total" since we hit the road in April of 2014: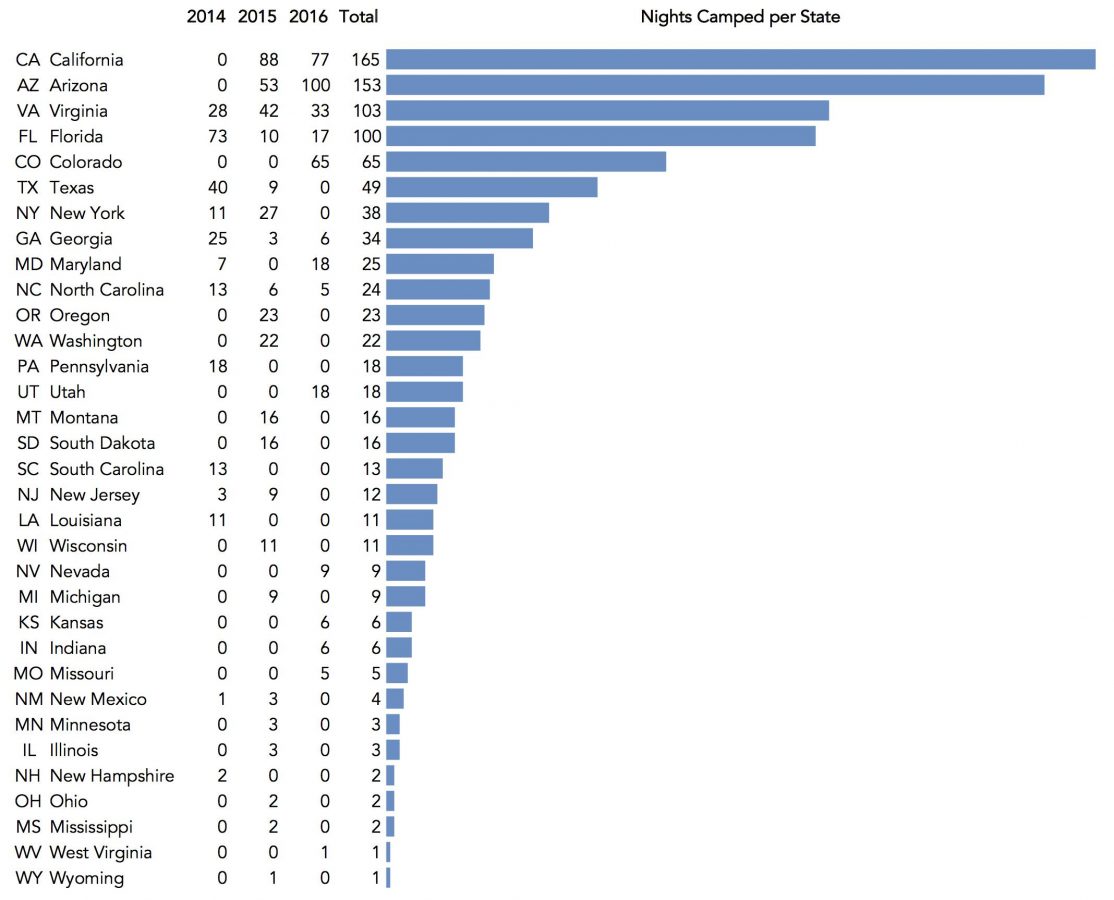 We've filled in seven more states on our map of visited states. As before, we use green when we've camped in at least three different spots in a state, and blue if we've only been to one or two locations. We paint a state gray if we've driven through it but haven't spent the night. We use the excellent map generator from https://www.gasfoodnolodging.com/visitedstates/generate/ to make our map. You should give it a try!
2017 Plans
Along with finally completing our dental work, 2017 has a number of events that are driving our schedule and route a bit more than usual. For one, we've tried to visit Yellowstone National Park in both 2015 and 2016 but were thwarted in various ways, so this year we're going to make it happen!
We also purchased tickets for Dragon Con, the huge geek convention that takes over Atlanta every Labor Day weekend. We attended in 2013 (pre-RV) and 2014 (our first year in the RV) but missed 2015 and 2016, so we're feeling the urge to return. That means being in Atlanta by the end of August which does throw a wrench into our usual weather-based route planning.
2017 is also the year of the highly anticipated total solar eclipse that will be visible on August 21st from Oregon to South Carolina—if you're along the path! And even if you're along the path, weather plays a major role. If it's an overcast or cloudy day, the experience could be ruined. Looking at average cloud cover for August along the eclipse path, Wyoming is a pretty good spot to be in. But since we need to be in Atlanta for Dragon Con just a week later, we picked southern Illinois for our spot.
The rest of our journey just involves filling in the blanks between these "anchor" locations. We'll visit the Moab region on our way from Arizona to Yellowstone, and we want to return to Sedona since we enjoyed it so much last year. After Yellowstone we'll probably spend more time in Colorado again. And after Dragon Con? Well, we'll just have to see!