Have you ever watched a TV show or movie where a bunch of stuff happens, then the screen fades to the next scene, and it says "3 months later"? It's a great way to cut out all the boring stuff and get right back into the action. Well, this catch-up blog entry is our quick summary of what happened during our fade out between hiking national parks and our next exciting destination.
After Denver, we boogied east through the rest of Colorado (quite flat), Kansas, Missouri, Kentucky, and West Virginia. We did stop for a few days in Topeka KS, St. Louis MO (no, we didn't visit the Arch, but we did wave to it as we passed by), and Louisville KY. Since we were in each spot for such a short time, we spent most of our time hanging out, doing chores, and getting ready for the next leg of the trip. See, this is a boring post!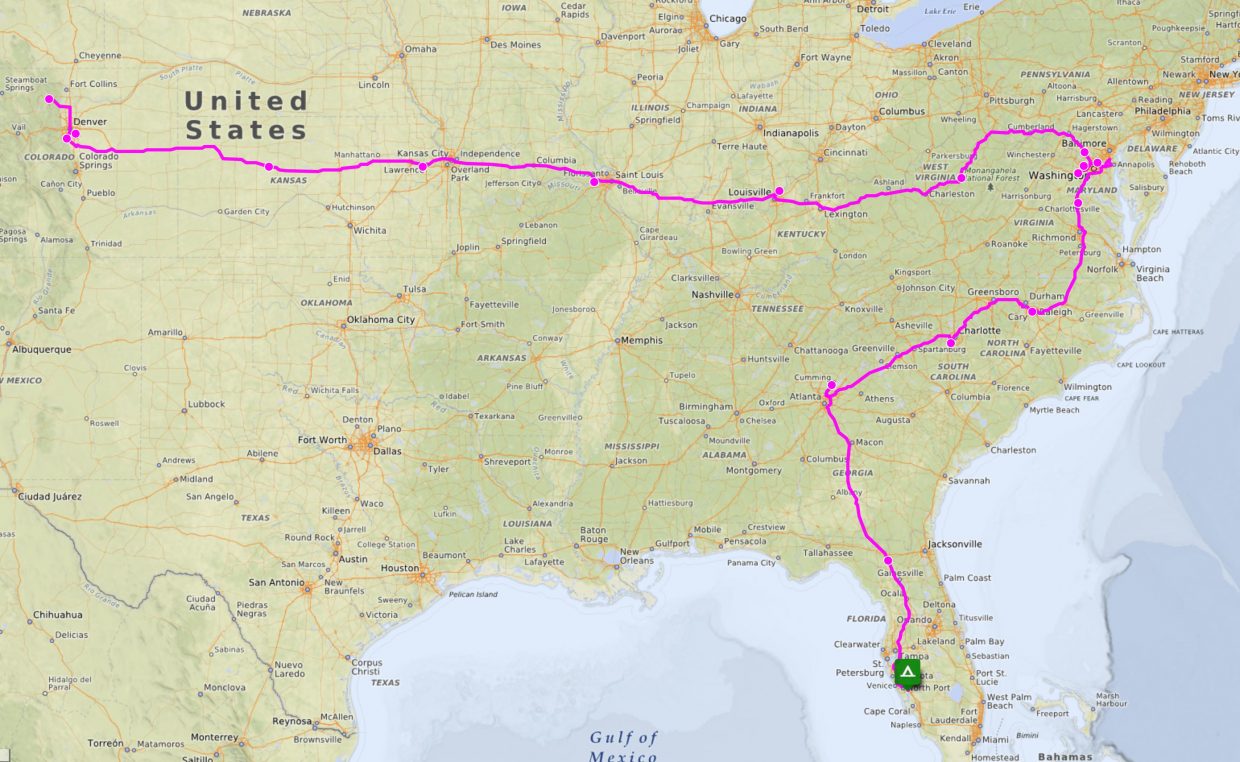 While in Missouri though, we did walk through Rose Island since it was a short hike from our campground. It used to be an amusement park back in the 1920's with a roller coaster, fancy hotel, zoo, and large swimming pool. People could access the park either by driving over the swinging wooden bridge or taking the steamboat. It closed in 1937 due to flooding. The park was covered in over 10 feet of water and the subsequent damage cost too much for the park to re-open. The state of Indiana build a bridge from the state park to the island to allow access to visitors. Some of the brick foundations are still apparent, as are the concrete arches for the walkway to the hotel, and the swimming pool is still intact (although filled in). It's a nice place to walk through and see what's left of the park, plus dogs are allowed on the trails.
We made it back to the Maryland/DC area by the end of October and were quickly reminded how craptastic the traffic (and drivers) are in this area. Almost all our time here was spent with family and friends. I loved all the time with my family here, but I was surprised to discover that VA/MD/DC no longer felt like "home" to me. Everything is still familiar but I no longer feel an emotional attachment to the area. I think after 2.5 years on the road, I've finally made the mental shift.
We were able to enjoy the fall colors, watching the trees quickly fade from green to bright yellows, oranges, and reds. We had a wonderful visit, stuffed ourselves silly for Thanksgiving, said our sad farewells to our family, and headed south to try to beat the weather (not so lucky on that front). We visited more friends in Raleigh and Charlotte but apparently we weren't moving south fast enough. Every time we landed in a new location, the cold front would catch up to us and our friends would state, "the weather was GREAT until you guys came!" We made it to Atlanta to visit friends but cut our time short just because we were tired of the sub-freezing nights and days in the 40s (yes, we've become spoiled, I'm ok with that). We booked it into Florida and made it to Mike's Mom's house where it was 70 and sunny (oh yeah!).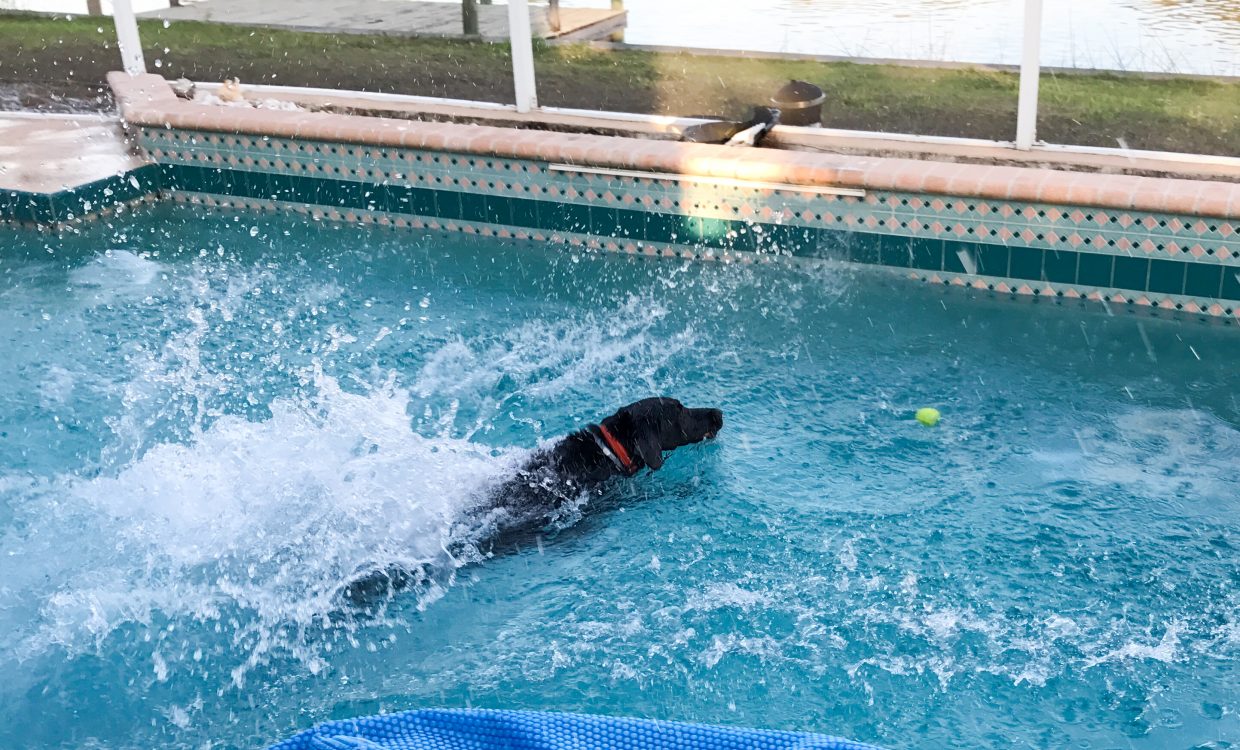 So our original plan was to stay with Mike's Mom to celebrate Christmas and New Years. Unfortunately we've turned into THOSE houseguests that never leave. It's now 2017 and we'll be here for at least another week, possibly longer. Our visit to FL actually had two motivations. One was to visit family here but the second reason was to get Rover repaired.
Back in September in Estes Park CO, we had a mild (2-4 MPH) fender bender with Rover and another car at a red light. We ended up with some scratches through the paint on the right front corner of Rover and a little fiberglass damage. Rover was still completely drivable and structurally sound so we decided to wait until we were in FL for the repairs. That would allow us to be in one spot for a little while, plus we could stay with Mom while Rover was being fixed up.
While the paint damage was minor, our Diamond Shield (the clear film placed over the front of the motorhome to protect it from rocks) was also mangled. To do the repairs, the entire Diamond Shield sheet across the front needs to be removed, then the damaged areas fixed and repainted, and after the paint cures (at least 72 hours), new Diamond Shield applied. After speaking with the body shop, we expected the entire process to take less than two weeks. Of course things never quite turn out as smooth as we wish. We stopped by the shop after a couple of days and found that when the Diamond Shield was removed, ALL THE PAINT CAME OFF TOO! That's not supposed to happen, and the shop thinks it was either because Rover wasn't properly primed or the paint didn't cure long enough before the shield was placed on top. Unfortunately that meant the shop would have to completely sand everything down, prime, repaint the entire front, add the clear coat, wait to cure, then add the new Diamond Shield after that. That meant at least three weeks, possibly more.
At this point we're hoping it will be done by the 2nd week of January. We are thankful that Mike's Mom has opened her home to us. It's allowed us to be comfortable while Rover is unavailable. She's a wonderful hostess and we feel welcome in her home but I know her cat is not so happy that Opie's here. Opie thinks cats are squeaky toys so we have to keep them separated, splitting time in the common areas. Shadow is probably counting down the days until he has his home back again.
We're enjoying our time here but we're getting itchy feet (wheels?) and we're looking forward to when Rover is ready and we can head back out on the road!