The last time we were in San Diego, we stayed at Santee Lakes Recreation Preserve, about 40 minutes outside of the city. While we enjoyed the park, driving into the city to do sightseeing became tedious quickly. This year we decided to stay inside San Diego at the Mission Bay RV Resort. It's located right next to Mission Bay, the largest man-made aquatic park in the country, and our daily dog walks took us right along the beach.
While the RV resort is basically a huge paved parking lot and we expected it to be tight, there was enough camping space to be comfortable, and there were a surprising number of trees which softened the "parking lot" feel. The area is hopping busy on the weekends with vacationers and weekenders. Jet skis, speedboats, and waterskis pack the Bay while the parking lots overflow with RVs. It's fun to observe the activity but it does get old quick when the weekenders insist on cutting through your campsite regularly.
Opie was ecstatic (as were we) by the fact that not only were we right on the bay, but we were close to THREE dog beaches. I'm quite sure not only did he stay damp the entire time we were there, but he also brought three pounds of beach sand into Rover! Impressively, at all the dog-friendly spots we noticed the dogs (and owners) were quite well-behaved. The dogs would play, chase, and wrestle, but no fights broke out. There was almost no poop on the ground–everyone we saw picked up after their dogs. The atmosphere was casual and friendly. It's a marked difference from the dog park in Virginia. Perhaps there is something to the stereotype that Californians tends to be more laid-back and relaxed and it trickles down to their pets.
Fiesta Island allows off-leash dogs on the entire island. There is a large fenced-in area with access to the bay and large flat field to run around but anywhere on the island, and you are allowed to let your dog roam off-leash (under voice control). One side of the island faces Mission Bay so the waves are rough (especially with all the recreational vehicles) and there's a lot of sea vegetation on the beach but that's where most of the dogs romped. The other side of the island faces two isolated coves where the water is much calmer and tend to be more deserted. While Opie liked romping with the dogs, he enjoyed wallowing in the calm cove water when he wanted to cool off. Of the three dog areas, it was always the least crowded.
We also visited Ocean Beach, nationally famous as one of the first official leash-free beaches in the US. It's about a mile long with areas of rough waves (we saw surfers enjoying the water here) which curves around into a calmer channel with a strong current but no waves. It was the most crowded, and parking is sparse if you arrive after 11am in the summer.
Lastly we visited Coronado Dog Beach, located right next to the North Island Naval Base. The waves were not too rough, and while the beach is smaller than Ocean Beach it's still very popular (parking is a challenge in the summer afternoons). While Opie enjoyed playing with the dogs, fetching his ball, and wallowing in the water, we enjoyed watching old military planes fly around the Naval Base. The beach only has on street parking and you need to walk along a sand path to get to the beach. A word of warning though, the sand path to the beach gets VERY hot by the afternoon so watch your dog's paws! At the entrance to the dog path is a water fountain with a hose to wash off the sand when you're finished, which I thought was a brilliant idea!
San Diego is known to be dog-friendly and I would whole-heartedly agree. While at Coronado, we decided to eat at Bluewater Boathouse Seafood Grill, a dog-friendly restaurant, so I could quench my seafood craving. We ate on their patio and they had a separate menu for dogs! We couldn't resist and ordered the Meat "Roaff" for Opie. It's a full meal with ground beef, squash, rice, and crumbled Milk Bone. Opie loved it and licked his bowl clean. I enjoyed my cioppini (yes, it's a San Francisco dish but it was good even in San Diego) while Mike found his burger to be just OK. We also ate at Shades in Ocean Beach, another dog-friendly restaurant. While they also had a dog menu, it wasn't quite as fancy. The diced ham meal was just cold lunchmeat ham sliced into small pieces but I don't think Opie was complaining.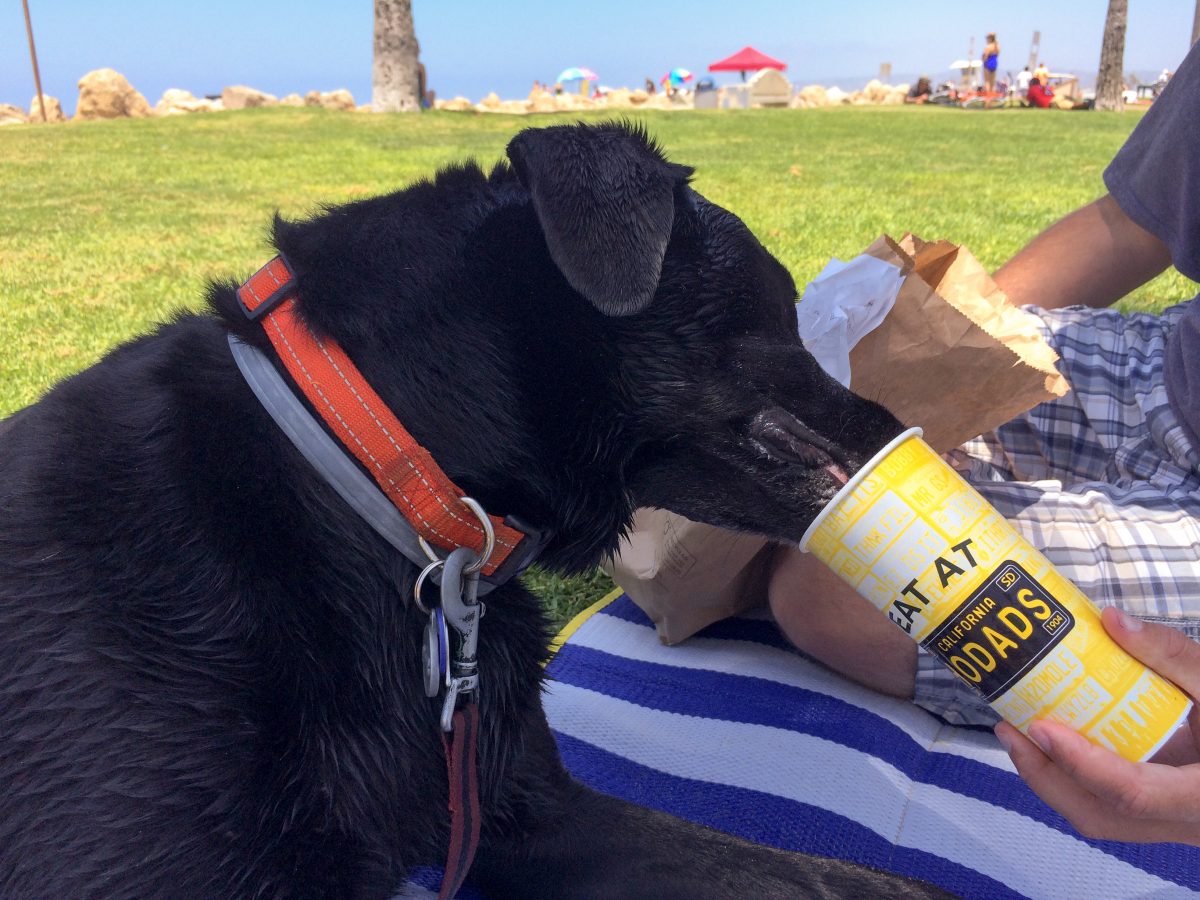 Last year in San Diego a friend recommended Hodads, a burger joint. We went to the one in the Gaslight Quarters and loved the burgers and gigantic milkshake. Lucky for us, the original Hodads is located in Ocean Beach so we ended up getting Hodads take-out a couple times. Since it's not dog-friendly, we found a nice stretch of grassy park overlooking the bay, spread out our blanket, and enjoyed the view while sharing our fries with Opie.
We did have an adults-only day out to Old Town San Diego. Old Town is an historical park located inside the city and commemorates early San Diego. Frommers has a nice self-guided walking tour of Old Town which was fascinating and educational. I have to admit that I found the San Diego Union Printing office to be the most intriguing of the buildings. It's a prefab home that was built in Maine, shipped all the way around Cape Horn in multiple pieces, and reassembled in San Diego in 1851. You walk around Old Town and all of a sudden you see a very New England style home right on main street! The visitors center also has free tours twice a day.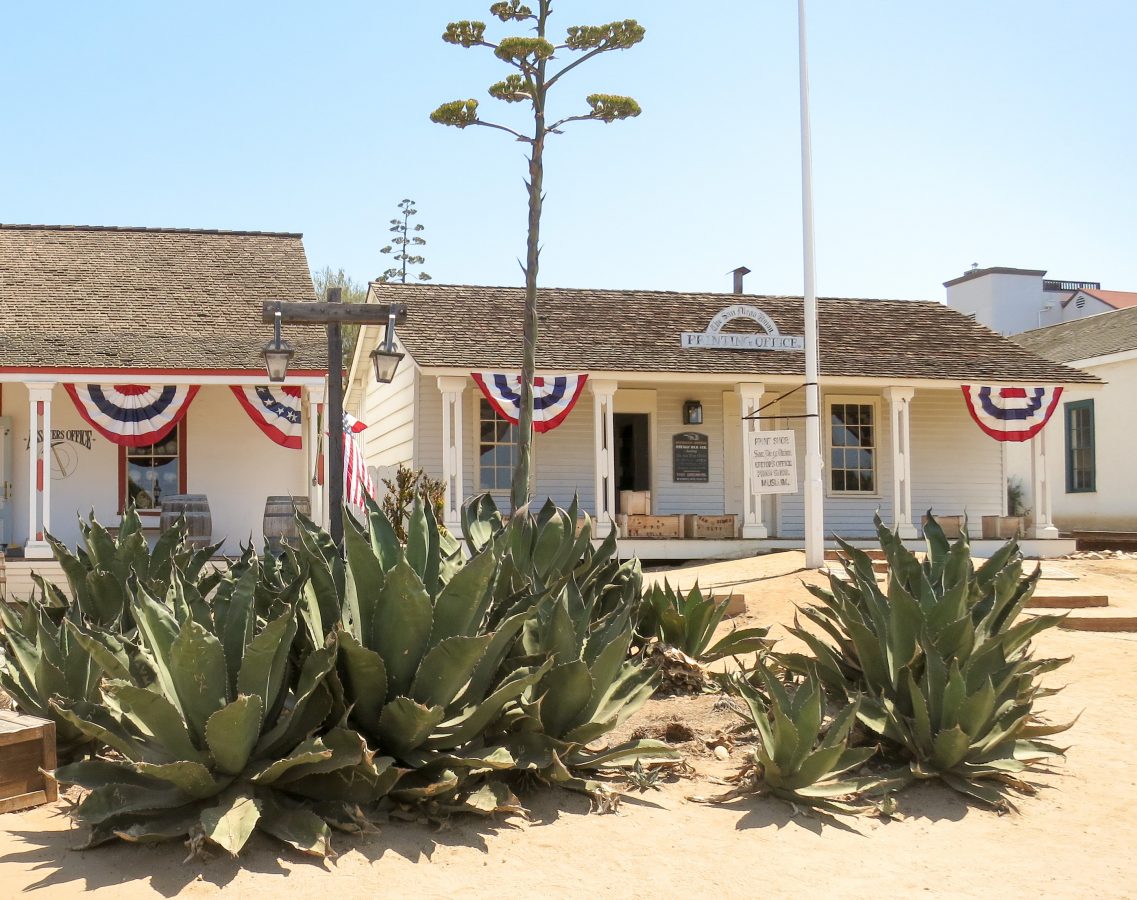 We also wanted to visit Balboa Park, the nation's largest urban cultural park. While Balboa Park was created in 1868, it didn't really begin to take off until San Diego was to host the 1915 Panama-California Exposition, to commemorate the opening of the Panama Canal. Many of the buildings and museums were created specifically for the exposition, such as the Museum of Man, the Old Globe Theater, the Cabrillo Bridge, and the Spreckels Organ pavilion. Since then, Balboa Park has continued to grow and now boasts 15 major museums, 16 gardens, the San Diego Zoo, and numerous other venues and buildings.
Since we were bringing Opie with us (yes, he really does rule our lives), we didn't go inside any of the museums, but we did another self-guided walking tour and saw some beautiful architecture and gardens. We visited the Speckels Organ Pavilion, which houses one of the largest outdoor pipe organs. They provide free concerts in the summers and weekends but our timing didn't work out. While the Japanese Garden doesn't allow dogs, there's a nice overlook near the visitors center where you can see parts of the garden. I also spent some time gawking at the San Diego Museum of Man. The exterior has some amazing features and statues. It also looks like something that belongs in historic eras from Spain or Rome. Balboa Park is immense with so many different things to visit. I would love to visit some of the museums (without Opie) the next time we are in San Diego.
We enjoyed staying right inside the city, it has a lot of great advantages. We were only here for a week though due to the premium cost. We were so pleased by the location that we decided if we come back to San Diego in the winter, we would stay in Mission Bay for a month due to the cheap off-season rate and convenience of location.
Enjoy our blog? You can support us by making your Amazon purchases through our Amazon affiliate link–we'll get a small reward to use towards our fuel and other purchases. Or, check out our list of RV gear we recommend. Thanks for your support!