After five stationary weeks in Vegas, we looked forward to a nice change of scenery in San Diego. The surgeon gave Opie the green light to take longer walks but avoid swimming for another 6 weeks or so. Apparently dogs can overextend their legs while swimming, which could cause possible damage to the healing bones. Luckily wading was fine since Opie would lose his sanity if he had to pass by a body of water without going into it.
Two years ago, we stayed at Mission Bay RV park, located right inside city limits. While the park is literally a parking lot (with full hookups and a few trees), you can't beat the location. There isn't a lot of space between you and your neighbors but in this case, we were willing to sacrifice outdoor camping space for the location. As an added bonus, DeAnza Cove Park is right outside the RV Park gate. It's a large public park open for outdoor activities with flat walking trails, perfect for Opie to strengthen his legs and build up his endurance. Since Mission Bay provides a 50% discount for monthly stays during their "winter season", we decided to settle into the warm weather for five weeks — one at Sweetwater Regional Park just outside San Diego, and then our half-price month (April 2019) at Mission Bay.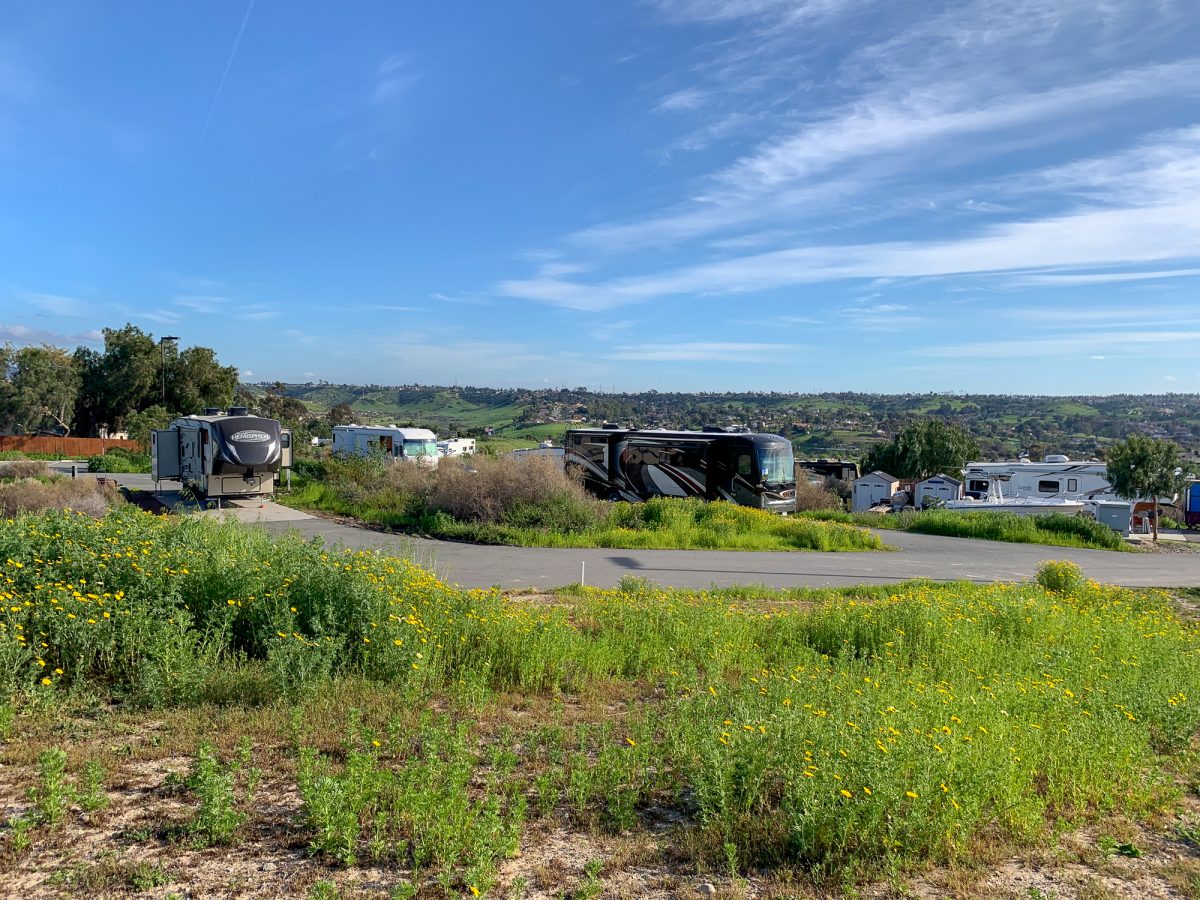 San Diego is known for beautiful weather year around so we decided to take advantage it and take a nice hike to Los Penasquitos Waterfall located in the Los Penasquitos Canyon Reserve. It's an out-and-back 6-mile hike (actually more like a stroll) to a pretty waterfall. The hike is dog-friendly and relatively flat but Opie wasn't ready for that distance yet so we had to leave him behind, but it was nice to finally stretch our legs and enjoy the sun and views. The trail is packed dirt but there is a nice creek that follows the path, and some pretty hills surrounding the area.
We also enjoyed a bike tour with Hike Bike Kayak. We met at their store in La Jolla and they drove us and the bikes to the top of Mt. Soledad to start with some spectacular views, including a view of the Miramar airstrip where Top Gun used to be and where the movie was filmed. From Mt. Soledad, we coasted down through some beautiful neighborhoods and saw Monterey Cypress trees, the inspiration for Dr. Seuss' Truffula trees in The Lorax. We stopped at Windansea Beach to watch some surfers tackling the waves, and biked over to Children's Cove to watch the seals and baby seals soaking up the sun. From there, it was a short bike ride to La Jolla Cove to see (and smell) the sea lions relaxing on the rocks. Last stop was to the Sunny Jim Sea Cave, a tunnel dug down into a cave that opens onto the water, used to smuggle alcohol and other illicit goods into La Jolla. The cave was named by Frank Baum because the outline looked like Sunny Jim cartoon character. We really enjoyed the tour and our tour guide provided lots of fantastic information during the ride.
We were happily surprised to find our friends 2WanderAway also staying at Mission Bay. That meant hanging out, playing games, and enjoying Shannon's mad bar-tending skills! She made us some amazing drinks, and good times were had by all. If Shannon ever offers to make you drinks, definitely take her up on it!
Not only did we meet up with old friends but we made new friends in San Diego. I've been using meetup.com to find local gaming groups when we're in one area for a while and San Diego was no exception. We joined a weekly group meet at a coffee house and one of the members invited us to join their weekly meetup at their home. It was a large group of grad and post-grad students so we felt a wee bit older but they all made us feel very welcome. We learned a lot of fantastic games and started our introduction into the heavier-weight board games (ones that last 4-6 hours) like Power Grid; Heroes of Land, Sea, Air; and Rising Sun. We really loved the camaraderie and ability to play with the same group of people every week and hope they'll still be around the next time we're back in San Diego!
Continuing our slide into the boardgame addiction, we experienced our first boardgame con in San Diego. Kingdom Con is a small con with only a couple hundred local people, which was a perfect venue for us to try. They had a room for board games and a small game library to borrow games, a vendor room (yes, I had to buy a game), and a huge room dedicated to Warhammer 40k, wargames involving a lot of intricately painted miniatures, rulers, and dice. It was a fun day experience and I'm already looking forward to a larger game con focused more on board games!
After spending 5 weeks in Vegas, and another 5 in San Diego, we realized that we enjoyed the slower pace immensely. For the previous 5 years, we'd been traveling almost non-stop and I think we were getting a little tired. Our original spring/summer plans involved traveling through the middle of California visiting Sequoia National Park, Yosemite, then the Oregon coast, Washington, and up into Canada to see Banff and Jasper. However we decided to cancel all our spring/summer plans and just take it much slower for the rest of the year…