Yes, we've fallen very very behind on our blogging. This past year has been our "year off" (more on that later) and we also found a bunch of new hobbies which have taken our interest away from our usual pursuits of blogging. I have clawed myself back onto the blogging wagon to catch up on our (limited) travel experiences in the past 6 months with the hope that I will then be current by the end of the year.
After we left Baja (in February), we made it back into the US with very little trouble. In fact, entering the US was faster than entering Mexico! I think US Customs saw 50 RVs piled at the border crossing and just decided to let all of us through so we would stop holding up the queue. A quick hello, passport swipe, and we were back into the US.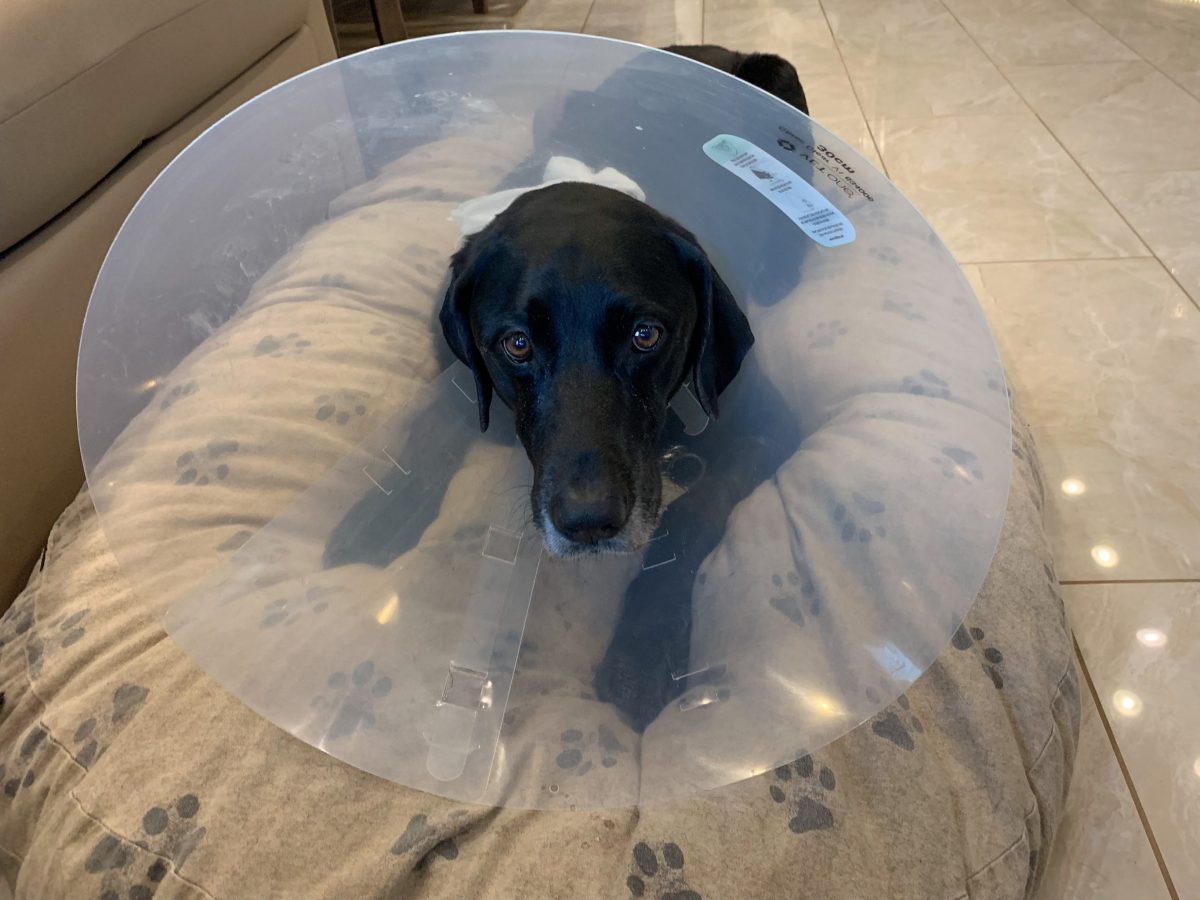 Due to Opie's ACL tear, we rearranged our plans to stay in Vegas for 5-6 weeks for his surgery, recovery, and follow-up appointments, rather than the one week originally planned. We took Opie to Las Vegas Vet Specialty Center, a referral-only center filled with specialists, including orthopedic surgeons. Since we've experienced torn ACLs on a few of our dogs and fosters in the past, we knew what to expect and we were not looking forward to post-op procedures. After the surgery, they don't put any cast or bindings on his leg but his activity is limited to just bathroom breaks for 2 weeks. No climbing stairs, jumping on sofas or beds, and no hardwood or tile floors (to prevent tumbles). Unfortunately since we live in an RV, Opie has to take stairs to get into/out of his home, and we only have tile floors. That meant man-handling Opie down a ramp with a full harness and also staying home 24 hrs/day to make sure he didn't jump on anything or slip on the floor. Yeah, so that was an exciting 2 weeks for all of us. After the 2 week imprisonment, we were able to allow Opie on very short walks and he was allowed to finally climb onto the sofa but still no jumping. He about gave us a heart attack one afternoon when we went out and found him on the bed, meaning he jumped up there. We were sure we screwed up his leg but thankfully everything was fine.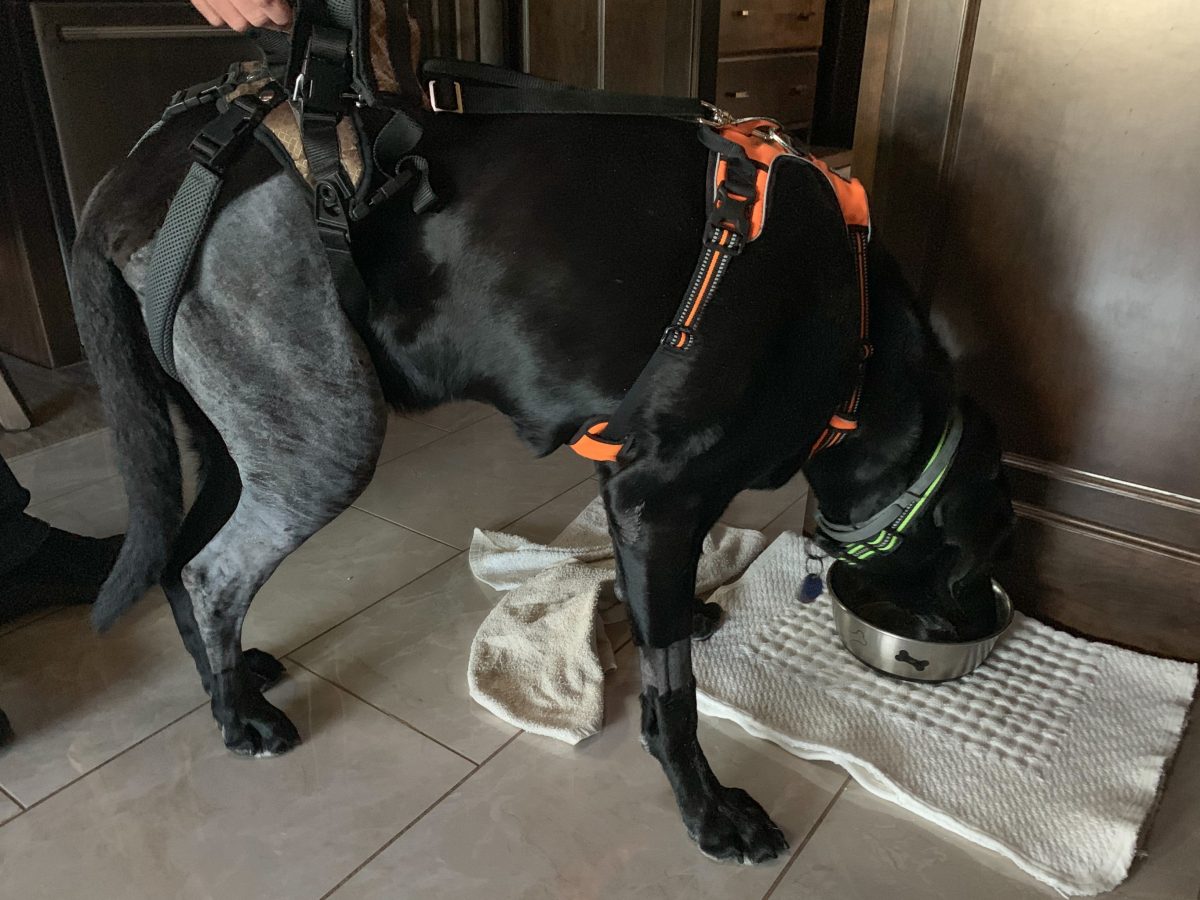 As boring as that all sounds, we finally got some time for ourselves once we could trust Opie alone for a couple of hours (which meant closing off the bedroom and putting stacks of stuff all over the sofas so he wouldn't jump on/off. We had bought tickets to the Cirque du Soleil Beatles show several months ago, the reason we were already headed to Vegas before Opie's detour, and enjoyed a nice night out at the show. We've seen multiple Cirque shows in the past and enjoyed them but after the 7th or 8th one, they tend to blend together. We found Beatles to be a refreshing change since it was an homage to Beatles music with a fun accompaniment of acrobatics thrown in. I often found myself singing along with the music during each act and really enjoyed the entire show. Apparently we're bad luck with Vegas though as they did get a light dusting of sleet and snow that same night. Coincidentally, the last time Vegas had snow, we were visiting too so I think Vegas just doesn't like having us there.
We also spent a day wandering around Vegas and the various stores scattered between the hulking casinos. We got a close-up look at the ginormous ferris wheel, High Roller, but not really sure we wanted to spend 30 minutes watching the Las Vegas skyline. We also took a visit to a buffet because hey, Vegas! We tried the Wicked Spoon which has some fantastic reviews. Instead of heaping tables of unending food, Wicked Spoon has small helpings of each type of food to allow people to try lots of food without overfilling on just one thing. The quality of the food is good and I love the small helpings, especially the desserts! Course our day walking around Vegas confirmed our belief that Vegas is not just about gambling anymore, it's all about entertainment and everything is darn expensive.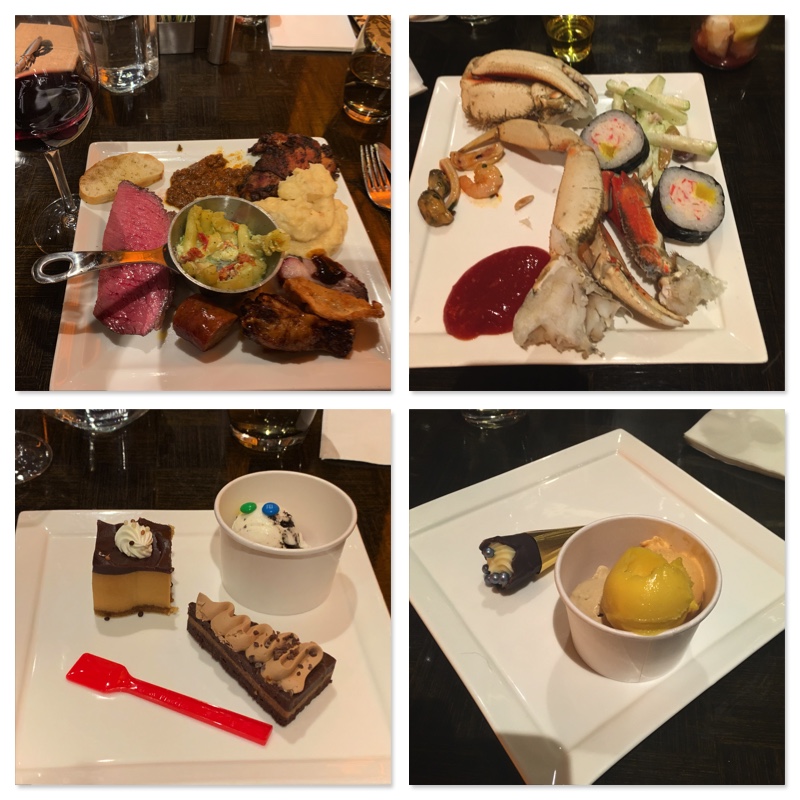 Fortunately (or perhaps unfortunately for our wallets) while the Strip and casinos didn't click for us, we did find a different dangerous pastime off the Strip at Meepleville. Meepleville is a board game cafe located a bit further west and hosts a game library of over 2,000 games available to play, and a cafe with food and drinks. It's usually $7/person to stay as long as you want, but they also have monthly memberships and specials on various days for half-price or even cheaper. We found ourselves there regularly to feed our growing tabletop gaming addiction. Yes, it sounds odd and rather geeky, but board games have changed a lot in the last 20 years and modern board games are quite an industry. This isn't your grandpa's Monopoly and Parcheesi games; many of these games incorporate chess-like strategy, cooperation, or amazing themes. Many people have heard of Ticket to Ride, Settlers of Catan, and Carcassonne, but there are thousands of other games available with varying levels of difficulty. We've become deeply and happily immersed in that cult. Needless to say, we learned a lot of new games and ending up buying several new ones. We even met up with a few Xscapers gamer friends and introduced them to the wonders of Meepleville!
After 5.5 weeks of Vegas, Opie's knee was healing enough that we could leave without worrying about setbacks from the surgery. The bone was starting to heal and Opie was finally allowed to extend his walks, so we packed up and headed to San Diego for a month of warm relaxation.