After the Xscapers Annual Bash, we headed back to Yuma for a week to relax since we were planning to attend another Xscapers convergence. Yeah, I know, it's totally crazy for us to do back-to-back group meetups but we originally signed up for the Mexico Convergence, then saw that the Annual Bash (AB) was just a couple weeks before Mexico and in the same general area so we signed up for the AB too!
Thank all the RV gods, there was a week between convergences. That extra week allowed us to re-charge our introvert batteries, tackle the never-ending chores/maintenance list, and get ready for another 10 days of hanging out with people. This is Xscapers' second annual Mexico convergence to San Felipe. It's a good destination since it's only around 140 miles south of the border and RVs are able to make it there and back on one tank of fuel (apparently fuel quality in Mexico is hit-or-miss). Since the attendance is capped by the limited number of spots (~50 rigs) at the RV park, the convergence sold out within a day of opening! The part that really sold us on the Mexico trip? We all would meet at a mall in El Centro, California the night before and convoy together to San Felipe in the morning.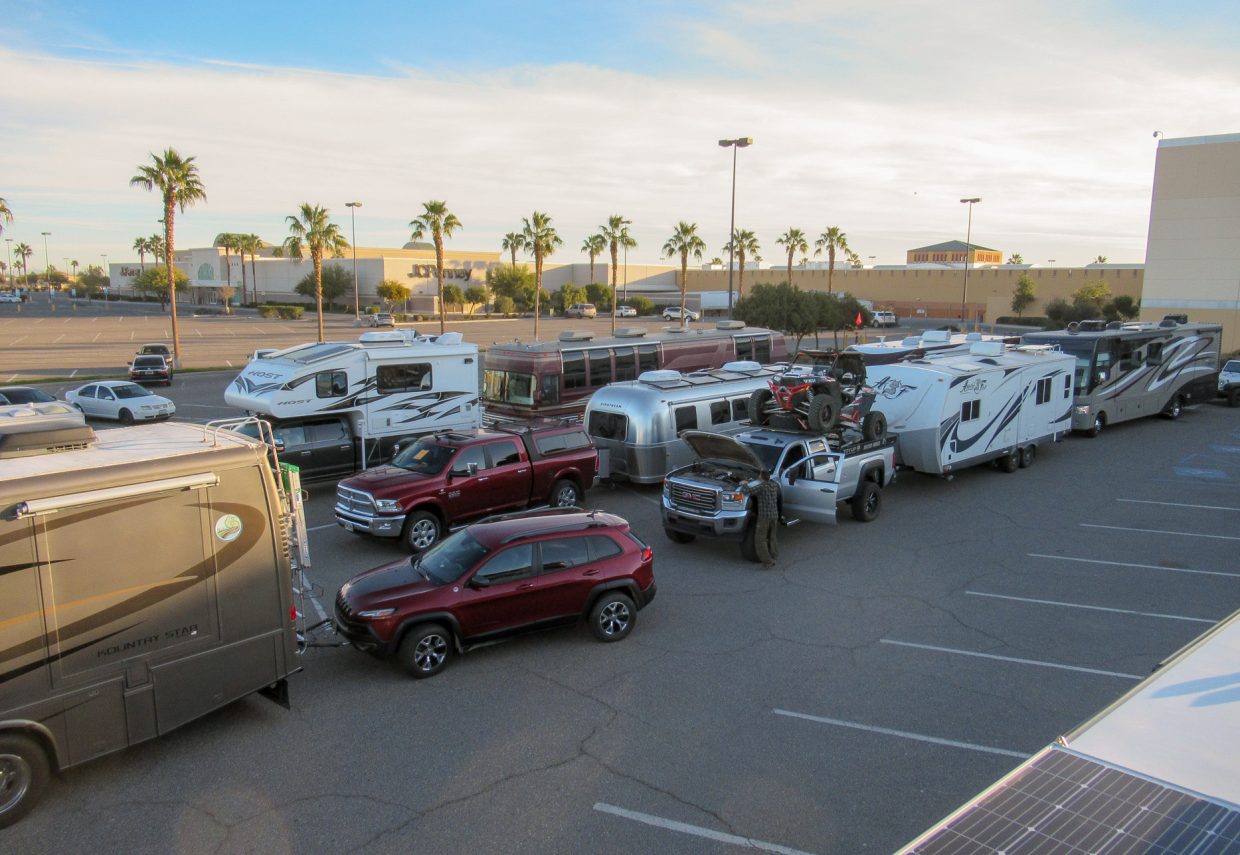 We needed to purchase a travel visa online and get supplementary Mexico driver's insurance for the RV and car before the meetup. Border regulations states you also need a health certificate for animals signed by a licensed vet within 7 days of arriving at the border but those who have been across the border says border agents have never ask for the certificate. Since the Yuma vet wanted $80 for the health certificate, we decided to be rebels and forgo the certificate (border patrol never asked for it).
Once at the border, we were treated like rock stars! The mayors of Mexicali and San Felipe met our caravan at the border to welcome all of us. Once the schmoozing was complete, we passed through the border quickly and even had a big police escort through Mexicali! The escort wasn't for safety but for convenience. Trying to keep 50 rigs together through a busy city is impossible, so the police would race ahead to each traffic light and hold all traffic until we passed through, then the next set of escorts would leapfrog ahead until we made it through Mexicali, non-stop! From Mexicali, it was an easy drive south to San Felipe. It was a tight fit but we all made it into Victor's RV park. Mike was able to book us into the full hookup area (yay electricity and water!) which could only hold a handful of the larger RVs like ours; many of the attendees were in the boondocking area exercising their solar panels and water conservation skills.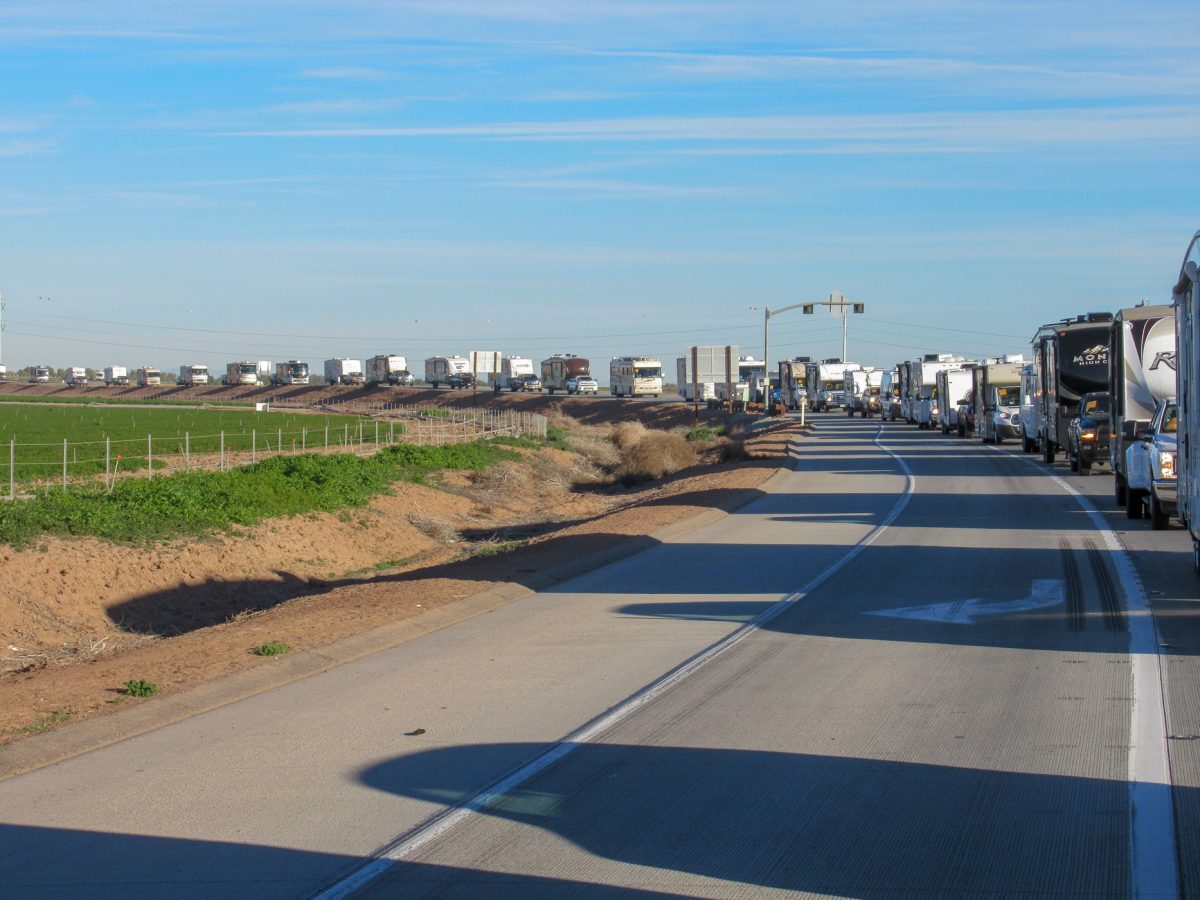 Victor's RV park is located right on the beach so it's a 30-second walk from the RV to the beach to enjoy the sun, sand, and surf anytime. They even have a little restaurant with cheap and tasty eats and drinks and the main town waterfront was an easy 10 minute walk. We spent many of our afternoons here playing games, drinking, and eating.
A couple days into our stay, Opie decided to make things more interesting, and not in a fun way. During the previous week in Yuma, we noticed Opie started limping, probably due to all the activity at the dog park playing with his new besties, Porthos and Connor. We assumed it was a sprain and limited his activity. In actuality, Opie had partially torn his ACL (anterior cruciate ligament) which holds and stabilizes a dog's back knee. Then Opie got on the beach in San Felipe and completed the job by chasing some birds. We took him to the local vet who did some leg manipulation and confirmed that Opie had torn his ACL. Since San Felipe is a small town, they don't have the facility for X-rays or surgery so we would have to wait until we got back to the States, and just put him on a severe activity restriction.
Torn ACL is actually pretty common among Labradors and we have experience with it from our previous dogs and fosters. We knew it wasn't an emergency and just needed to reduce Opie's activity and inflammation/pain until we could get him to a surgeon. Too bad Opie didn't understand why he couldn't go to the beach, take long walks, or run off-leash! While we spent more time indoors than expected due to his injury, we still had time to hang out with other Xscapers. Luckily a few of the gamers from the Annual Bash were also at the Mexico convergence which meant lots more gaming right by the ocean! We learned more new games and taught a few others, and had a great time.
One of the Xscapers brought his RZR and set up an ATV event for anyone interested. It sounded like a lot of fun so Mike and I joined about 25 other people for a half day of zooming around San Felipe off-roading through dirt trails and beaches. This was the first time for me on an ATV and I didn't realize how fast those things can go! It also takes a lot of core muscles (unfortunately mine are the consistency of jello) to stay stabilized over the washboard trails and tight turns. We had a fantastic time and I would love to do that again; however my body and I were not on speaking terms for the next few days as it was very angry with my attempts to act like a 25-year old.
Since the Mexico convergence was significantly smaller than the Annual Bash, it was much easier to meet new people and hang out, plus the restaurants and clubs were within walking distance, so there was much eating, drinking, and being merry.
The 10 days passed pretty quickly and it was time to go home. A few of the smaller rigs decided to go further south into Baja for exploring but the rest of us packed up for the convoy back to the States. Getting back into the States was just as easy, probably because US Customs really didn't want 50 RVs to back up the queue to get into the US. After scanning our passports, they let us back in and it was time to take care of Opie. We re-arranged our plans so we could stay in one place for five weeks so Opie could have his surgery, recovery, and follow-ups with the same veterinarian. Off to Las Vegas we went!
We really enjoyed both the Annual Bash and Mexico convergence. There's a lot of camaraderie and inclusion at Xscaper meetups. I preferred the Mexico convergence due to its smaller size. While there are more activities at the Annual Bash, the laid-back atmosphere and smaller group of the Mexico convergence appeals to me. If our schedule works out, I think we'll try to sign up for the Mexico convergence for next year. Hopefully Opie will be able to take advantage of the beach next time!