It's a good thing we had some "introvert" downtime in Yuma after all our socializing in Tucson, since we signed up for even more socializing at the Xscapers Annual Bash in Lake Havasu AZ.
Xscapers is an offshoot of the Escapees RV Club. Xscapers was created to cater towards the working-aged RVers. It's not age-related but more a state-of-mind, plus since many Xscapers work during the day, most activities occur in the late afternoon and throughout the evenings. There's a lot of drinking, 4×4 adventures, hiking, parties, dancing, bonfires, and camaraderie. Xscapers started about 4 years ago and we attended their first convergence when it was only about 20 of us boondocking in Quartzsite. In the ensuing years, the group has exploded in popularity and the convergences often number in the hundreds.
We did have some friends give us the side-eye when we mentioned we were attending the bash. "Aren't you guys introverts? You're going to a convergence with 500 other people? Have you hit your head?" While true that over 300 rigs/500 people registered for the Annual Bash (AB) and we would all be corralled closely in the Lake Havasu Fairgrounds, Mike and I could always escape into our RV and turn out the lights if we went into people overload. We really wanted to experience an Xscapers Annual Bash since many people raved about how much fun Xscaper convergences had become.

After our week stay in Yuma where we did our regular dental visit across the border in Los Algodones and recharged mentally for a week of socializing, we made it to the Lake Havasu Rodeo Grounds to meet up with 500 other RVers. There's a great blog entry on the Xscapers page about the annual bash, so I don't need to go into the nitty-gritty. There were planned and unplanned activities for the whole week and the nice thing is we could do whatever appealed to us.
Many Xscapers have dogs and there was a daily morning dog walk from the fairgrounds to the nearby dog park and lots of nearby trails for the dogs. Opie isn't a "walk in a group with other dogs" kind of dog, so we only did the morning dog walk the first day, realizing that Opie prefers to meander at his own pace and causes all sorts of traffic jams behind him. We (and probably all the other dogs and owners) were much happier walking our own path along the multitude of trails around the fairgrounds.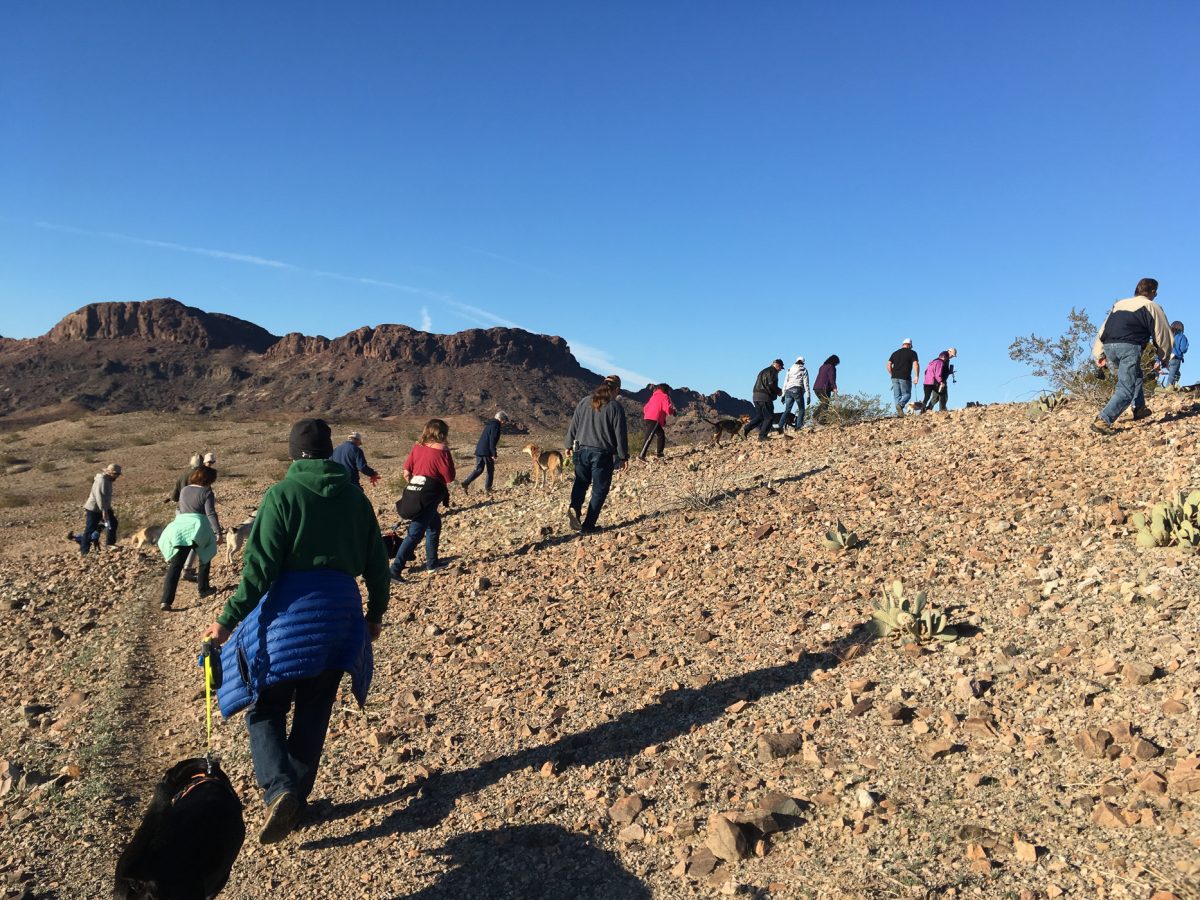 The three of us also enjoyed a nice morning hike on Lizard Peak Trail to the top of the nearby butte. The trail is a bit of a huffer as it ascends 600 ft in about 0.5 miles. Halfway up this switchback, there's a dead-end side spur that gave us a great view of the giant stone lizard someone created on the floor of the canyon.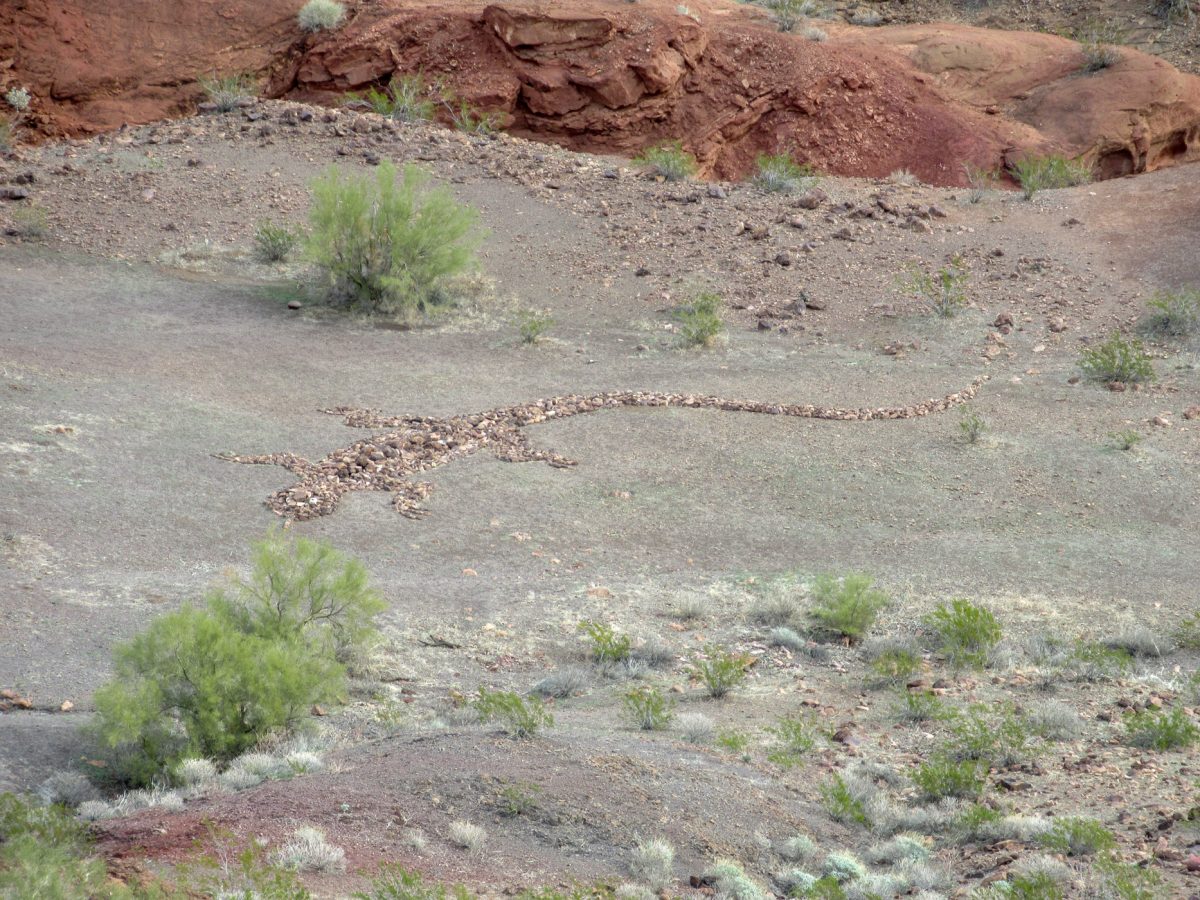 After most of the ascent, we reached the worst part of our hike. There is a set of three ledges that have to be climbed up and over. The first one was high enough that I needed a boost from Mike which meant they were way too high for Opie. Between Mike lifting Opie from the bottom and me grabbing Opie from the top (and a lot of patience from Opie) we were able to get him onto the ledge without breaking any bones. We've had to lift Opie over boulders before but 4-5 feet into the air is a new record for us!
We made it to the top (where someone had actually hauled up a picnic table) and enjoyed the panoramic views. We then continued on the trail and discovered the other side of the trail is less steep with no ledges so it's a much better route if you have dogs; however there is no view of the stone gecko from this side of the trail.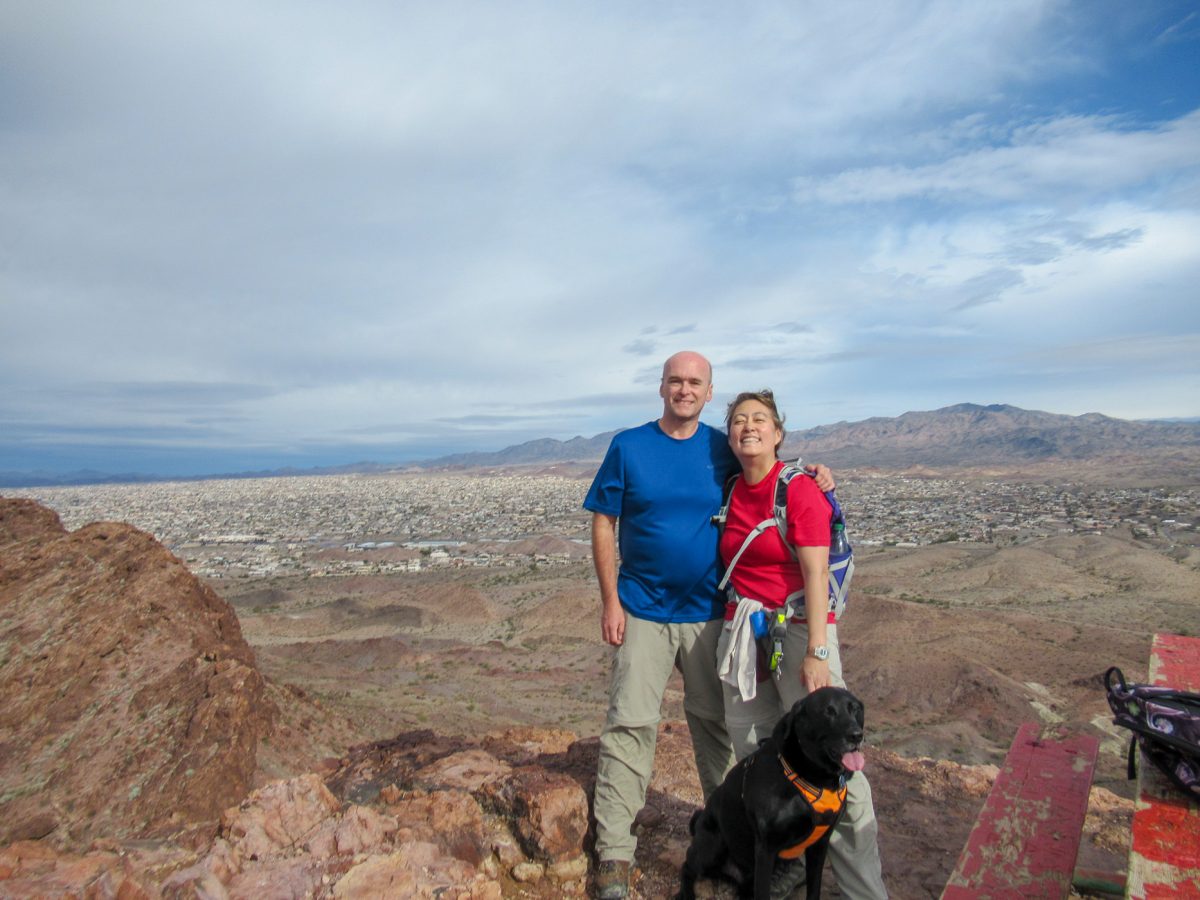 One of our favorite meetups involved finding new tabletop gamers! There was an evening meetup for gamers where we met new people. From then on, we met regularly every evening in various RVs to learn (and covet) new games and introduce some of our games to others. We made it out of our comfort zone to attend a few seminars, potluck dinner, and even the dance rave on the last night (briefly)!
New gaming friends!

Rave night!

Unicorns are everywhere
Xscapers Rallys are what you make of them. The people are incredibly friendly and will welcome you into the group but it does take effort to join in. It's also easy to find a small group of people and just spend time with them. In the case of the Annual Bash, I found it was hard to join some of the bigger activities simply due to the huge number of people in attendance (many who already know each other) but if you can find others who share the same interest as you, it becomes easier to mingle. We knew only a few people before we came to the bash but we left with several new friends and that is a huge success in my (very introverted) world.
This ain't your grandpa's golf cart!
Overall we enjoyed the AB and everything it had to offer. We will probably try to attend more Xscapers convergences in the future if our plans and locations mesh up, and especially if we have friends who we know we'll cross paths with there.