After the eclipse (we still haven't been able to stop gushing about the experience), we made it to Atlanta GA in time for DragonCon, a huge multi-genre convention held every year over Labor Day weekend. Every year it grows larger, with an estimated crowd size of 80,000 people this year. This is our third time attending D*C and we love it so much! With over 30 different fan tracks (e.g. BritTrack, Star Wars, Star Trek, Stargate, Science, Skeptics, Anime, Electronic Frontier Forum, High Fantasy, Horror, LAN Gaming, etc) and over 1,000 hours of programming, there's something for just about everyone here. We haven't been to San Diego ComicCon yet, but as I understand it, the two are very different in culture and overall feel. SDCC is much more commercial oriented while D*C is much more laid back and relaxed. As introverts, we usually hate crowds but we always feel very comfortable at DragonCon, even with the massive crowds, because it's such a friendly open group of people… it's like a huge MardiGras for nerds.
D*C completely takes over the downtown Atlanta area since it's spread across 5 host hotels and two AmericasMart buildings over a few city blocks. It's normal to see lots of cosplay while walking around downtown during the four days. After a while you forget that seeing SG-1, minions, Deadpool, Harley Quinn, or Wolverine (and his daughter) isn't a normal everyday occurrence.
The first year we attended, Mike and I spent a lot of time in the big, popular panels with famous actors from Stargate, Battlestar Galactica, Star Trek, etc. That meant a lot of line waiting and attending only a few panels a day. The second year, we spent a lot more time in the much smaller Science, Skeptic, and Electronic Frontier panels. We were able to get more scheduled into each day since the lines are much shorter, and we found these panels to contain great information. This year, there were a lot of celebrities but we also wanted to also hit the Science and Skeptic tracks again (our favorites).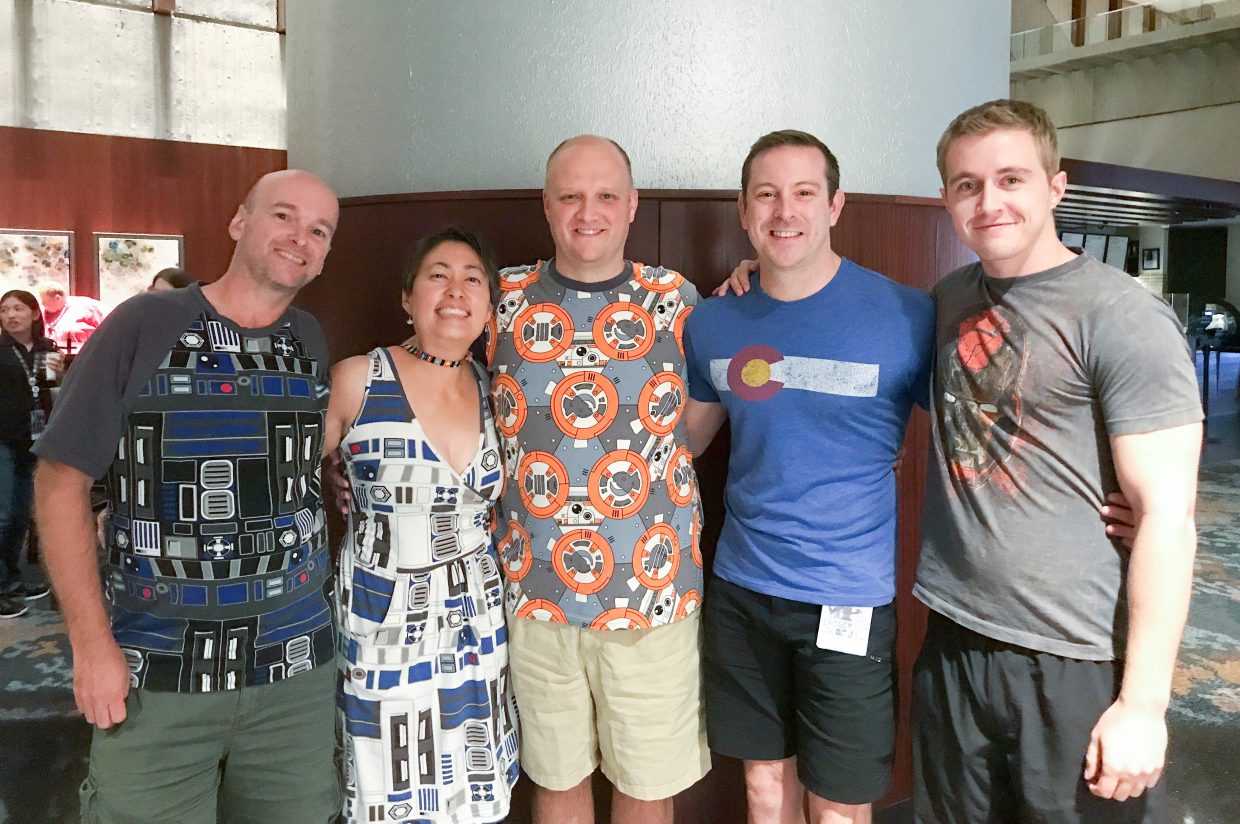 We invited a few of our friends to join us since they also enjoy Sci-Fi/Fiction, plus one of them has attended over 50 cons but he's never been to DragonCon so we had to initiate him into the cult. One friend, a frequent traveler, was able to snag a host hotel room so we were able to stay right in the middle of D*C during the entire con!
DragonCon has a parade on Saturday morning at 10am open to anyone who can snag a spot on the sidewalk. The parade route fills quickly with spectators so we usually try to get there a couple hours early to get a good spot. This year we got there around 8:30am and most of the curbs had already filled up! We were able to find a small spot in front of a tree and squeeze on in. The parade consists of various groups of cosplayers. Many of the costumes are stunning and show how much thought and effort people put into cosplay. With so many genres at DragonCon, there are a lot of costumes I don't recognize, but it's fun when I do recognize a particular show, comic, or character. This year we saw a lot of Game of Thrones, Harley Quinn, Marvel/DC heroes, Overwatch, and Rick & Morty characters (which we'd never heard of before).
Mike and I talked about cosplay this year but we never did get our act together in time, so I made fun matching shirts for us instead (Star Wars, Harry Potter, and Lord of the Rings themed). Since our friend Mark was able to snag the host hotel for us, I made us triplets for fun.
This year, we attended a mix of celebrity and small informative panels. Since there were five of us, we also spent a lot of time just hanging out together, people watching, and playing geeky card games. Most of us are big Star Trek: The Next Generation (TNG) fans, so we had to go to the TNG panel with Jonathan Frakes (Riker), Marina Sirtis (Troi), Gates McFadden (Crusher), Michael Dorn (Worf), and Brent Spiner (Data). Mike and I had been to a TNG panel in the past and found Marina to be completely irreverent, hilarious, and sassy and it still held true for this year. It was great to watch them talk about the show, Brent Spiner did a great Patrick Stewart impression and they all crashed the audience while we were still filling in the ballroom. Michael Dorn was the only one who seemed like he didn't want to be there, but the others were a lot of fun. As a bonus, we splurged on the professional photo op with the TNG crew. Before DragonCon, I had made TNG amigurumis with the hope the cast would be willing to hold their mini-me's. Lo and behold, they did (with the exception of Dorn) and Gates McFadden is even making hers do a little wave (photo, top of page)! Gates and Marina complimented me on the figures and I was walking on clouds for days! We still have to frame the photo but not until we move into our new coach.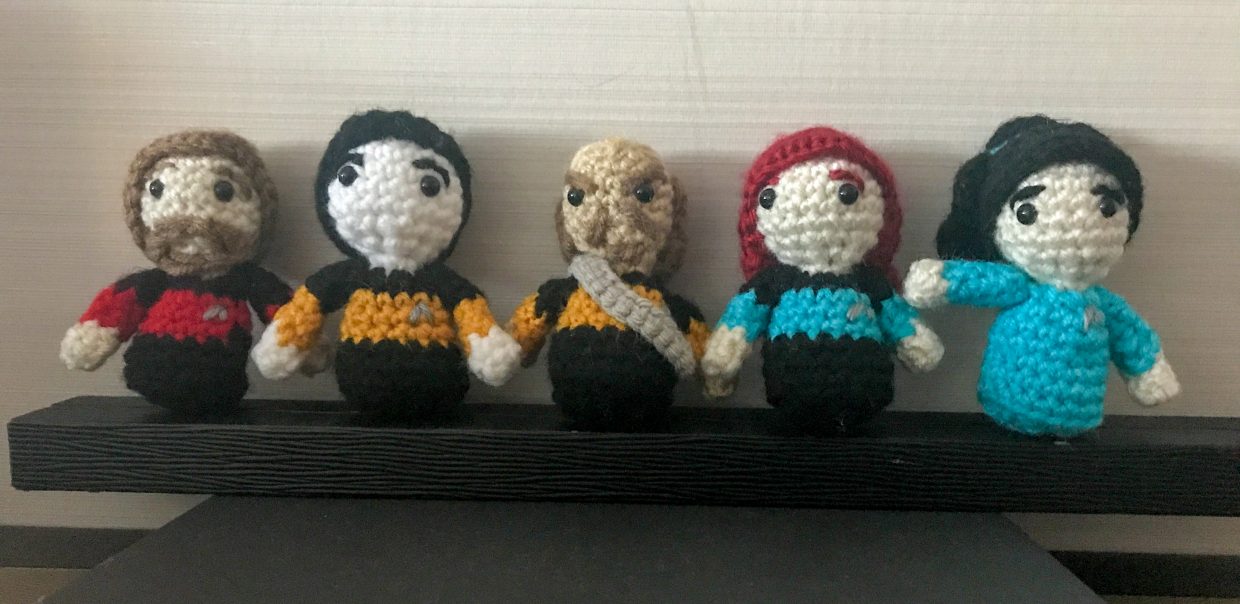 We also attended a Buffy the Vampire Slayer panel with Charisma Carpenter (Cordelia), Julie Benz (Darla), and Clare Kramer (Glorificus). They were fun to watch and the three of them seem like good friends. Julie was the straight woman on the panel while Charisma and Clare were the goofy ones but they definitely had a good chemistry among them.
Alton Brown was also at D*C for the first time. He lives in the Atlanta area but he's never had a panel here. He only had one panel scheduled, on Saturday, and it was packed completely full (the ballroom holds over 3,000 people). A few of the crew from Good Eats were also in the panel but Alton Brown stole the show. He's a fantastic moderator and extremely entertaining, he was probably our favorite panel at D*C this year. Alton also used the panel to confirm that starting next year on Food Network and streaming online will be a new show called "Return of the Eats" although he did state that they are still working with the network to get a time slot. We're really excited about that one since we were huge fans of Good Eats. 'Course that means we now have to find all the old episodes and re-watch them.
Garrett Reisman, former astronaut and current director of crew ops at SpaceX also had a panel we attended. Another entertaining personality with some great anecdotes of being on the space station and videos of various SpaceX launches.
Those were the celebrity panels, but we also attended some smaller panels on cooperative board games (our new favorite kind), kitchen chemistry, a comedian, Trek Trivia, walked through the vendor building (so much stuff for sale), and did a lot of people watching. I had a great time this year and I think our friends enjoyed their experience too. Mike and I really love D*C and we hope to try to make it back within the next few years. It does keep getting bigger every year so hopefully they'll be able to expand to another hotel for more space.