After our giddy and awesome visit to Red Bay AL, we finalized our order, including our custom color. With two weeks to kill before the solar eclipse, we decided to spend the time in West Memphis AR, right outside of Memphis TN. We stayed at Tom Sawyer's RV Park which is situated right on the Mississippi river, making it yet another river that Opie has now romped in. The Mississippi is a waterway system for commodity transportation so we were able to watch huge barges being towed/pushed on the river by much smaller tugboats. It's amazing to think that the engine can move so much material, especially upriver. We did see one barge which had some trouble. We think either he didn't turn early enough or lost power going upstream. Either way the boat was stuck in one spot for some time until another tugboat came by to help navigate the barge around the river corner. And we thought towing Red behind Rover was tough!
We haven't been on the East Coast during the summer in the past 3.5 years and now I remember why. The humidity in Alabama and Arkansas was atrocious, it felt like we were swimming through the air, plus the 90+ degree heat didn't help at all. Any thoughts of hiking went straight out of the window while we huddled safely in the comfort of our air-conditioned Rover. I was also reminded that bugs love humidity which meant a whole re-introduction to gnats, mosquitoes, and the Asian Hackberry Woolly Aphids which have been migrating from FL slowly northward. We saw these tiny flying white bugs scattered around, but one morning they must have hatched by the tree next to us because Rover was COVERED in them with pyramid piles of them everywhere. UGH! I tried washing them off, but apparently they love the water so they just got worse. The good news is once the morning dew evaporated, they went about their business and left us alone. DEET and I became best friends after that.
Since we were in Memphis, we toyed with the idea of visiting Graceland since it's the thing to do. After some research though, we decided to pass on the visit. At $60/person, it's hard to justify the tour unless you're really into it. Many reviews online state the lines and wait time can be trying plus the week we were in town was the anniversary week of Elvis' death so the crowds would have been even worse. Graceland sounds interesting but we're not such Elvis fans that we were willing to tackle the crowds, heat, and short tempers involved. We did, however visit the National Civil Rights Museum in Memphis. The museum was created at the site of MLK's assassination in 1968.
The museum has some very powerful exhibits and leaves you feeling exhausted but hopeful for the future. The museum walks you through the history of slavery, resistance, Jim Crow, Separate but (un)Equal, peaceful boycotts, voting rights, MLK assassination, and where we are today. It is truly amazing what civil right leaders were able to accomplish with boycotts and peaceful protests. It's a magnificent museum that will leave a mark on everyone who walks through the doors. It also reminded me that through history, it's always been two steps forward and one step back but we are always making progress forward.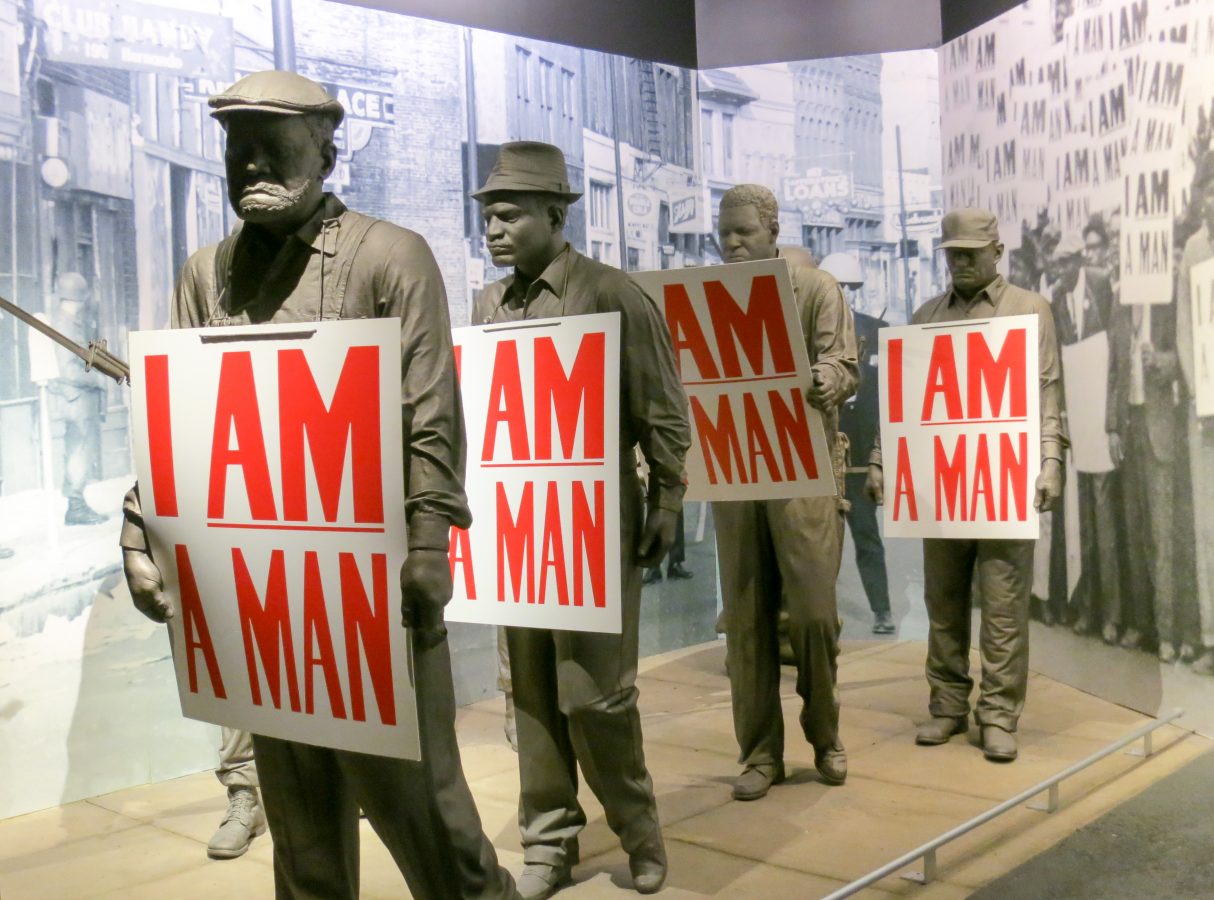 After Memphis, we drove to Carbondale, IL to watch the solar eclipse. A total solar eclipse happens when the moon passes between the earth and sun and completely blocks the sun, leaving just the corona (sun's atmosphere) and solar prominences visible to the eye. While the sun is 300 times larger than the moon, the moon is 300 times closer to the earth which makes this phenomena possible. Because of the timing of the orbits and the distance of the moon from the earth, total solar eclipses can happen no more than twice a year but in reality, they only occur every 18 months on average and the locations of visibility vary. The next one will occur July 2, 2019 and be visible only in parts of Argentina, Chile, and Pitcairn Islands. So having a total eclipse visible across a band through the entire US is quite rare which means huge numbers of people traveling into that narrow band of totality to watch the eclipse.
Thanks to science, we knew about the upcoming eclipse and started planning a year earlier. Since we knew we wanted to go back to DragonCon in Atlanta this year, Mike researched areas near the east coast with the least chance of cloud cover. Carbondale, IL is located in the solar eclipse path of totality with the longest duration, so many scientists were planning to flock there to watch the eclipse. Mike was able to find a small state park close to Carbondale and reserve a spot six months in advance (have I mentioned how much I love that Mike is a planner?!?)
Carbondale went all out for the influx of eclipse viewers and had a lot of events before monday's eclipse. Southern Illinois University had a tech and science expo free to all visitors with lots of great booths, activity for kids, and tech/science discussions. We listened to one speaker who chases total solar eclipses all over the world, and another scientist who studies the geology of Mars for possible life (or past life). I think as I get older, I really start appreciating information I learn from seminars, museums, and experts. As a kid, my eyes would glaze over but now I find myself eagerly seeking out these types of events.
On the day of the eclipse, our area showed a partly cloudy forecast but since we weren't sure how that would affect our viewing, we decided to stay put and picnic in a nice open area of the park. We grabbed some snacks, our eclipse glasses, binoculars and headed over a couple of hours before the start. Since it was in a small park and most visitors were in populated areas, it wasn't crowded and there was plenty of space to spread out. We lazily watched the partial eclipse (through our eclipse glasses) as the sun slowly (very slowly) started to get eaten by the moon. As totality approached a little after noon, wispy clouds started appearing (much to our consternation) close to the sun.
About 5 minutes before totality, the clouds cleared and we were able to see the full eclipse. It's an incredible experience and something I will never forget. As the moon covered more of the sun, the air cooled significantly, and the sky got darker and darker. Right before the full eclipse, the birds stopped singing, the crickets started chirping and it looked and felt like 8pm. Once the last bit of sun was covered by the moon we removed our glasses! What we saw was unlike anything we've seen before… a big jet black hole where the sun should be, surrounded by the glowing white corona. With our binoculars we could see solar prominences in a violent magenta color. Since totality only lasts for two minutes or so, we decided in advance that we would just "enjoy the show" rather than try to fiddle with cameras attempting to get really good photos (which can be difficult). For some more professional photos that better capture what we saw, try http://earthsky.org/todays-image/photos-aug-21-2017-total-solar-eclipse
In addition to looking up, we looked around at the horizon where it was brighter than the dusk we were in, and the light had a strange hue. As totality ended, we saw the "diamond ring effect" when the first burst of brilliance shines around one small edge of the moon. We put our eclipse glasses back on for viewing the sun, but also looked around at our surroundings and the others gathered for the event. While the light became brighter it was a very odd light effect, not quite like dawn, and oddly the crickets got louder as if they knew they only had a few more minutes. Two minutes sounds like a long time until you're in the moment absorbing the sights and sounds, then two minutes goes by in a flash and you wish you could go back and see it again. We were so amazed by the solar eclipse that we're determined to be in the path of totality for the next U.S. one in 2024!