Above: Rover perfectly backed into our first campground spot. What a team!
At this point in our story (Friday), the protagonists are ready to move the Mothership (aka Rover) to his first campground. Mike figuratively flexes his muscles, takes a really deep breath and drives Rover out of the dealership and down the street about 1/2 block to the campground. No mailboxes, cars, hydrants, or people are harmed in the transfer of Rover. We grin, give each other a high five, and walk into the office to reserve our campsite. Then it's my turn. Mike and Red lead us to our campsite. Using our new-found skills from the driving class, I back Rover into his new spot with Mike spotting and giving me directions. The crowd goes wild!
Tampa decided that now would be a great time to provide a non-stop deluge. All our new hookup stuffs are still in their boxes, so we're fumbling with removing everything from boxes and trying to hook everything up during this steady downpour. We'd heard the RV community is helpful and friendly and we found that to be very true. While we're stumbling around, our next door neighbor comes over and asks if we need any help. Apparently we still have the "new RV smell" (or else just look like deer in headlights). Since we are just about finished, we politely thank him but decline assistance.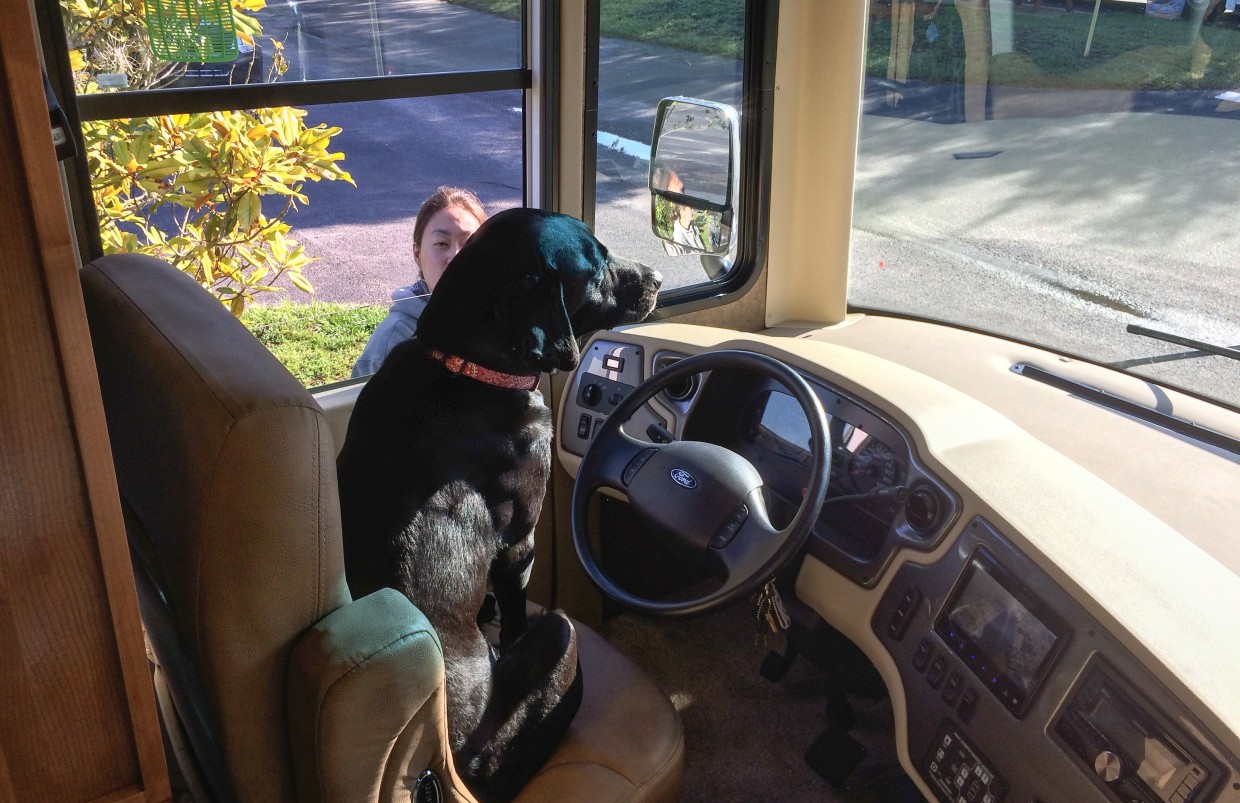 Silly dog… you didn't take the driving course with us!
Since we have full hookups at the campground, we are able to test the washer/dryer. Rover has a combination (single-unit) washer/dryer which has gotten mixed reviews. Folks complain it's small, doesn't dry very well, and the clothes wrinkle. It is pretty small, but we can still fit an entire queen set of sheets into the laundry. It's mostly a matter of time to dry everything properly (jeans and heavy cottons take the longest). Sheets should be loosely folded so they don't turn into burritos while drying, but I have that same exact problem with a regular dryer. So far I've found the only clothes that wrinkle badly are the same clothes that would wrinkle in a normal dryer. We were originally on the fence about a washer/dryer but I'm really glad we added it. Overall I've been very pleased at how the washer/dryer works. As long as we have the time and the water/sewer hookup, it's really nice to do the laundry without having to find a laundromat.
The next day we meet the neighbor on our other side who is just as friendly. When he hears that we are newbies he is happy to walk us around our coach and give us pointers. He also walks us around his coach and shows some of his modifications and how things work. We run into him (and his dog) a few more times during our stay, and he's always friendly and helpful!
We spend our campground time unpacking/organizing Rover and living through his hazing. With our smaller living area, both Mike and I bump and scrape heads, knees, and toes against cabinets, doors, corners, and walls, just getting used to the new dimensions. Ouch!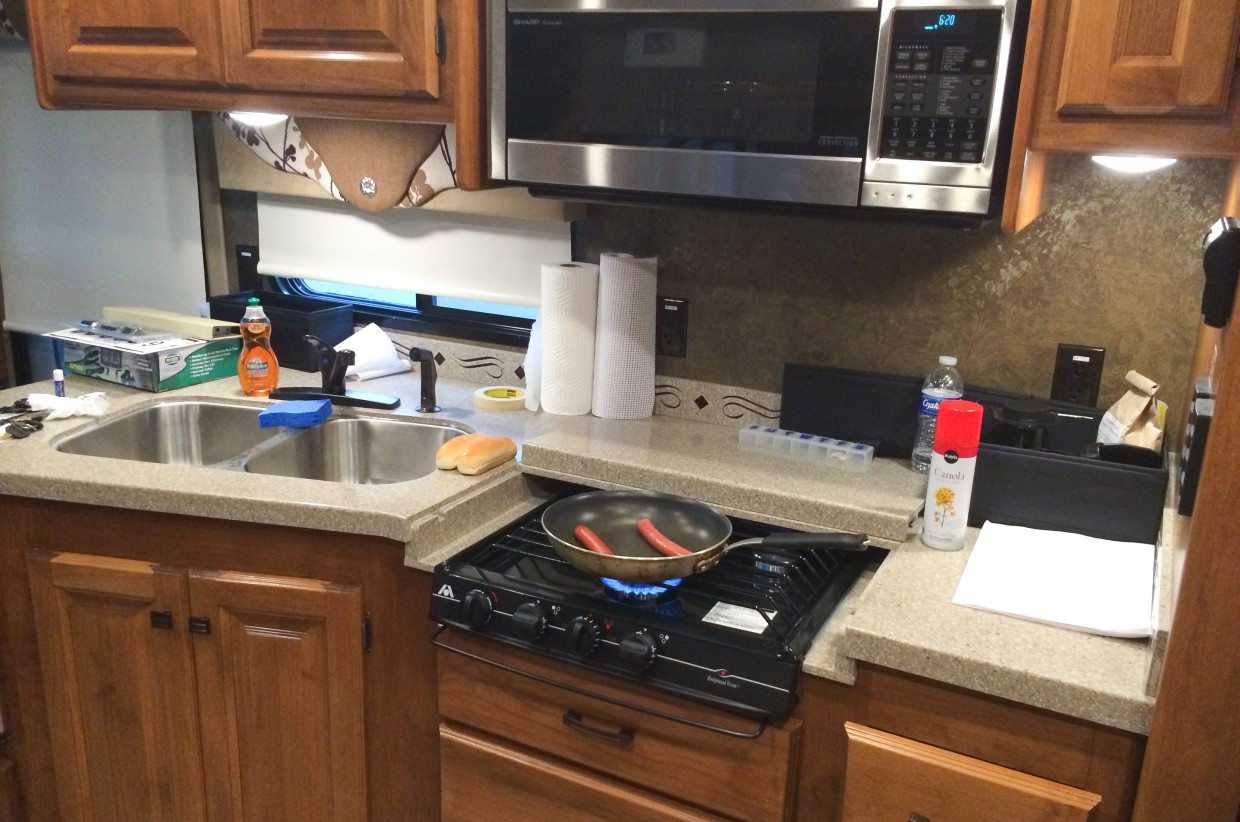 Our first home-cooked meal.
By Sunday we are organized and ready to head to Mike's Mom's house. Stay tuned for our harrowing first long drive from Tampa to Port Charlotte!
Lazydays RV Campground: our first campsite.