Above: Florida's Lovebugs are truly horrific only a half-hour into our drive.
Part four, the final battle.
After the usual dog walks, Sunday morning was spent getting Rover ready for travel. We have a checklist (still under construction) to make sure no steps are missed. We've read horror stores (and seen photos and videos) of all manner of mishap when breaking camp. Some of the most common seem to be 1) forgetting to disconnect your power, water, or sewer line from the RV park, 2) forgetting to raise your leveling jacks, 3) forgetting to release the towed car's parking brake before towing (there's a nice long set of skid marks right behind our coach from someone who towed their car away with the brake on), 4) pulling in the slide-outs without proper clearance (our driver's seat needs to be pulled forward or the slide will crush it on the way in), and 5) forgetting to retract your roof antenna (ours doesn't retract so we're good there).
We drove Red and Rover separately to the main parking lot, checked out of the campground, and hooked the vehicles together for towing. Since the drive to Mom's was going to be around 100 miles, we decided to split the drive so we can both get experience. I was first up, so with Kat in the co-pilot's seat giving me pointers, I pulled out of the campground and within a minute or two we were on the interstates (I-4 and then I-75). This was nothing like driving in the parking lot! It's a good thing there were two of us, because it took more than 100% of one person's concentration to drive on the highway. Most of our attention was spent staying centered in our lane (we're really wide), dealing with merging traffic, compensating for wind gusts and passing trucks, and learning how to judge our over fifty-foot length. We also spared a few minutes occasionally to check on our 10-wheel (Rover and Red) tire pressure and temperature monitoring system to be sure all our tires were doing well.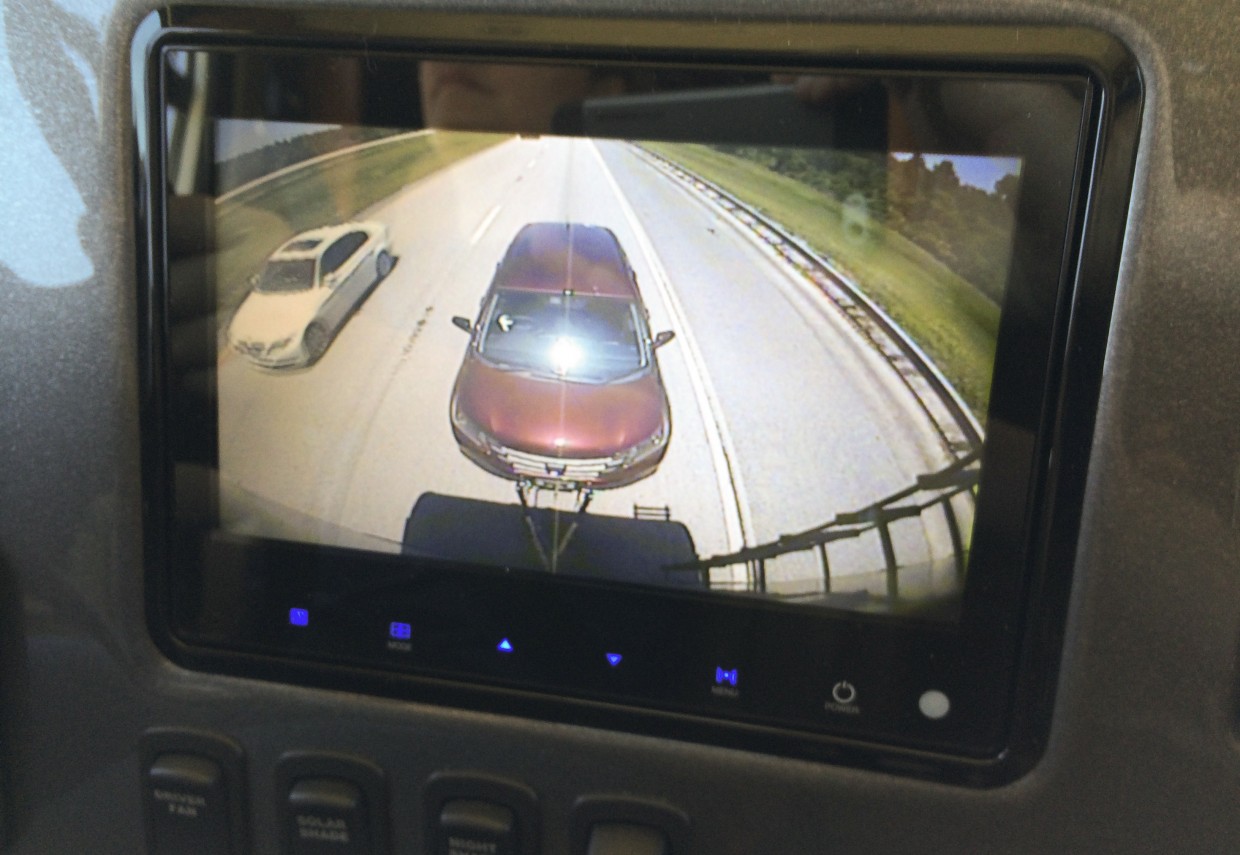 The rear-facing camera is great for keeping an eye on Red, and traffic approaching from the rear.
Then we had another challenge to face: the dreaded Florida Lovebugs. We'd heard about these, and even run into a few with Red on our drive down, but we were unprepared for their sheer numbers (and ickyness) in southern Florida. Within half an hour the front windshield was becoming hard to see through. We didn't use our windshield wipers for fear of smearing them all over and making things worse. We exited the interstate and swapped drivers in a mall parking lot about halfway through. By the time we arrived at Mom's, the windshield was plastered with the bugs. Exhausted, we stepped out of Rover and saw just how bad the front looked.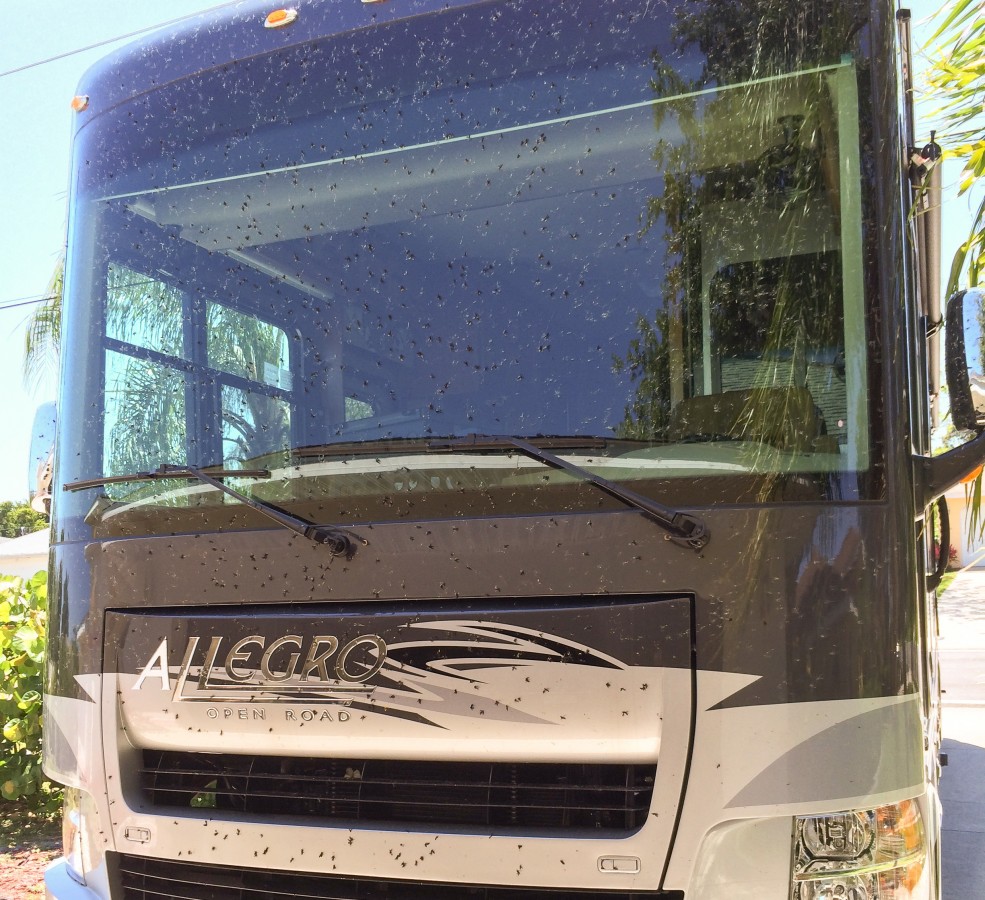 Rover's shape is particularly conducive to capturing Lovebugs.
To make matters worse, Lovebugs turn acidic when squished, and it's advised to remove them from vehicle paint as soon as possible. They also are extraordinarily sticky, almost like glue. So rather than finally relaxing when we got to Mom's we quickly set ourselves to washing the front of Rover… a long task. When we were done, Rover looked beautiful again. Later in the week we had to go shopping for Rain-X so they don't stick to the windows as much, 303 Aerospace Protectant for Rover's front (the front paint is protected by Diamond Shield, a "wrap", which requires special cleaners and waxes), and Plexus plastic cleaner and protectant for the headlights and other plastic areas. Hopefully the Lovebugs will slide right off Rover next time!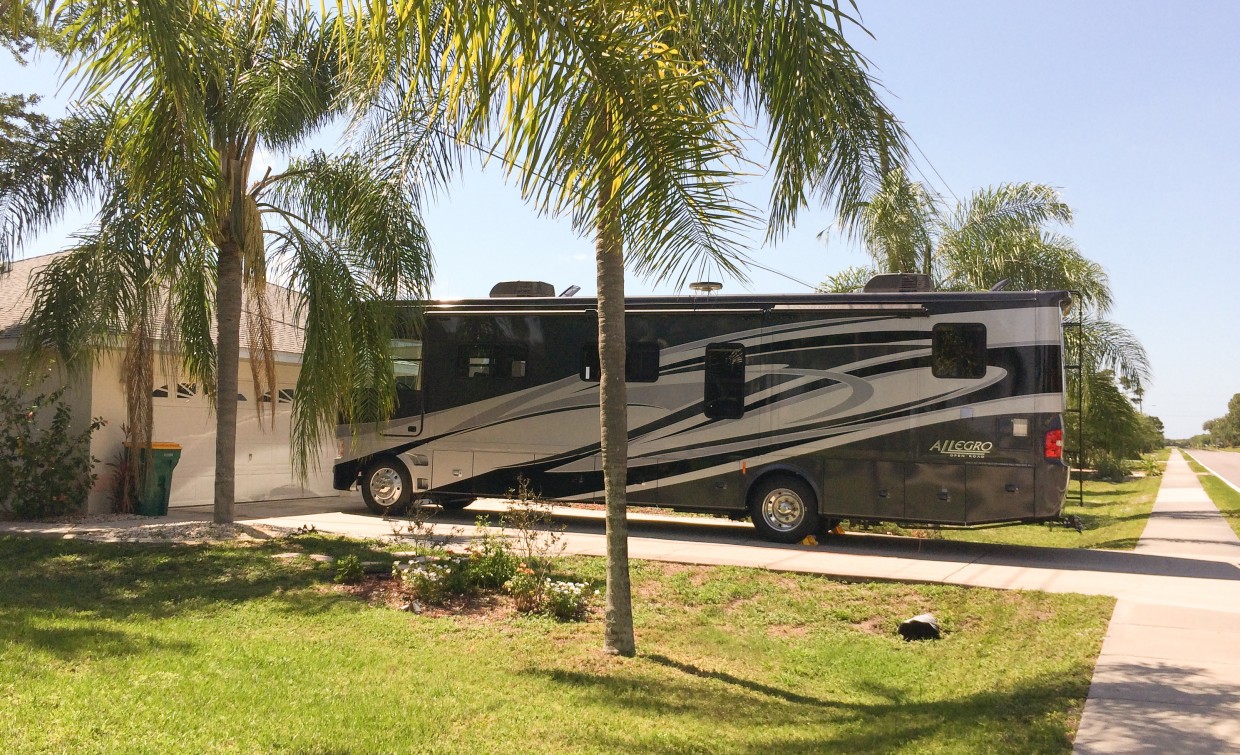 Rover relaxing in Mom's driveway. We're relaxing (and probably eating) inside the house.
The rest of our week was a nice mix of a usual Mom visit (relaxing, eating, reading, eating, watching TV, long walks with the dogs, eating) along with lots and lots of RVing chores. If you recall from an earlier episode, we shipped several large boxes of clothes and belongings to Mom's house before we left. All that needed unpacking and storing in Rover. We've also been ordering lots of RV-related items over the last month or two and shipping them to Mom. It was a bit like an early Christmas! We opened our new portable BBQ grill, our lounge chairs, patio mat, and more. I think we're now feeling ready to start roughing it!
It's been great to spend a lot of time with Mom. We try to visit every couple years but since those are vacations from work, they're usually brief, and  we often take a day or two to visit Busch Gardens, Universal Studios, or some other Florida attraction. This time we have a whole week together!
The dogs have also made out well, receiving lots of love and leftovers, and some nice walks (though these need to be done before 9am or after 6pm due to the Florida heat). Opie's gotten to play in Mom's pool a fair bit, and Max sampled the pool a couple times by accident. We need to keep a closer eye on him as his vision gets worse and worse in his old age. One time he just walked right off the patio into the pool without knowing it was there. It was a little scary and sad, but he shook it off and went about his business: "What?? I meant to do that!"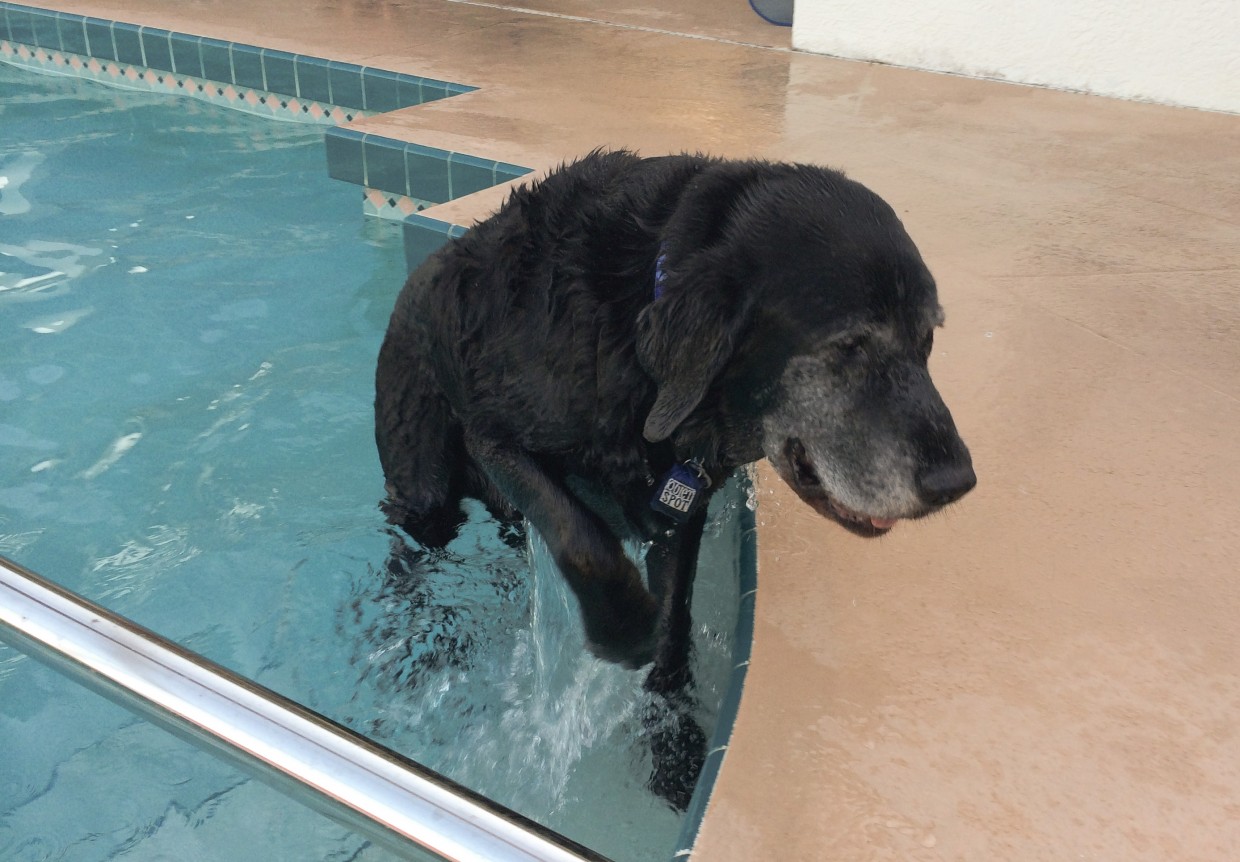 Refreshing!
Getting organized, relaxed, and fed in Port Charlotte FL.