While we aren't big fans of cities (many are similar with little to really distinguish them), NYC is a whole different beast and we had to immerse ourselves in the experience.
NYC isn't RV friendly (yeah, I know…brilliant observation) so RVers, including us, use Liberty Harbor RV Park as home base. It isn't pretty (it's an asphalt parking lot with electric and water hookups) and it's expensive ($100/night) but it's convenient to the city. If your tow vehicle doesn't fit in your site, you will have to pay another $25/night to park in the overflow lot but it looked like almost all sites were able to fit an RV and tow, including us. The RV park is located right on Liberty Harbor in NJ which makes going into NYC very easy.
There are two different ferries and the NJ PATH train nearby, all of which will take you right into the city.
The NY Waterway Ferry leaves from the harbor where the RV park is located, making it the most convenient ride into NYC. From Liberty Harbor, it lands at Pier 11/Wall St right near the Brooklyn Bridge (red line in map above). Unfortunately it is a commuter ferry so it only runs M-F 6am-9:30am and 4pm-10pm. It costs $7 one way for an adult and there is a surcharge to bring a bike aboard.
We used Liberty Landing Ferry for our trips into NYC, arriving at Battery Park/World Financial Center Terminal (yellow line in map above). It departs from Warren St, a 1/2 mile walk from the RV park, and is also $7 one way. For $2, it also stops at Liberty Landing (NJ) right across the harbor, where the Statue of Liberty tours start. We bought a 10-pack of tickets for $55 so our cost was $5.50/adult. Liberty Landing runs seven days a week and leaves about every 30 minutes. Plus they allow dogs, bikes, and strollers for no extra cost. We liked this ferry since it dropped us off on the southwest side of Manhattan, making it easier for us to visit the sites we wanted to go to and it was available on the weekends too.
We used the PATH train a few times since the ferry only runs until 9pm and we had to find an alternate route home. The PATH station is located on Grove St, a 3/4 mile walk from the campground. It's a longer walk but you pass a Krispy Kreme AND Dunkin Donuts on the way making the walk totally worthwhile (random fact: donuts store well in the freezer). The PATH stops at a couple NY subway stops so it's easy to transfer to the NY subway. Both the PATH and NY subway cost $2.75/person/trip and use the same metro card. It is also possible to use the same metro card for multiple people. Simply swipe the card for the first person and pass through the turnstile. Then pass the card to the next person and they do the same thing.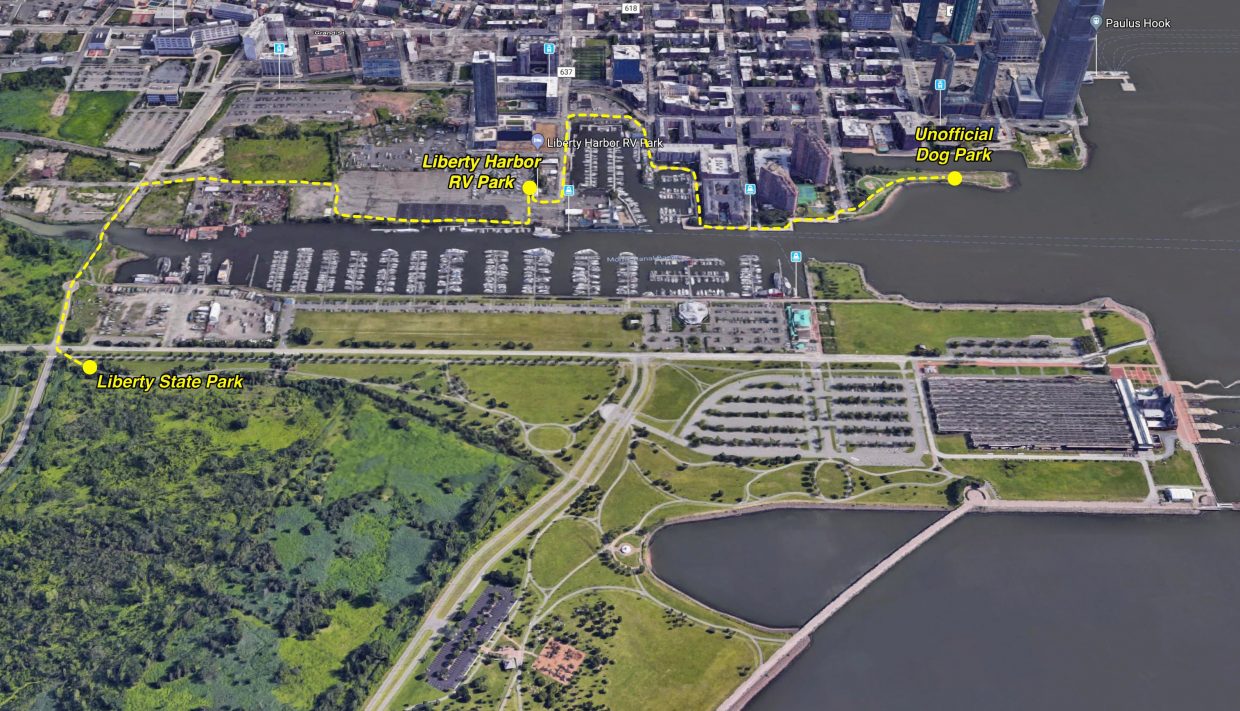 Surprisingly we found several places to walk Opie even though we were smack dab in the middle of the city. It's a mile walk to Liberty State Park from the RV park. There's a pedestrian walkway right by Jersey Ave and from there we can walk all around the park (no entrance fee). We also found the unofficial off-leash dog park at Morris Canal Park, mostly by accident. It's a grassy/dirt area with a nice view of the NYC skyline and a small water inlet. Dogs can play in the water and fetch in the grass area. And there's a pretty walk along the Morris Basin Canal if you walk south on Van Vost St past the harbor where many dogs and owners walked. Unfortunately we also discovered a huge population of deer ticks around the harbor in the tall grasses. We ended up picking 8 off Opie in two days AND found 4 dead ones around his bed and ours. Thank goodness for his Seresto collar as all the ticks were either dead or dying. Needless to say, my skin had phantom itches for days!
Since the RV park is crowded and expensive, we had to make the most of the few days we were staying. We visited the 9/11 memorial and museum which is sobering and brought memories crashing back. There are free audio tours you can either download directly to your phone or rent at the front desk. Make sure you bring headphones if you download it to your phone. The memorial is free but the museum requires tickets, which you can buy there or online. While the museum is well-done and I'm glad we experienced it, it didn't have the same type of impact on me as other places like the WW2 and Civil War museums. We experienced 9/11 and all its after-effects, the museum didn't teach me anything new but it is emotionally haunting and powerful. The events of 9/11 is still real and raw, I know the history and ramifications of that day whereas the WW2 and Civil Rights were before my time and the museums allow us to delve deeper into their history and gain new knowledge.
We had to also visit some fun places so I dragged Mike to Mood Fabrics, a huge fabric store in the garment district showcased in Project Runway. I was very good and only subjected Mike to 30 minutes of intense browsing before leaving empty-handed! Since I abstained while at Mood, I treated myself by visiting Economy Candy so my candy addiction could be satiated. So much candy not enough credit cards!
NYC has a lot of greenery located throughout the city. With so much noise, people, and (ahem) interesting smells, we decided to experience the calmer, greener side. After weeks of rain, NY finally received a nice day on Saturday, so apparently half of the population felt the same way, making it a tad crowded at the parks.
We visited the High Line, a 1.5 mile long elevated linear park that was built on a defunct railroad spur on the west side of Manhattan. There's a nice easy walking surface for pedestrians with various trees, plants, flowers, a neat water feature where you can dip your toes in, and benches to relax on. Lots of folks will stop at the Chelsea market to pick up a picnic lunch to eat on the High Line. It's a gorgeous park but it does get crowded, especially on weekends and nice days. Oh, and dogs are not allowed on the High Line.
We also met up with family near Washington Square Park in Greenwich Village so we strolled through the park, gawked at the Washington Square Arch, watched kids and dogs splash in the fountain, and enjoyed a gentleman playing Moonlight Sonata on a Grand Piano. It's probably a great spot to just hang out and people-watch all day but we still had to hit Central Park.
Central Park is gigantic (850 acres) and we barely walked a quarter of the length. You can rent bikes but you can only ride them on the main road, not the paths. We decided to just walk the paths and see some of the sights although if we come again, we'd take a guided bike tour to see everything that Central Park has to offer. We did make it as far north as the Conservatory Water to watch people sailing model boats across the water. Model sailing is taken very seriously and we saw some really beautiful boats stored in the Kerbs Boathouse right next to the water. I'd love to see a serious race here, it must be an amazing sight!
We also visited Ellis Island and Statue of Liberty but since we had a Broadway show the same afternoon, we were crunched for time and only had a chance to do a cursory visit. They do have a large parking lot which costs $7/car. With all our walking in NYC, we didn't want to walk from the RV park and the ferry would have cost $8 total roundtrip so we paid to park in the lot. We briefly visited the Immigration Museum at Ellis Island and ferried to the Statue of Liberty but that's all we had time to do. If we visit again, we would sign up for the 90 minutes Hard Hat tour of the Ellis Island immigrant hospital and spend at least 4-5 hours visiting the Ellis Island Museum using the free audio tour guide. If you plan to visit Ellis Island/Statue of Liberty, you should get tickets in advance, especially since the the specialized tours (Crown, Pedestal, Hard Hat) sell out in advance, sometimes up to 6 months!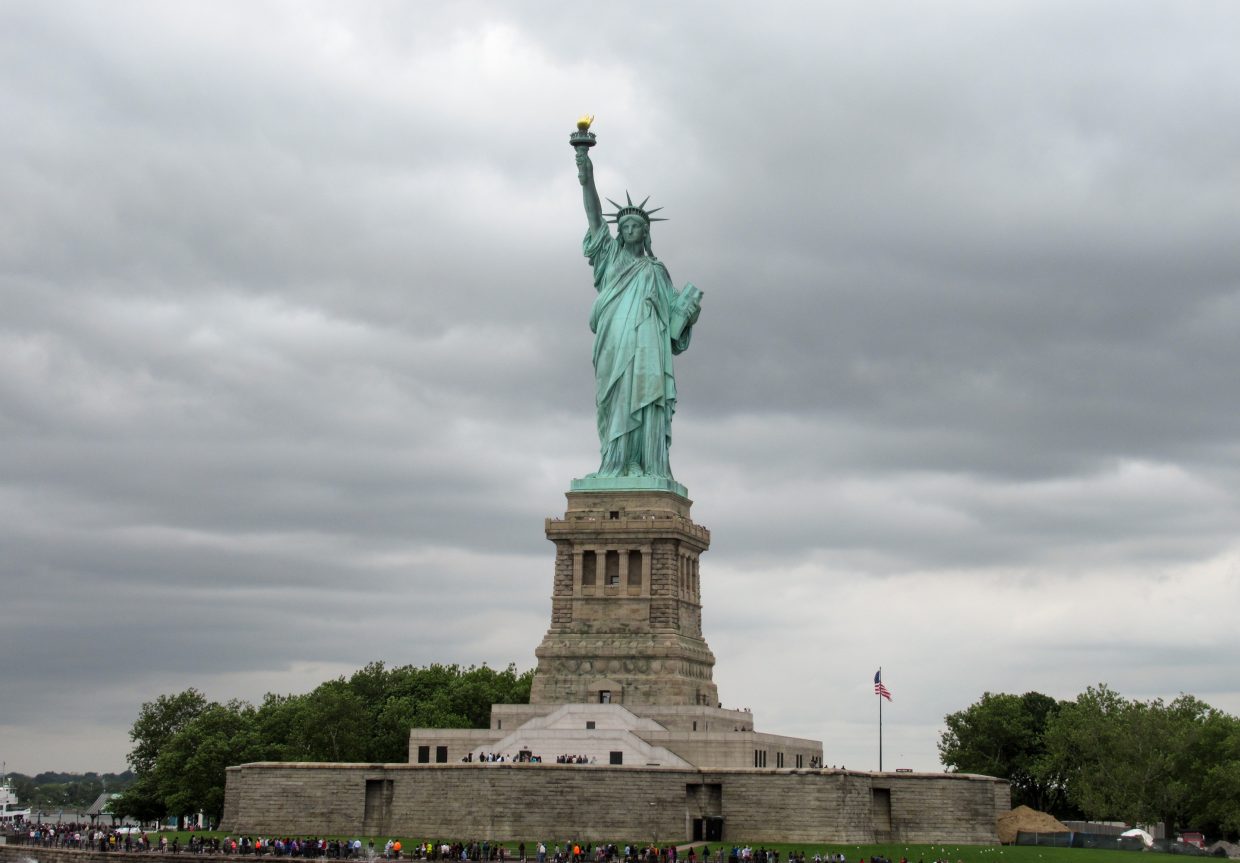 Lastly we had to hit a Broadway show in NY. Before we went, I asked friends for recommendations and it really sounded like there was no bad Broadway show. From Wicked, Book of Mormon and Hamilton to Kinky Boots and the Play that Goes Wrong, everyone seemed to enjoy the shows. Since Mike and I have never seen a show on Broadway, we decided to go for the classic Wicked. It's been on Broadway for 15 years and it's well-loved. A few friends recommended stopping at the one of the TKTS booths where people can find 40-50% off Broadway tickets for same day shows. You can search their website to see what is currently available but you do have to buy them at the physical booth locations. Since we had limited time and didn't want to gamble on a show or seats, we just bought them online in advance. TKTS is a great idea for someone who has the flexibility (or an adventurous nature) but we couldn't take advantage of it this time.
Needless to say, after our packed weekend of things to do, see, and eat, we're exhausted. NYC really is quite an experience and like no other city we've visited. There is something for everyone to do. The subway is the best way to get around but remember to download a subway map so you know which line to take and where to go. Google maps became our best friend while we were in the city. We also had to be really careful about transit times. If it takes 40 minutes to get from Point A to Point B, we had to allocate at least an hour in case we missed the ferry or a train. Driving in the city is tough but parking looks near to impossible (or just really really expensive). If possible, stick with the subway and ferries and wear really comfortable shoes.
We could easily spend a full month in NYC and (other than going broke) still not see everything. It's an amazing city and I understand why people love (and hate) it.