I think we finally out-ran summer! After picking up Rover in Florida at the end of April, we've been slowly making our way North, but not fast enough to escape some brutal heat and humidity. By the time we made it to New Jersey it was already July and summer was in full swing with days in the mid-90s, just like Tampa in May. However, we pushed further north through New York and then across to New Hampshire, and finally were in the territory of 75 degree days and 55 degree nights. What a nice change!
In upstate New York (it's under two hours north of the city but I'll call it "upstate" anyway) we stayed at a fantastic campground: Brook-n-Wood. We had some great neighbors at the campground, and they even gave us a cover for our bicycles! They upgraded to a better cover and no longer needed their old one. One thing that's been consistent as we've traveled: RVers are in general are extremely friendly and helpful, which has made our transition to this lifestyle very easy!
We arranged visits with Kris, who I've been friends with since elementary school, and Johnny, who Kathie and I worked with a couple jobs ago in Virginia. Being able to visit lots of people who have scattered across the country is a nice perk of RVing!
Johnny and Melissa met us for lunch in nearby Rhinebeck and Johnny gave us a short walking tour of the town. The town has a great "historic" feel to it, touristy but in a good way. The town has rejected almost all chain stores and restaurants, so it felt a lot less commercial, and many of the shops were fairly specialized instead of having one huge store that sells everything (e.g. Walmart). It was great to reminisce with Johnny and hear about what's new in their lives.
Kris, Jen, and their kids spent a day at the campground with us, which provided lots of opportunities for fun. Between kids swimming in the pool, toasting marshmallows and s'mores over the campfire, and some good old fashioned snacking on Doritos and Coke while catching up on each others' lives, the day went by pretty quickly. We left with an excellent souvenir: a drawing of us and the dogs, by Kris' eldest: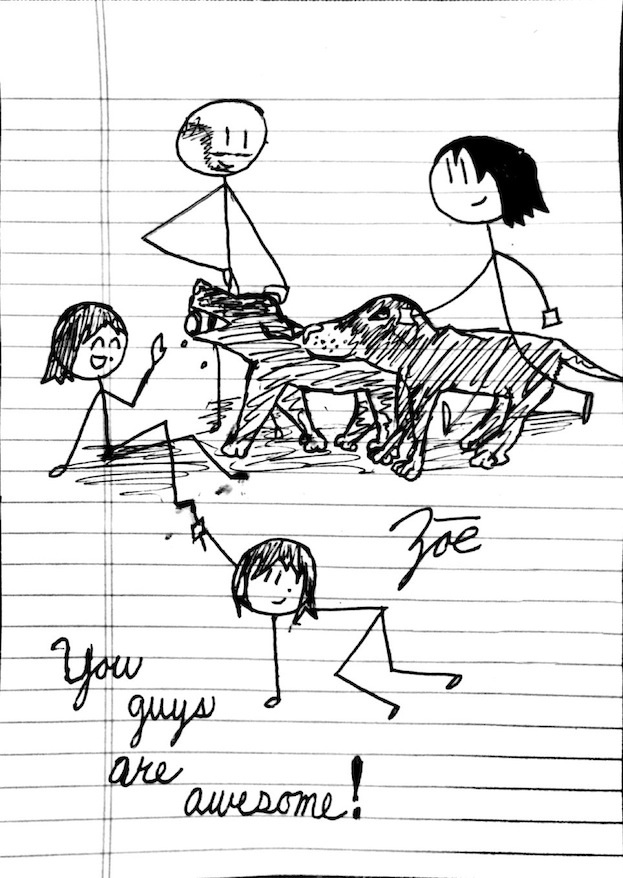 After New York we headed to New Hampshire to visit my brother Gary and his family. Silly me, I again decided to try the "scenic route" instead of taking the interstates. We took Highway 9 through Vermont, which while very scenic, also provided some significant challenges. There were quite a few steep uphill and downhill grades, along with lots of twists and turns as we wound through the mountains of Vermont. At least I got to learn and practice how to go down some 8% and 9% grades using the engine brake to keep our speed in check, and up the same grades at a top speed of 30 MPH. Since we have a gas motorhome, not diesel, we don't have air brakes or exhaust brakes to help us down hills, and the V10 engine just can't push us uphill any faster than 30 MPH. Still we arrived safely, but decided to stick to the easier interstates on our return trip.
Rover fit easily into Gary's driveway (see photo at the top of this post), and after a couple quick tours of our new home, we settled down to catch up on current events, old stories, and upcoming plans, while Max and Opie got to sniff and play with Freya and Dakota. The girls seemed smitten with Opie and wanted to play with him continuously, but Opie just wanted to play fetch with his ball. We had plenty of fun with them and got lots of Opie's pent-up energy out over the few days we were there.
New Hampshire wasn't on our route plan originally since we needed to turn south to make it to Atlanta in time for Dragon*Con, but we're really glad we made the trip. We rarely get to spend time with Gary and Dee and the family, so this was a nice change. We're looking forward to heading back this way in the coming years to spend time exploring New Hampshire instead of just passing through. Next up is our longest drive yet so we can get back on track for Atlanta!
Peterborough, New Hampshire