Lancaster County PA, where the cows and chickens truly are free-range, almost everyone has livestock and a garden (with corn) in their yard, and horse poop is a common sight on the road. We made it to Amish Country in PA and stayed in a little town called Intercourse (on the way there, we passed another town called Virginville, go figure). This was our longest stay yet (minus our home visit for two weeks) at 11 nights. Doing so much traveling recently, Mike and I were looking forward to just staying put for a week and a half. It turned out really well and I think once we get past our deadlines (DragonCon and iRV2 rally), we may start extending some of our stays and traveling more slowly so we can enjoy each location more.
We stayed at a campground right next to a farm and only half a mile from Intercourse. That meant we saw a lot of horse and buggies, all of which Opie felt he had to warn us about… Every. Single. Time. After three days of rigorous training (actually bribing the hell out of him with food), he relaxed enough to mostly watch whenever the horses passed us. Opie was also very unsure of the chickens and cows we passed during our walks and required more training (aka food bribery) to ignore them all. Opie was not the only one getting chubby with food here. Lancaster County is known for their farmer's markets. One of our friends recommended Roots Market, a huge farmer's market/flea market open every Tuesday. It was a little further from us but was definitely worth a visit! It is enormous, the prices are ridiculously good, and the produce looks very fresh. We ended up with some nice vegetables, fruit, and baked goods. We also visited Bird-in-Hand Farmer's Market (much smaller but opened daily near us) for some fresh apple cider, smoked bacon (droolicious), and cinnamon rolls. The Amish are also known for their baked goods and we definitely had our share! It didn't hurt that a young Amish lady would stop by the campground with baked goods on the weekends and sell them door to door. Between that and the multiple visits to various farmers' markets it was probably good for our waists when we left Lancaster.
We took a scooter tour of Lancaster's covered bridges. Unfortunately we chose a day with lots of other tourists. With such a large crowd, we could only visit two of the bridges in the 2.5 hour tour but the scenery is quite beautiful, the bridges are very neat to see and riding in the open air is a lot of fun. Back in the 1800s people found that bridges would have to be replaced every 10-15 years due to rain and sun exposure but if they were covered, the bridges would last much longer and would not have to be replaced. The scooter tour would be very enjoyable with a much smaller crowd but a large crowd makes it difficult for the tour operator to talk to all of us at once plus we're moving at a much slower pace overall.
Friends of ours lives about 30 miles from where we were staying so we (and the dogs) took a trip over to visit them (and their dogs). We spent some nice time hanging out in the backyard when Opie initiated play with another dog (something he almost never does) and Max got to wander the large yard without having to worry about bumping into anything. Until we started traveling, I don't think we realized quite how many of our friends and family are scattered everywhere. With the exception of two or three places, we've found someone to visit at every destination so far.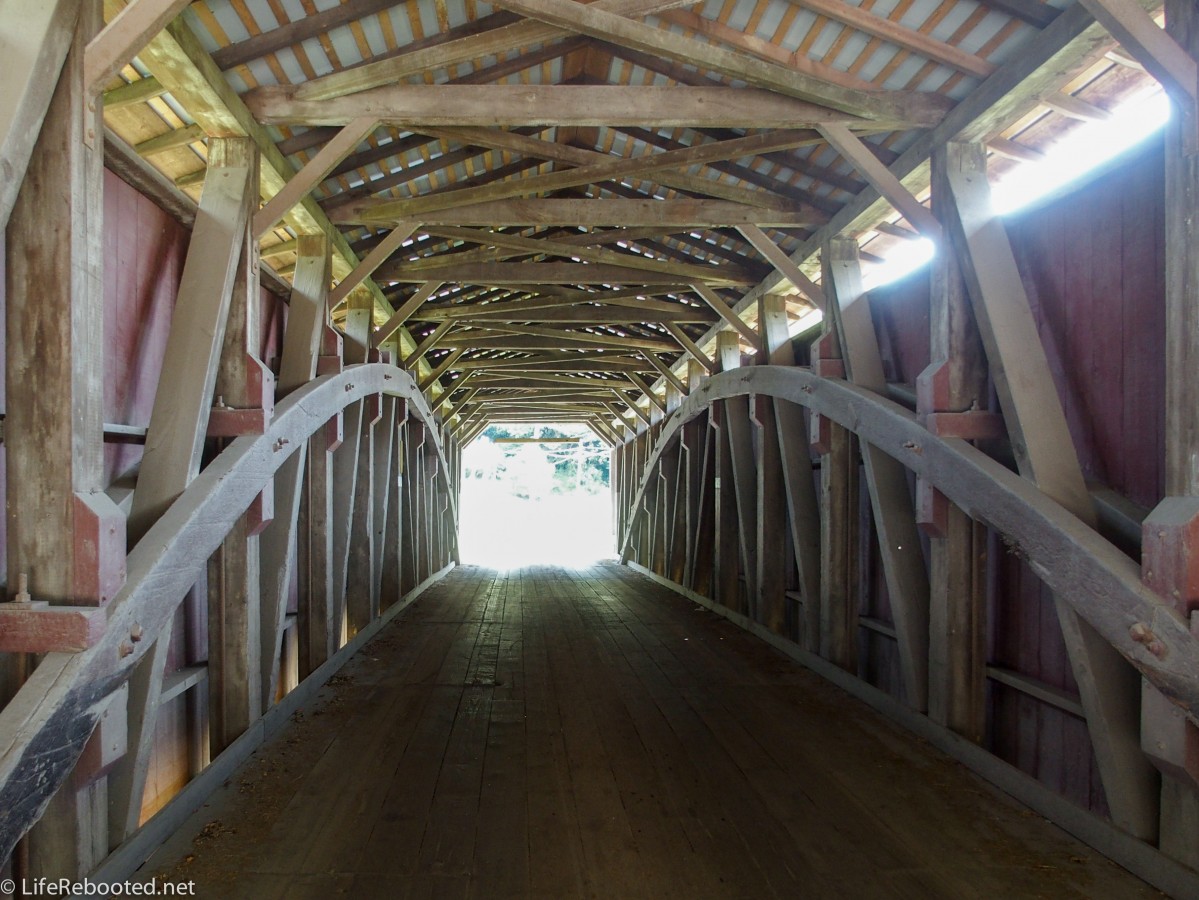 After the frantic pace from the previous weeks, we found Lancaster Co. to be the perfect place to unwind, enjoy the scenery, and eat lots of great food.
Intercourse, PA