We wanted to get back to the DC area within six week of purchasing Rover so we could pick up the rest of our things. Since we took a side trip back to Tampa (to fix a few things) and then to the Space Coast, we were running a little behind. We decided to make one stop in Raleigh NC, then one last push to head back home. That would allow us to get back to DC within our original schedule, it just meant longer drive times between each destination. Both Mike and I were a lot more comfortable with driving Rover so we were willing to do the 4 hour drives (we swap driving 2-3 times during a trip).
Raleigh is pretty close to I-95 and on our way back to DC, plus Wendy, my closest friend from CMU lives there now with her family. We only stayed in Raleigh for four days, but we were able to spend a day with Wendy and her family, which was wonderful! Wendy is a spectacular hostess and we ended up going to the NC Maker Faire (coincidentally at the NC Fairgrounds right where we were staying). The Maker Faire is basically a large gathering of people who show off skills in robotics, engineering, crafts, art, and other things. We saw robot wars, steampunk, origami, tatting, quilting, robot clubs, electricity clubs, 3D printers, etc. It's worth attending if one ever comes to your area. For dinner, Wendy took us to a great BBQ place which sold out of BBQ right as we got there….boo. They did have ribs left though and those were quite delicious. If we make it back to Raleigh, we'll have to stop by Backyard BBQ Pit earlier in the day so we can try their BBQ (pulled pork) next time.
She even took us on a tour of the SAIC campus (where she works). Apparently the entire campus (and it's HUGE) is smoke-free so if you need to smoke, you have to drive off campus to get your nicotine fix. I've heard of smoke-free buildings but this is the first time I've heard of an entire smoke-free campus. Apparently some SAIC employees stopped smoking due to the ban.
I'm glad we were able to spend time with Wendy and her family and I'm looking forward to meeting up with other friends as we hit various areas of the US.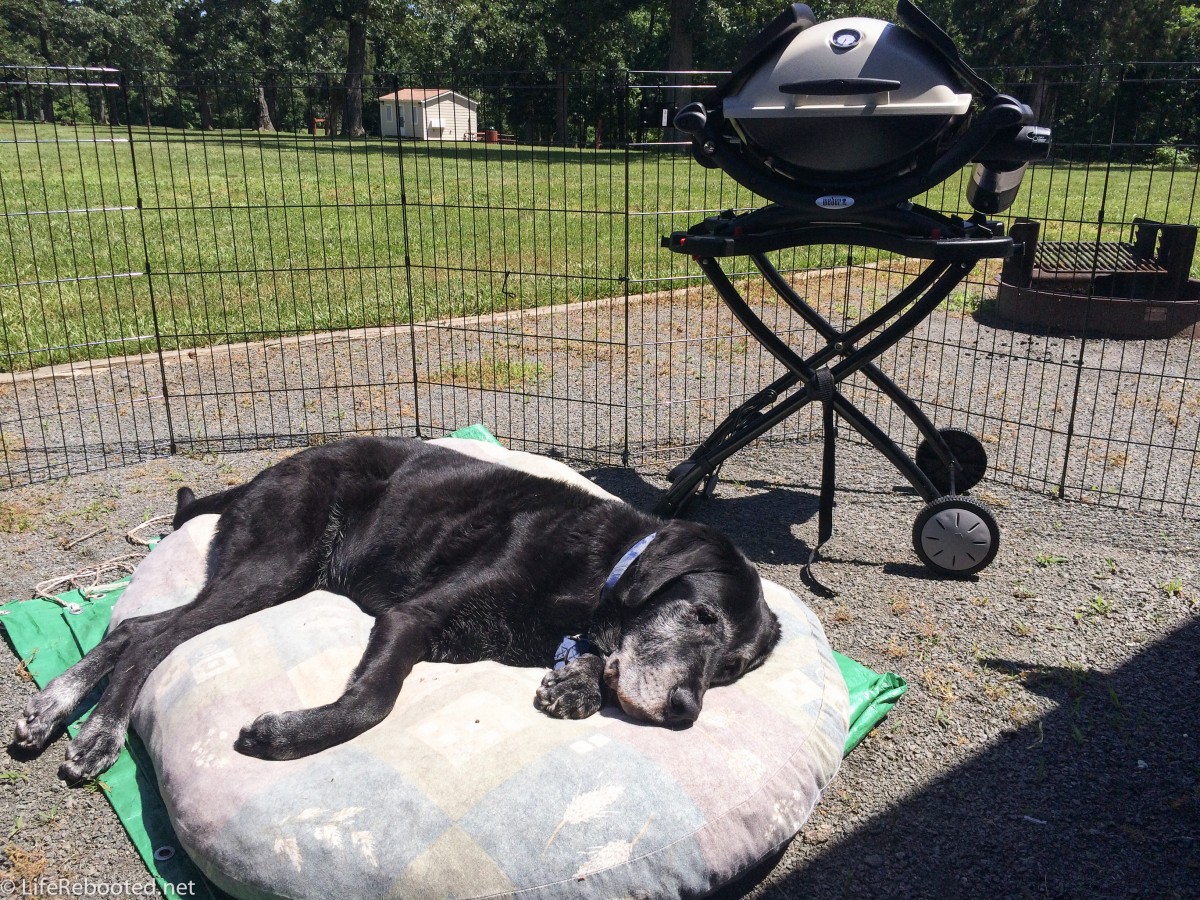 Max chilling out at Lake Fairfax Park, Reston VA
We made it "home" and spent three weeks meeting up with friends who wanted to see Rover and see how we (and the dogs) were adjusting to our new lives. We also spent a few trips hauling our stuff out of Jen's basement into Rover (how did we have so much stuff!?!). There is a lot of storage space in Rover so we were able to find places for everything but now we really need to get weighed to make sure we're not past the weight limit.
Our original plan was to visit with friends, family and maybe even tour DC a little; however with all the friends we were meeting with, we didn't have the time to make it into DC. That will just have to wait until the next time we're in town. It was nice to see everyone, especially family but after three weeks both Mike and I were antsy to get out of DC and back onto the road.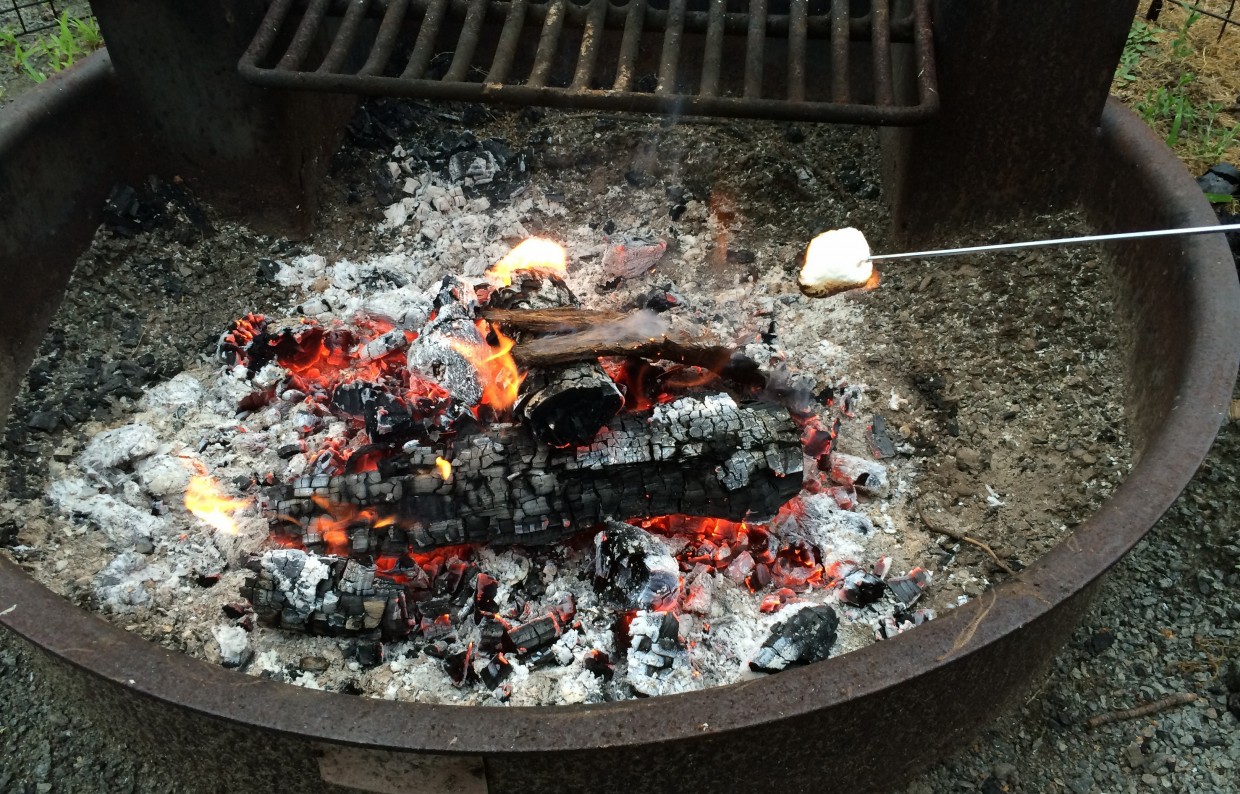 First campfire (and marshmallow toast) complete! Thanks to everyone who visited to say hi!
Mike's thoughts: Our visit to our former hometown was fun, but also full of "firsts". Our first campground without water and sewer hookups (Lake Fairfax Park), our first campfire (thanks John, Luke, and Jen!), our first do-it-yourself oil change on our generator, and more. We also got to revisit some our favorite restaurants and stock up on Goldberg's NY Bagels from Potomac MD. We shamelessly used Jen & Din's internet connection to update all our devices and apps, went for a swim in their pool, and ate tons of home-made Korean food. Visiting with friends and family was wonderful, plus we realized that this week was the first time in almost two months that Kathie and I spent more than 5 minutes apart (we did our own side-trips on several of the days). All in all, a great end to "Phase 2", and with all our "stuff" out of storage, we're really on the road now!Mike
Lake Fairfax Park, Reston VA